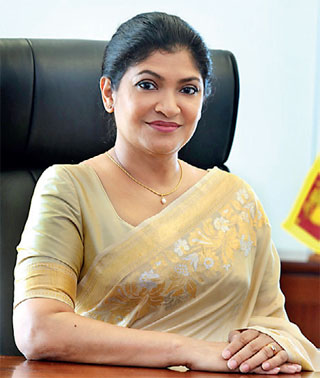 BOI Director General Renuka M. Weerakone
---
The Board of Investment (BOI), the apex organisation committed to driving investments into the country, introduces the "Partnership Finder" (PF), a new strategic initiative to attract investment from existing investors in the country and to facilitate business partnerships with foreign and Sri Lankan companies/investors.

This interactive platform provides the BOI registered investors and other prospective investors with a window of opportunity to get connected with new entrepreneurs and innovators with novel ideas.

BOI Director General Renuka M. Weerakone, commenting on the database system said: "Given the global context in terms of attracting investment, the BOI's take is that it needs to embrace an aggressive and competitive approach to show the world that the BOI is functioning on par with the global standards."

"As such, the BOI hopes to explore the possibilities of linking companies/individuals with similar business interests through this platform, in order to promote joint ventures and collaborations for further business development," she outlined.

"The start-ups partnership finder will be hosting via the newly found BOI Accelerator, which aims to bring innovation strategy to the BOI. All in all, the new platform would create more scope to attract investors to the country. In this context, we will act as a catalyst to connect young entrepreneurs with the existing investors, which the BOI is after at present. It has to be mentioned that the countries that have adopted approach of this nature have been successful in attracting a much larger share of FDIs," Weerakone added.

The interactive platform will operate as a network for both foreign and local companies and is designed to help businesses, research institutes and start-ups succeed by finding the right partners for their next innovation or business venture. The database will consist of the companies' details according to the business categories such as agriculture, apparel, infrastructure, knowledge services, manufacturing, services, tourism and leisure and utilities. State agency offer is also included in the new platform.

Besides, the launch of the business matchmaking platform will be accompanied by a communication campaign and once implemented, the companies registered on this platform get the opportunity to directly connect with the other company/investor using the contact information on their profile.

Investors/companies are free to select the preferred collaboration as follows,
Foreign company/individual investor seeking a Sri Lankan collaborator
Sri Lankan company/individual investor seeking a foreign collaborator
Sri Lankan company/individual investor seeking a Sri Lankan collaborator
Seeking a start-up or innovation areas of interest/sectors
Seeking structured projects from State agencies
The BOI intends to widen their investment attraction focus beyond established players through venture capital funding, which will boost start-ups and be the catalyst to find partners for structured projects offered by State agencies.