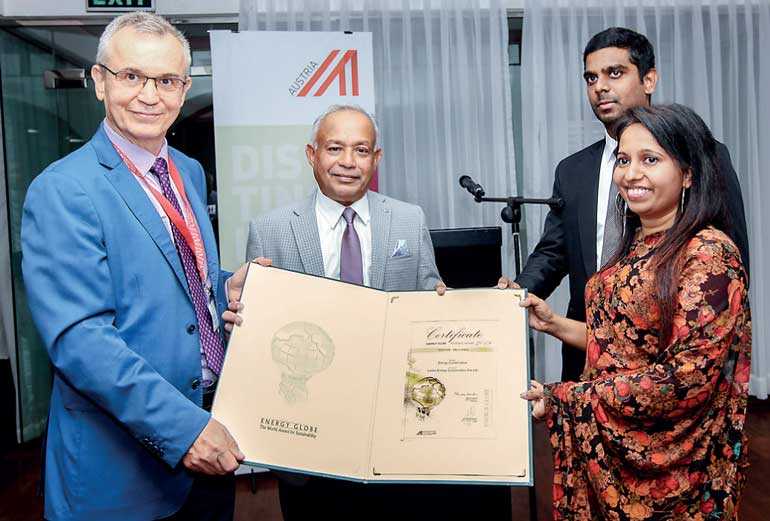 Austrian Embassy Commercial Counseller Dr. Robert Luck presents the National Energy Globe Award Sri Lanka 2019 for Energy Conservation to Lanka Energy Conservation Ltd. Managing Director Energy Conservation Solution Dammika Wickramarathne, Director Administration and Finance Energy Solution Windhya Liyanarachchi, Solution Engineer Energy Solution Tiran Fernando are also present
---
By Darshana Abayasingha

Representatives from 14 top Austrian organisations from its health, infrastructure, finance and food and beverages sectors were in Colombo last week to meet with Sri Lanka's public and private sector. This official trade mission from Austria sought to discuss and explore new business opportunities between the two countries.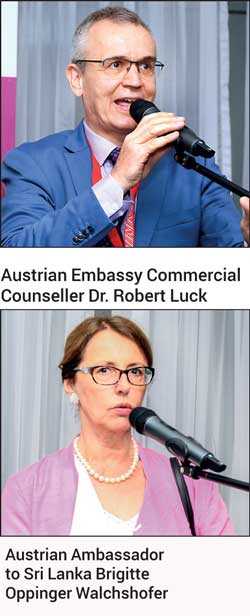 Dr. Robert Luck, Commercial Counsellor of the Austrian Embassy and Head of Advantage Austria in India, told the Daily FT that the delegation received excellent feedback and enquiries during its meetings with Sri Lanka's private sector, whilst discussions on infrastructure projects were the focus of its meetings with representatives from government. Most of these companies come with concessional funding, and have wide expertise in projects that are very important for Sri Lanka, he added.

Advantage Austria is present in over 70 counties across the globe, providing a broad range of intelligence and business development services for Austrian companies and the international businesses. The organisation pledges its assistance to Sri Lanka companies to locate Austrian suppliers and business partners.

The delegation from Austria included AME International, Med-El Elektromedizinische, MEV Medical Services, Odelga Med Engineering, VAMED Engineering and well.tecs representing the healthcare and medical equipment sector, whilst OeKB, Raiffeisen Bank and UniCredit Bank represented the financial services sector. Infrastructure service providers included Frauscher Sensortechnik, Geppert, M-U-T Maschinen and Strabag, whilst RedBull represented the food and beverage sector.

During the delegation's visit to Colombo, Advantage Austria also presented the Energy Globe Award for Sri Lanka 2019, which was won by Energy Conservation Pvt Ltd for its project with the Cinnamon Grand Hotel in Colombo to improve sustainability practices there. Dr. Luck remarked that the award reflects the great importance Austria attaches to sustainable development, energy saving and reducing carbon emissions, and lauded the efforts taken by Energy Conservation in this sphere.