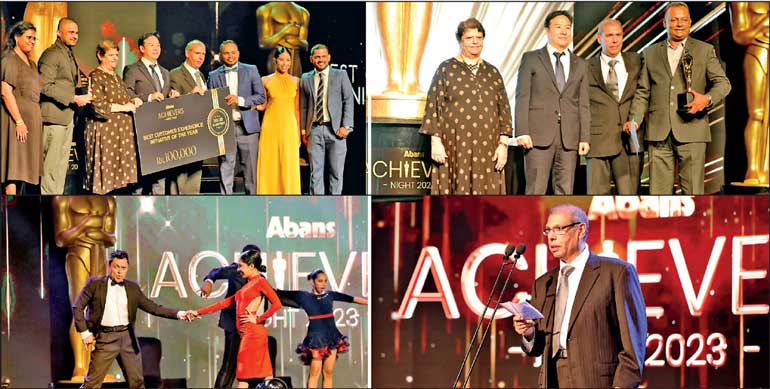 The Annual Abans Achievers Night 2023, held at Shangri-La Colombo on 10 November, stands as a testament to the unwavering dedication and outstanding contributions of the Abans PLC staff. The event, graced by key figures including Managing Director Rusi Pestonjee, Director Dr. Saroshi Dubash, LG Electronics CFO Ki Sung Kim, and other members of senior management, celebrated the commitment displayed by both front and back-office teams.

With over 700 participants, the gala evening served as a platform to recognise and reward the exceptional efforts of the workforce. More than 170 awards were presented to the best achievers who played a pivotal role in steering the company through the challenges of the past turbulent year. Despite economic crises and import restrictions, Abans PLC performed well in the last financial year, a feat made possible by the dedication of its talented and committed staff.

Abans PLC, known for fostering a performance-driven culture, has consistently introduced various performance management and recognition tools. The Abans Annual Awards framework aligns with global standards, providing a comprehensive platform to acknowledge employees' exceptional contributions across all verticals.

In line with the company's drive towards innovation and digitalisation, the Innovation Awards has been built in to stimulate creativity in different categories. These cross-functional team awards, open to both back-office and sales staff, witnessed the participation of more than 20 teams competing for recognition and attractive cash prizes. The impact of the innovations has been assessed based on the Triple Bottom Line concept; impact on profit, people, and the planet.

Another segment of the award's ceremony was the presentation of Long Service Awards, honouring those who had faithfully served Abans PLC for over 25 years. These awards recognised not only the longevity but also the commitment and outstanding service of individuals who have been an integral part of the company's journey.

"As we gather for the Abans Achievers Night, we celebrate not just individual accomplishments, but the collective spirit and dedication that define our team. This event is more than a recognition ceremony; it is a testament to the unwavering commitment and hard work of each staff member. It is a night where we come together to honour achievements, foster camaraderie, and inspire one another. Our success is built on the foundation of our talented and dedicated team, and the Achievers Night serves as a symbol of our shared journey towards excellence. Let us revel in this moment, acknowledging the significance of every contribution and reaffirming our commitment to continued success as we forge ahead together," expressed Managing Director Rusi Pestonjee.