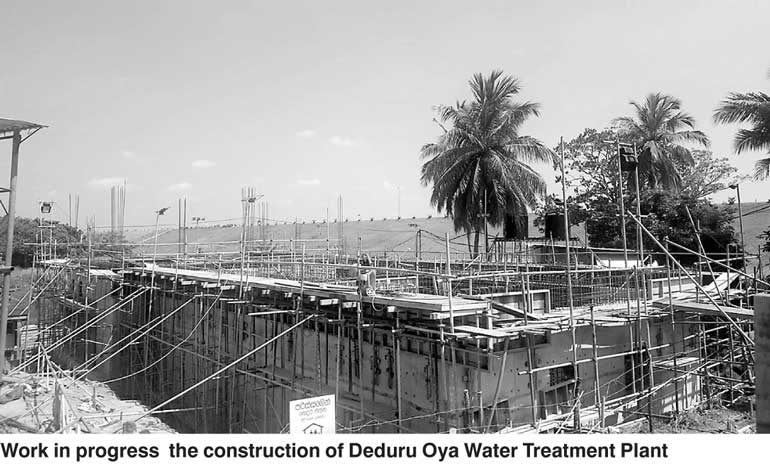 Access Engineering PLC is making swift progress in the construction of Deduru Oya Water Supply Project in Ridi Bendi Ela, Maho.

Recognising the urgent requirement to control the growing threat of chronic diseases rapidly spreading across the areas of Nagollagama, Maho, and Polpithigama, the National Water Supply and Drainage Board spearheaded the said project together with Kolon Global Corporation of Korea in order to provide safe drinking water to the surrounding communities.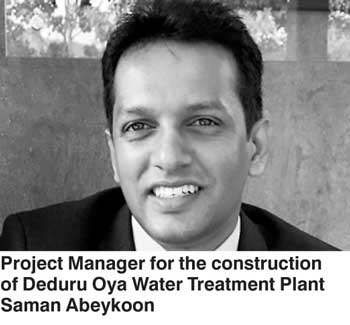 The water treatment plant in construction is of a capacity of 15,000m3/day and is to hold a raw water intake of 16,500m3/day. Three overhead tanks of capacities of 1,000m3, 750m3, 1,500m3 are to be built in Maho, Nagollagama, and Polpithigama respectively. While the project is executed by the National Water and Drainage Board and is funded by the Government of Sri Lanka and the government of South Korea, the construction work of the project is awarded to Kolon Global Corporation. The major parts of the construction work were subsequently subcontracted to Access Engineering PLC.

The scope of the works awarded to Access Engineering PLC includes the construction of an intake pump station (16,500M3/day capacity) at the left canal bank of Deduru Oya reservoir, Potuwewa Water Treatment Plant (15,000 m3per day capacity), water storage tanks at Maho(1000m3 capacity) and Nagollagama (750 m3), the laying of raw water main 500mm dia3.5km long Di pipeline from the intake to the treatment plant at Pothuwewa, laying of clear water transmission for 26 km from water treatment plant to Nagallagama and Maho, and the installation of distribution network for 164 km of diameters from 100mm-300mm (PVC and HDPE).

"The intense weather conditions in the surrounding area are quite challenging for the project to progress as projected, as it has direct impact on the temperature control of the concrete used in operations. Yet the engineering team of Access Engineering PLC is exercising alternative efforts to ensure work progress in maximum capacity in order to complete the project as scheduled," said the Project Manager of Access Engineering for the construction of Deduru Oya Water Treatment Plant Project Saman Abeykoon.