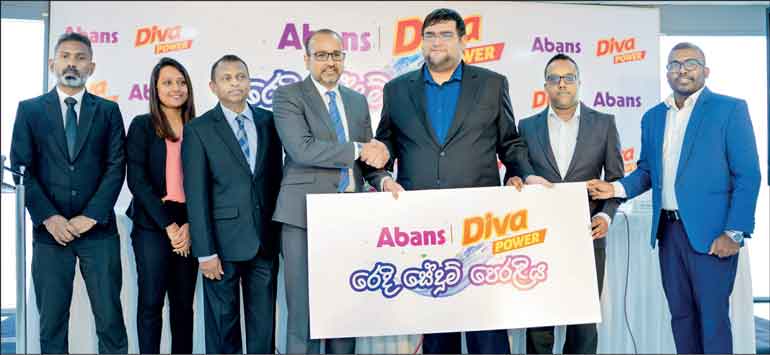 From left: Hemas Consumer Brands R&D Department Head Darshana Kumara, Hemas Consumer Brands Brand Manager Nadunika Pallegangoda, Hemas Consumer Brands Marketing General Manager Derrick Antony, Hemas Consumer Brands Marketing Director Shiyan Jayaweera, Abans Marketing Director Matthew Roche, Abans Marketing Senior Deputy General Manager Ruwan Gunasekera, and Abans Senior Brand Manager Emudu Perera
Introducing the Abans washing machine and Diva Power laundry revolution with a host of exciting promotional offer. Invest in an Abans washing machine and receive a complimentary gift of either Diva Power washing powder or liquid detergent. Every month two lucky winners, selected through a raffle, will have the chance to enjoy a year's supply of Diva Power products completely free of charge.

Abans and Hemas Consumer Brands, both esteemed companies in Sri Lanka, have garnered widespread recognition for their unwavering commitment to enhancing consumers' lives. They have introduced a diverse range of products tailored to meet various needs. In today's fast-paced world, a washing machine has become an indispensable household appliance, offering convenience and time-saving benefits for laundry tasks. Among the many of washing machines available in the market, Abans proudly stands at the forefront of the Sri Lankan market, symbolising excellence and innovation.

The Abans Washing Machine-Diva Power Laundry Revolution promises an exhilarating new experience for customers by merging cutting-edge technology from Abans washing machines with the exceptional superior cleaning and long lasting protection of Diva Power washing powders and liquids. This dynamic partnership ensures that your clothes receive a superior cleaning while contributing to electricity conservation. Abans washing machines are synonymous with longevity, ease of use, reliability, and superior performance, consistently delighting customers to the highest degree.

Diva Power washing powder and liquid have earned their reputation as standout laundry products, offering enduring protection for your clothing. Available in two distinct variations, Colour Guard and Germ Guard, these products are designed to work seamlessly with washing machines and providing outstanding cleaning capabilities for effortless laundry care. Moreover, these products harness UK technology infused with the delightful essence of natural carnation flowers, leaving a lasting fragrance on your clothes. Germ Guard ensures a germ-free wash, thanks to its unique formulation featuring coir and lime extract.

The Abans washing machine boasts a generous 7.5 kg capacity while maintaining remarkable energy efficiency, consuming just 4.5 units of electricity per month. A standout feature of Abans washing machines is the Auto Restart function, which seamlessly resumes the washing cycle from where it left off. Backed by a comprehensive five-year warranty, you can count on the longevity and reliability of the Abans washing machine, proudly manufactured in Sri Lanka as a testament to local excellence.

Experience the Abans-Diva Power Laundry Remedy, offering your clothes a brilliant, super-clean wash and enduring long lasting protection.