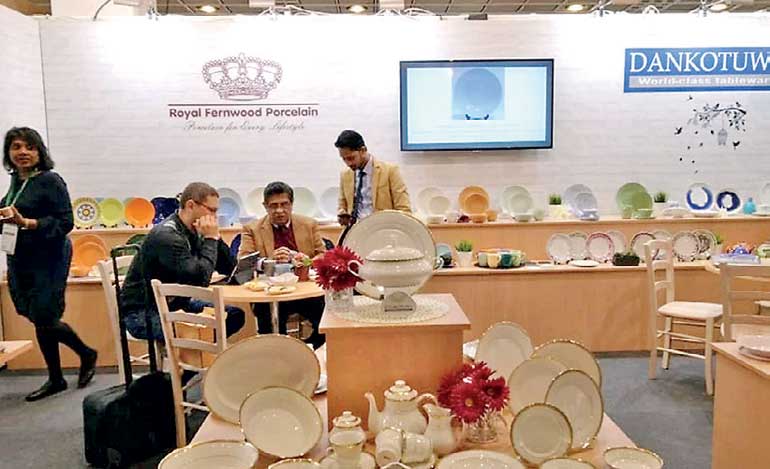 Dankotuwa Porcelain at Ambiente 2019
---
Four Sri Lankan companies will be participating at the world's largest consumer goods show, Ambiente, at Frankfurt Messe from 3 to 7 February in Frankfurt Germany.

They are Art Decoration, Dankotuwa Porcelain, Gospel House Handicrafts and Jawana Graphics.

They will be exhibiting with the products covering interior decoration items, handicrafts, kitchen accessories and craft and artists.

Sri Lanka has been participating in Ambiente for over 30 years now and a number of industries have developed from this fair such as ceramic and handicrafts. Ceramic companies such as Dankotuwa Porcelain are in hall 12.0 (Dining) while the other companies are in hall 10.1 and 10.4 (Giving and Living global sourcing)

Ambiente is the leading international trade fair and the world's number one in products associated with dining, cooking, household items, interior design, gifts, jewellery and fashion accessories.

The four events, consisting of Christmasworld with its focus on seasonal and festive decorations, Paperworld and Creativeworld with their product ranges for paper, office supplies, stationery and hobby, craft and artists' requisites and Ambiente with its cross-sector range of products for the table, kitchen and housewares, furnishing and decorative accessories, home furnishing concepts, gifts and fashion accessories, are the recognised leading trade fairs in their sectors and open the trading year in their respective segments.

There were over 4,460 exhibitors from 92 countries, while over 136,000 trade buyers from 167 counties visited the show in 2019. It is an exhibition where Pakistan can sell to the entire world. The top 10 visitor nations at Ambiente 2019 after Germany were China, France, Great Britain, Italy, Spain, Switzerland, South Korea, the Netherlands, Turkey, and the USA.

Ambiente is welcoming more visitors from all growth regions of the world.

Ambiente 2023 is offering a unique spectrum of products for the table, kitchen and housewares, gifts and decorative articles and interior design concepts and furnishing accessories.

The next Ambiente will be held in 2024 in Frankfurt Germany.