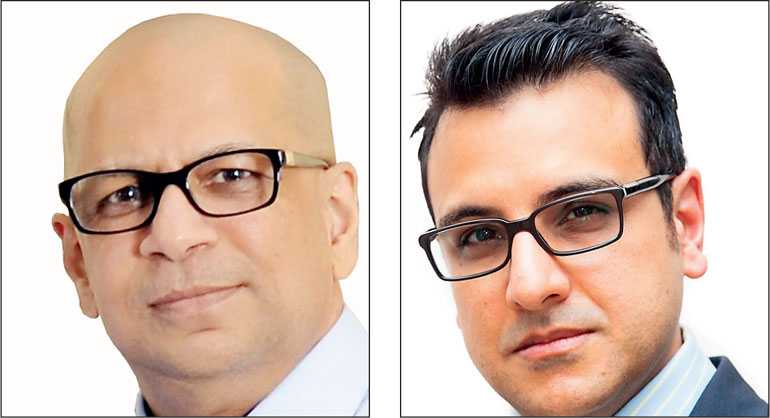 MTI CEO Hilmy Cader and MTI Investment Banking Specialist Naush Beg
---
According to MTI's Corporate Finance and Investment Banking practice, over the next two years Sri Lanka is likely to witness a strong pipeline of mid-cap M&A deals.
Commenting on what is driving this, MTI CEO Hilmy Cader said, "There is a multitude of inter-related reasons. Mid-size companies, after a long period of high double digit organic growth, are experiencing flat organic growth. The only way for these companies to achieve quantum growth and economies of scales (demanded by cost rising costs) is to acquire or merge. But a straight forward consolidation exercise will not help, the integration process needs to put through a radical rationalisation process – to arrive at the optimal business model and the intended bottom-line impact."

"Also driving the need for such mid-tier M&A deals is due to single owner/investor and family owned companies looking to scale-up, 'corporatise' and ensure sustainability of their investments beyond the current generation," said Naush Beg, MTI's UAE based Investment Banking Specialist, experienced across Pakistan and Canada.

According to MTI's Corporate Finance and Investment Banking practice, the current economic and trading environment in Sri Lanka has prompted several mid-size companies (especially one heavily reliant on trading) to do some soul searching, as a consequence of which many are rationalising their business portfolio, their operations and costs. In such an environment while deal pricing (on the sell-side) may not advantageous, those with access to investment funding are driving and in some cases tempting their targets to the negotiation table.

MTI Corporate Finance, is the corporate finance arm of MTI Consulting, a boutique strategy consultancy with a network of associates across Asia, Africa and Middle East. MTI Corporate Finance provides a comprehensive range of services, including due diligence, feasibility studies, funding new businesses or capitalisation of existing ones – from IPOs to private placement facilitation, M&A facilitation, and advisory on governance, compliances and risk management.