Political Science Students of the Eastern University of Sri Lanka were recently given the opportunity to learn in detail about the Constitution making process currently underway in Sri Lanka, and were encouraged to involve more closely in this exercise which would shape the destiny of future generations.

Senior resource persons from Centre for Policy Alternatives (CPA), a leading local public policy organisation which has been at the forefront of advising on the constitutional reform process for the past two decades, made presentations contrasting the historical Constitutions of the country which were made without consensus, and the current process which has afforded the opportunity for citizen input.

"This is a historical chance to shape the formation of a constitution ensuring fundamental and rights and freedoms for all Sri Lankans, and this opportunity must be fully utilised," said CPA Senior Researcher Lionel Guruge initiating the program, 31 July. He pointed out that it was especially important that the younger generation involved in this process as the Constitution would affect the life of future generations. It was observed that unfortunately the process had not reached a broad national level participatory exercise which it ideally should have been, and only a limited dialogue had taken place so far. But compared to previous attempts at constitution making there were some improvements and positive features.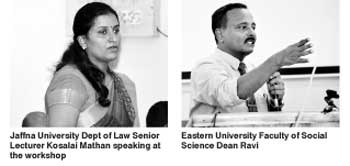 Attorney at Law SG Punchihewa too made a presentation at the event series, going into details of the many important areas that should be covered including Land powers, Police powers, Right to Life, Right to Information and many more.

Senior lecturers A. Kanikaraj from the Eastern University of Sri Lanka and Kosalai Mathan, from the Jaffna University Department of Law also made presentations at these workshops held for more than 150 students of the Eastern University.

A workshop on the same lines was previously held for more than 300 students of the Sripada National College of Education, Hatton. Sripada students are up-country youth from areas such as Ratnapura, Badulla, Matale, Nuwara Eliya and Kandy who would be future teachers themselves. They sincerely appreciated this rare opportunity to closely study the timely topics presented as well as to involve in Constitution-making.

Topics discussed in the included the previous Constitutions, the content of the six subcommittee reports on constitution-making and the importance of sustaining the process of making a new constitution for Sri Lanka. A number of relevant publications in Sinhala and Tamil, on constitution making, were distributed.

The series of workshops are part of a continuing drive by CPA, partnered by the Friedrich Naumann Foundation (FNF), to promote public engagement in the constitutional reform process. Citizens can engage further and link with CPA's Citizens Initiative for Constitutional Change through www.Citizenslanka.org or by contacting lionel@cpalanka.org.