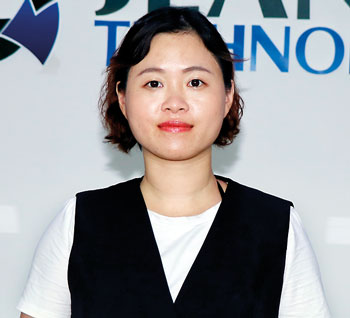 World's leading solar company Trina Solar's Asia Pacific, Middle East and Africa (APAC-MEA) Regional Marketing Manager Grace Ge
Hosts world's global solar leader Trina Solar's APAC-MEA Regional Official Grace Ge
Sri Lanka's pioneer and leader in Solar PV Systems and Next Generation Energy Technologies JLanka recently hosted the world's leading solar company Trina Solar's Asia Pacific, Middle East and Africa (APAC-MEA) Regional Marketing Manager Grace Ge. Being the premier solar solutions provider in the country with a longstanding reputation for quality and unmatched service in the industry, JLanka Technologies has maintained close trade relationships with Trina Solar over the last seven years.

As part of its commitment to source the cutting edge of solar technology to the local market, JLanka officials accompanied the Trina Solar's APAC-MEA Regional Marketing Manager Grace Ge to industrial customer Solar Photovoltaic sites developed the company. Since inception in 2010 to date JLanka's solar installations have generated over 20MW of electricity powered with Trina Solar panels, which is inclusive of its annual contribution of 21GWh of energy to the Sri Lanka national grid.

This visit marks a milestone in Trina Solar partnership with JLanka being a distributor of their solar panels. Trina Solar official highlighted that as of 2015 they produced 4.55 GW of crystalline modules, retaining its position as the number 1 solar solutions producer in the world.

Speaking on the visit Grace Ge said that Trina Solar is now focused on expansions to global markets and as such has maintained a close partnership in Sri Lanka with solar companies such as JLanka Technologies. The relationship has enabled Trina Solar to ensure that their products are marketed, installed, maintained and serviced with quality on par with international levels. Grace Ge during her visit took initiatives aimed at building customer awareness, trust and understanding of JLanka-Trina solar solutions to domestic industrial sector.

"Sri Lanka has a larger potential in the booming solar market and we are committed to help and support with our technologies to our partners in providing quality solar products to both households and industrial sectors," Grace said.

According to Trina Solar Officials Solar panels significantly reduces monthly electricity bills and dependence on the power grid. This energy independence protects against rising electricity costs and volatile fuel prices. With analysts forecasting continued increases in electricity rates, solar remains a cost-effective solution and long-term investment in the future. Studies have also shown properties with solar systems sell up to 20% faster and at a 17% premium compared to homes without such systems. A solar installation makes your property more attractive to buyers, increasing its resale value. Unlike energy generated by fossil fuels, solar doesn't release harmful carbon dioxide (CO2) emission. Sustainable carbon-free energy solutions such as solar are crucial to slowing the pace of climate change and preventing further damage to the environment.

JLanka has tirelessly worked towards realising this vision during the past seven years, encouraging and educating the public of the long-term benefits of solar solutions, while at the same time investing in the latest international technologies, continuously improving on products and solutions. JLanka Technologies had helped domestic religious places and temples at large to bring down their energy and utility bills while contributing to a greener and a more sustainable environment.

JLanka has a wide branch network in 14 key cities covering almost all provinces of the country, making it easier to deliver projects on time and handle logistics related to solar power project implementations, unlike any other solar player in the country. Further the availability of equipment and relevant technology for larger projects has been a success due to the strong partnership that JLanka has with Trina Solar as a global partner, while the Sustainable Energy Authority of Sri Lanka too has selected JLanka to install a Solar PV Net Metering System at the Hambantota Solar Park.

In Sri Lanka, JLanka has saved local homeowners millions of rupees on their electric bills since 2011. JLanka designs, installs, finances, monitors and maintains the solar panels on a homeowner's roof, while families receive a guarantee for optimised solar energy production for 25 years or more.