By Charumini de Silva

Tourism Development Minister John Amaratunga yesterday expressed confidence that Sri Lanka could see as many as 2.5 million tourist arrivals in 2017, higher than the official target of 2.2 million, if the Indian and Chinese markets were effectively promoted and managed.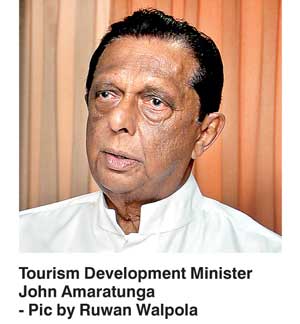 "There is no problem in reaching the target of 2.2 million tourist arrivals. If we can tackle the Indian and Chinese markets we can attract an adequate number of travellers from these countries," he told journalists at an event held at the Sri Lanka Institute of Tourism and Hotel Management (SLITHM) yesterday.

He pointed out air connectivity and affordable ticket prices as key factors to attract a substantial number of travellers from India and China.

"If we can tackle India and China we can easily attract half a million from each market," Amaratunga added.
The Minister said there was a lot of enthusiasm from Indian travellers for MICE tourism, especially to hold their destination weddings in Sri Lanka.

He pointed out that 100 travel agents from India will visit Sri Lanka in September with a view to attract high-spending travellers.

In addition, he asserted that they will also conduct a promotional campaign in Chengdu, China next month.

Furthermore, the Minister stressed that in order to promote the tourism industry as a key sector it was important to relax some of the regulations related to the sector, adding that already the appointed special taskforce was working on it.

Citing a recent incident where a tourist was charged Rs. 100,000 for a few cans of beer purchased for his personal consumption, the Minster claimed that these regulations should be relaxed if the tourism industry is to flourish.

"The special taskforce appointed for the tourism sector is now working on the levy, hours of sale and relaxing regulations in this regard," he said.

Amaratunga also assured that the dengue outbreak has had no effect on the tourism industry and all hotels in Kandy are fully-booked for August and September, especially in Kandy for the Esala Perahera.

"The indications are very good. The bookings are encouraging. Travel agents are confident, tour agents are confident, hoteliers are confident that they will have very good occupancy from next month onwards," he revealed.