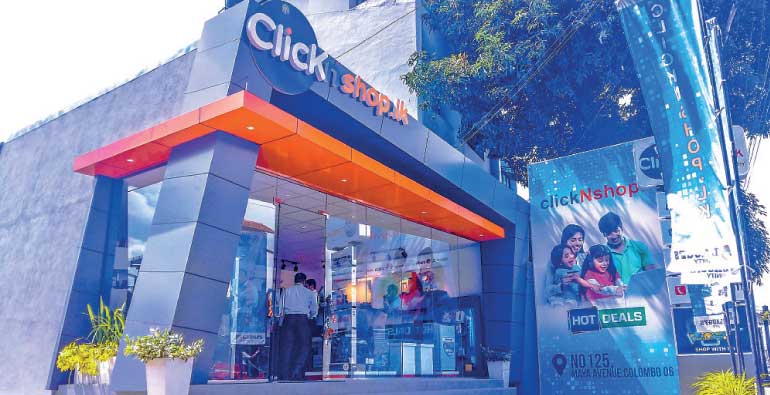 The new ClickNshopCentre
Lfinity Ltd., a subsidiary of LAUGFS Holdings, recently unveiled their E-commerce experience centre at No. 125, Maya Avenue, Colombo 6. The Group Managing Director Thilak De Silva joined the management team in declaring the venue open. The new customer touch point will allow customers to physically inspect items which are available online for sale at www.clickNshop.lk and also make purchases of some of the fast moving items that are marketed through the website. The new E-commerce experience centre provides facilities to browse and place orders at the location itself and assisted-ordering for those who wish to explore e-shopping as a new experience.

"This experience centre will help us connect with our customers better and also allow those customers who choose to pay and pick up their orders at a physical location to have a better experience," explained Lfinity Ltd. Chief Operating Officer Muditha Thebuwana. The event was attended by representatives of supply partners and the media as well. "We have over 8,000 products listed in our site from reputed suppliers. Some of the items are directly imported by us and customers can also access all products offered by various LAUGFS companies via www.clickNshop.lk. Our aim is to offer our customers quality, convenience and reliability. Although most online deal sites focus on offering rock bottom prices, our priority is to offer high quality products with a reliable service as we focus on sustainability in the long-run. We have been focusing on building systems that can be scaled, so that our customers will enjoy the same levels of reliability despite our plans for expansion," Thebuwana further elaborated.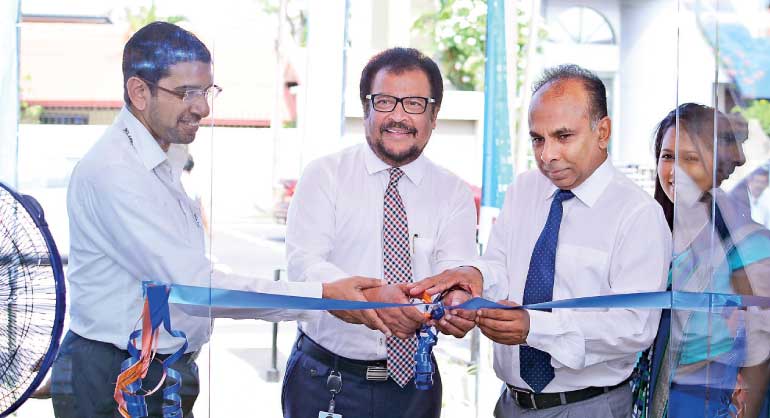 LAUGFS Holdings Group Managing Director Thilak De Silva (second from left) together with the LAUGFS senior management team at the opening ceremony of the new ClickNshopCentre
ClickNshop.lk commercially launched in 2015 and is currently a fast growing, trending E-commerce platform with many customer centric benefits. All orders within Colombo 1-15 are delivered free of charge while the delivery fee for rest of the locations island-wide is maintained at a very reasonable rate. Interest free instalment schemes are available from all major bank credit cards so that customers can purchase high value items without any additional interest.

Lfinity Ltd. is a subsidiary of LAUGFS Holdings and serves as its online retail arm. Currently it operates www.clickNshop.lk, www.grocerypal.lk and www.bizdezk.com among its online stores. LAUGFS is one of the largest diversified business conglomerates and a trusted name in Sri Lanka. Founded in 1995, LAUGFS today has expanded across more than 20 industries, both local and overseas, establishing a strong presence as a leader and pioneer in the power and energy, retail, industrial, services, leisure, logistics and real estate sectors. With over 4,000 employees and an annual turnover exceeding Rs. 28 billion, LAUGFS continues to expand and empower millions as a trusted Sri Lankan brand.