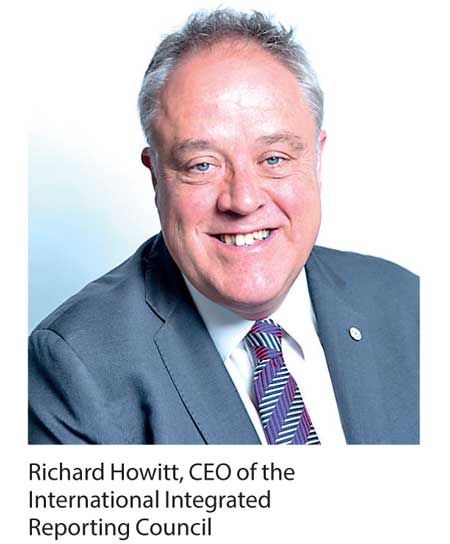 The worldwide shift for businesses to integrate its external relationships and resources in to their financial reporting, is now on the path to maturity in Sri Lanka, according to the global Chief Executive who is driving the change.

Forty of 290 Sri Lankan companies have adopted 'integrated reporting' and its growth has become a market trend in the country, according to Richard Howitt, CEO of the International Integrated Reporting Council (IIRC), during a three day-visit to Colombo.

Howitt presented Diesel & Motor Engineering PLC (DIMO), Sri Lanka, with first place in the integrated reporting awards at the Institute of Certified Management Accountants annual conference.

"I am delighted that a company which was one of the pilots who helped us draw up the International Integrated Reporting Framework and who still plays an influential advocacy role as part of our international business network, continues to enjoy real success through integrated reporting," Richard Howitt said in his keynote speech to the awards ceremony.

"What is making Sri Lanka a 'hot spot' for integrated reporting, is the forty companies who have decided to apply for this award, and other main award winners including John Keells Holdings and People's Leasing and Finance, who demonstrate the real momentum which exists here to embrace the integrated thinking which lies behind these new reporting practices."

The IIRC chief cited an academic study from the University of Sri Jayewardenepura that shows integrated reporting has become a market trend in Sri Lanka, and separately met with the country's Securities and Exchange Commission (SEC), who he praised for encouraging integrated reporting in their 'Capital Market Strategy 2020'.

"The study proves that the take-up of integrated reporting has gone beyond the 'early adoption' phase and has entered the 'diffusion' stage, with increasing numbers of companies adopting because they recognise that this is now becoming a market trend." Howitt continued.

"I commend the Securities and Exchange Commission of Sri Lanka (SEC) for including a statement that listed companies would be encouraged to adopt integrated reporting, as part of its capital markets strategy. As for other fast-growing economies across Asia, integrated reporting can be a key driver for developing Sri Lanka's capital markets, which itself leads to accelerated economic growth.

"Businesses wanting to meet the challenge of international competitiveness, better manage staff turnover and inclusiveness, and to embrace global sustainable development goals, can use integrated reporting as a tool for delivery. My message is that this delivers not just for individual businesses locally, but for the Sri Lankan economy as a whole.

"Whether it is for trade, for attracting investment, or simply for the reputation of having practices which reflect the best international benchmarks, integrated reporting can be part of Sri Lanka's future economic success."

The International Integrated Reporting Council invites companies to join its international business network, take part in training in integrated reporting, and works in partnership with the Integrated Reporting Council of Sri Lanka.

The International Integrated Reporting Council (IIRC) is a global coalition of regulators, investors, companies, standard setters, the accounting profession and NGOs. The coalition is promoting communication about value creation as the next step in the evolution of corporate reporting.Integrated Reporting is enhancing the way organisations think, plan and report the story of their business. Organisations are using Integrated Reporting to communicate a clear, concise, integrated story that explains how all of their resources are creating value.

Integrated Reporting is helping businesses to think holistically about their strategy and plans, make informed decisions and manage key risks to build investor and stakeholder confidence and improve future performance. It is shaped by a diverse coalition including business leaders and investors to drive a global evolution in corporate reporting.