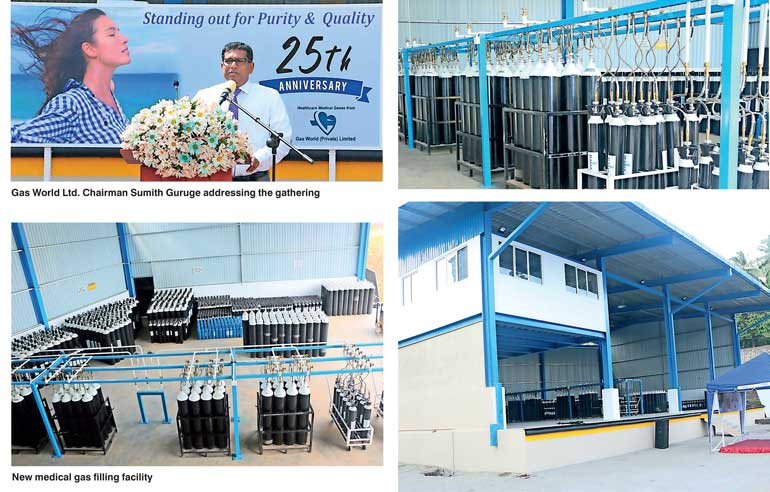 Gas World Ltd, an associate company of Industrial Gases Ltd. (IGL), which marked the 25th anniversary of its operations in Sri Lanka, made its presence known with its latest technology standards set by the company.

To commemorate this landmark, Gas World launched its new dedicated medical gas filling facility with a cylinder traceability system. Located in Sapugaskanda, this key milestone reaffirms Gas World's position as a long-term investor in the country and as a leading medical gases supplier.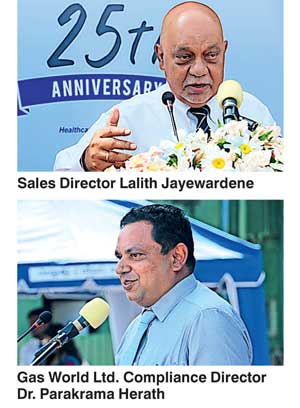 With this new automated filling facility, which is the largest in the country, Gas World expands its medical oxygen, breathing air, nitrogen and nitrous oxide supply to hospitals to assist patients when they are at their most vulnerable.

Gas World is one of the key medical oxygen manufacturing companies, supplying from its own state-of-the-art cryogenic air separation plant, which generates liquid oxygen and liquid nitrogen, which conforms to international pharmacopoeia standards.

Commitment to purity and quality has further helped the company maintain a strong market presence and find a strong foothold in the industry. The new manifold system allows for expansion of capacity to meet the future needs of the entire market.

The new filling centre is geared to deliver cost competitive options to customers with advanced cylinder filling using world-class technologies and innovative solutions, while encapsulating industry-leading safety features and environment-friendly Good Manufacturing Practices.

Speaking at the official opening, Gas World Chairman Sumith Guruge, who has 30 years' experience in the service industry, stated: "Gas World continues to see growth opportunities in the country with our firm presence in the industry. We have an established track record of continued investments and of bringing the latest technology to Sri Lanka. I am pleased to note that in the past five years alone Gas World has increased its sales growth by five times. We hope to further strengthen our leadership in the medical gas industry and to support our customers in helping them to reduce their costs, while delivering sustainable and profitable growth for our stakeholders."

"Technology, innovation and an inventive spirit has and always will be at the heart of Gas World for the years to come," he added.

Sharing his thoughts at the launch, the Pharmacist of the Teaching Hospital in Kandy stated that Gas World had broken the monopoly in the gas industry by successfully meeting all the requirements in State tender procedures.

Gas World had fulfilled all aspects of qualifying criteria such as high purity and quality standards and the capacity to supply on a continuous basis and cost. With Gas World commencing supplying medical gases to the Kandy Hospital, the costs incurred in purchasing medical gases by the hospital had come down by about 50%. He also stated that the hospital has had a successful partnership with Gas World with the well sustained service and quality of the product throughout supply.

The strategy of Gas World Ltd. is geared towards long-term profitable growth and focuses on the expansion of its business, with forward-looking products and services. Gas World acts responsibly towards its business partners, employees, society and the environment in every one of its business areas.