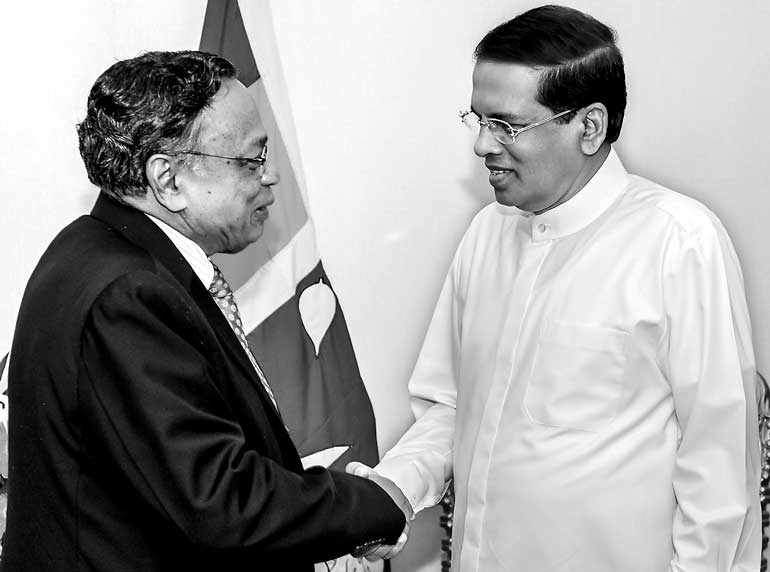 President Maithripala Sirisena who is on a three-day State visit to Bangladesh met with Foreign Minister A. H. Mahmood Ali
BDN: Bangladesh will showcase its economic achievements and seek to step up bilateral trade and investment during the three-day visit of Sri Lankan President Maithripala Sirisena beginning on Wednesday, High Commissioner in Colombo Riaz Hamidullah has told bdnews24.com.

Ties between Sri Lanka and Bangladesh have remained at a low level because both had been struggling to contain internal political problems and build their economies. At any rate, intra-South Asian trade has been extremely poor except for bilateral trade between India and individual South Asian countries.

Nevertheless, even as far back as the 1980s, some Sri Lankan firms like the Kundanmals moved some of their investments to Bangladesh, where the security situation was better than in Sri Lanka and labour too was cheaper.

Although those Sri Lankan firms which set up business ventures in Bangladesh subsequently did well, the movement of capital from one country to the other and bilateral trade remained at a low level mainly because of the economic and security situation in Sri Lanka.

However, the end of the Tamil insurgency in Sri Lanka in 2009 brought about a sea change. But Colombo gave priority to massive infrastructural development with Chinese help, leaving other sectors of the economy undeveloped. Trade and investment did not boom.

Bangladesh, meanwhile, had taken the path of rapid all-round economic development embracing all sectors – agriculture, industry, power and infrastructure.

Today, Bangladesh has a lot to give Sri Lanka in terms of agricultural know-how, disaster management and preparedness, pharma ceuticals manufacturing, use of solar power, and IT education and use.

At long last, Sri Lanka is seeing Bangladesh as an economic partner and as an economic opportunity. Accompanying President Sirisena on his visit to Dhaka are representatives of 40 top Sri Lankan companies in diverse fields. And Sirisena himself will be visiting a renowned agricultural research institute.
Agriculture

Unlike Sri Lanka, Bangladesh has reached self-sufficiency in food, including rice, having increased food production from 10 million tons in 1972-73 to 39 million tons in 2015-16, although in the same period, arable land had decreased from 9.8 million hectares to 8.27 million hectares due to urbanisation.

Bangladesh can now join countries like India, Pakistan and Thailand in selling rice to Sri Lanka in times of urgent need.Like Sri Lanka, Bangladesh experiences droughts and floods frequently. But it has found ways to overcome the challenges posed by such natural disasters through what High Commissioner Hamidullah calls "climate adaptation techniques".

"Bangladeshi farmers in flood-prone areas are now using a variety of rice which can remain submerged for as many as seven days without getting damaged. They also use rice varieties which can withstand drought and salinity," he told bdnews24.com.

"In tackling drought, we have been able to reduce the use of water in rice cultivation by half – from 3500 litres per kg of rice to 1800 litres. This technique can be used in the dry zones of Sri Lanka like the Northern Province," Hamidullah added.

But with its population galloping by two million a year, Bangladesh has to increase productivity in its farms from the present 3.47 tons of rice per hectare to 3.74 tons.

"To step up production, Bangladeshi farmers are given subsidies for fertiliser, fuel and electricity. Agro-machines are sold with a subsidy of 50%-70%. Farmers are also entitled to relief and rehabilitation in case of crop loss due to natural disasters," the envoy said.

"Production of rice has soared because of the adoption of High Yielding Varieties (HYV). But these require extensive irrigation and heavy input of chemical fertilisers. Irrigation had increased from 12.46% in 1980-81 to 78% in 2014-15," he said.

However, Sri Lanka will have issues about the use of chemical fertilisers. There is opposition in the island to the use of chemical fertilisers, which are said to cause chronic kidney disease in certain parts of the island, especially in President Sirisena's North Central Province.

But alternatives could be found by joint Bangla-Lankan research.

"It is significant that President Sirisena will be visiting one of our rice research institutes. Former president Chandrika Kumaratunga also visited one of our reach centres when she went to Bangladesh in May," Hamidullah said.

Bangladesh can also share the know-how about other crops. According to the FAO, it is the fifth largest producer of horticultural items in the world, and the fourth largest in mango cultivation. In inland fisheries, it is fourth.
Disaster preparedness

Bangladesh is keen to share with Sri Lanka its disaster preparedness system, which it has "assiduously and painstakingly worked out since 1990-92 through the trial and error method," as the high commissioner put it."We have been able to greatly reduce human and cattle loss by putting in an administrative structure which gets activated the moment disaster warnings are received. The structure, which exists in every district, comprises designated officials as well as identified and trained local volunteers. These swing into action as per very detailed standing orders."

"Bangladesh remains among the top 20 countries on the list of disaster-prone countries. Disasters cannot be stopped. But we in Bangladesh have learned to live with them in a way that we lose the least," Hamidullah said.

At the grass roots, local volunteers are given an yellow jacket, a bicycle, and a torch and each volunteer is assigned a certain number of households in a defined area to take charge of. The moment a cyclone of a certain intensity is announced, these volunteers fan out to their designated areas, and urge people to evacuate to pre-built cyclone shelters with separate shelters for men and women.

"If someone refuses to move, the volunteers are allowed to beat them up to get them moving!" the high commissioner remarked to indicate the seriousness with which the task is viewed.

"The disaster preparedness system has worked so well that the last cyclone Mora resulted only in five deaths in place of the thousands who would perish earlier," the envoy pointed out.
Information technology
Bangladesh is excelling in the use of information technology. There are 23,000 multimedia class rooms, and 150,000 teachers are part of the Teachers' Portal which has put across 80,000 contents to help teachers improve their teaching. The aim is to post 900,000 contents online.Though unlike Sri Lanka, Bangladesh is not against the use of coal power, it is way ahead in the use of solar energy, with five million households already using solar power.
Travel, tourism and business

High Commissioner Hamidullah said both Bangladeshi and Sri Lankan businesses are aware of the possibilities of increasing trade, investment and tourism in each other's countries, but certain factors are hindering trade and investment.

"The Dhaka-Colombo-Dhaka air fare is $ 720. This is way too much for a large and constant flow. Bangladeshis are fond of travel and great spenders. They will come in their thousands if the fares are made competitive.

"And along with tourists will come potential traders and investors sniffing for opportunities which will be good for both countries," the envoy said.

"Sri Lanka's high tariffs are another block to trade. Besides that, there are unknown factors hindering trade. Bangladesh's pharmaceutical products are much appreciated in Sri Lanka but that is not reflected in imports," he pointed out.
Labour

Sri Lanka, which is short of labour, can make use of Bangladeshi labour, but there is reluctance on the part of the government to allow import of labour, Hamidullah said.

"If Sri Lanka is apprehensive of foreign labour settling down permanently, it could issue short-term, project-related work visas. Countries with a labour shortage import labour in order to develop. If they don't import they will be left behind," High Commissioner Hamidullah pointed out.