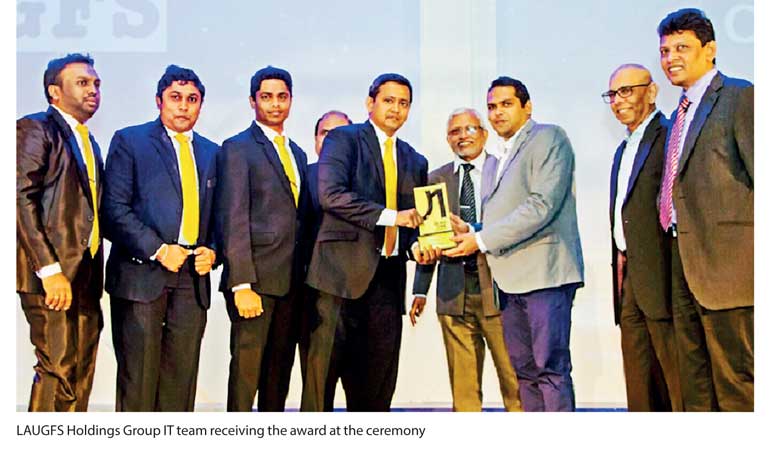 Reinforcing its digital dynamism, LAUGFS IT received top notch awards at the SLT ZeroOne Awards for Digital Excellence, winning the award for the best website/microsite in the Manufacturing, Transportation and Logistics category as well as the overall award for the best website/microsite.

Initially launched in September 2016, SLT ZeroOne Awards focus on inspiring Sri Lankans to use digital platforms effectively to achieve optimal success and prominence. Held at the Cinnamon Grand recently, SLT ZeroOne awards ceremony recognised organisations and individuals in three categories; Main category awards, Lifetime awards and Sector awards.

SLT ZeroOne Awards adjudged competing websites based on strict criteria of excellence in overall functionality of the site, structure, navigation, content, design and how these criteria combined to meet the central objectives of the website. Creativity and the complexity of the interactive features too were considered in determining the winners.

Commenting on the achievement, LAUGFS Holdings Group Chief Information Officer Indika Gunawardena stated, "The digital medium is a continuously evolving one and innovation and insight are the keys to leveraging the benefits of this medium to achieve business excellence through 'Information Communication' and 'Information Technology'. I am pleased to say that LAUGFS has succeeded in achieving this feat with considerable ease throughout the past few years. This prestigious recognition is yet another tribute to our IT capability and know-how. This honour belongs to the dedicated individuals who work tirelessly to maintain the efficacy, appeal and the functionality of our digital platforms and in doing so promote the value of the LAUGFS brand through the medium."

LAUGFS is renowned in the industry for its IT capabilities having won 15 local and international accolades within the past two years in multiple disciplines in the IT arena including a prestigious award at the APICTA (Asia Pacific ICT Alliance) awards ceremony 2016 held in Taiwan.

LAUGFS website was designed and developed by a team of web designers and developers, headed by Manoj Niranjan – Assistant Manager Web applications attached to LAUGFS Group IT and was supported by the IT Project Management and Security operations centre that perform and validate information security of systems and applications.

LAUGFS Holdings is one of the largest diversified business conglomerates and a trusted name in Sri Lanka. Founded in 1995, LAUGFS has expanded across more than 20 industries, both local and overseas, establishing a strong presence as a leader and pioneer in the Power and Energy, Retail, Industrial, Services, Leisure, Logistics and Real Estate sectors. With over 4,000 employees and an annual turnover exceeding Rs. 28 billion, LAUGFS continues to expand and empower millions as a trusted Sri Lankan brand.