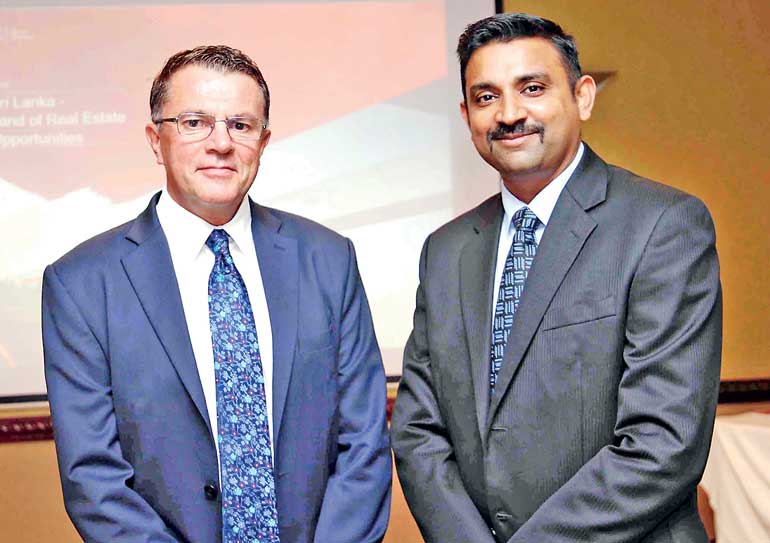 Sri Lanka Operations Managing Director Steven Mayes and Transitions Head Sunil Subramanian at the launch of JLL's annual Real Estate Report
By Himal Kotelawala and

Poorabi Gaekwad

Ranking Sri Lanka 69 on its Global Real Estate Transparency Index, a leading investment management company yesterday said the sector was set to play a major role in the country's growth and played down fears of a bubble in the high end segment of the market despite decreasing affordability.

Presenting its findings to the media in Colombo, Jones Lang LaSalle (JLL) Inc projected double-digit growth in the domestic real estate sector over the medium term, while noting the increased demand for residential property and a growing demand for high end office space as the economy increases in sophistication.

The luxury apartment sector, in particular, is expected to get a boost, though not without a caveat. According to JLL, over 3,700 apartment units are expected to enter the luxury apartment market over the next few years but with decreased affordability due to increased land prices and other factors.

According to a SWOT analysis conducted by JLL on luxury residencies in Colombo, Government valuations for State-owned land disposals may deter investor interest/take up. As an overwhelming majority of luxury condominiums are limited to the Colombo Business District (CBD), the lack of geographical spread of new developments may result in future sustainability issues such as pollution and traffic congestion.

Speaking to Daily FT on the sidelines of the event, JLL Managing Director Steven Mayes said with regard to sustainability, the perceived oversupply is more of a lag between construction and absorption.

"All developers will do is slow down construction to a degree to try and marry up to the absorption rate. And as the country opens up to wider geographies and investors from other parts of the world, that perceived oversupply should be absorbed and keep pace with the construction," said Mayes.

Asked about environmental concerns such as sewage management and waste disposal, Mayes said: "There is a general concern about infrastructure in Sri Lanka, full stop. Be it airports, roads or railways."

"As [nearly] 4,000 units come to the market, the utilities prices are always under question. Approval processes are married up to the availability of the utilities. Approvals will not be given unless the utilities are in place. It's an emerging market. We're still eight years post-conflict. We have had the post-conflict bonanza boom. We're now in a period of consolidation," he added.

Meyes went on to say that typically, in a mature market, private developers are contracted to provide infrastructure and utilities such as power supply and sewage management. "I think that's a model that will come into play in Sri Lanka," he said.

"Currently it's the municipality or Government that provides, but I think the private sector will be forced to provide in utility and infrastructure going forward as part of the approval and licensing process," he added.

Presenting the findings, JLL Head of Transactions Sunil Subramanian said that the average of absorption of luxury condominiums has been growing consistently year-on-year. However, the number of units announced is significantly higher than what the average absorption can be.

"The concern is really the gap," said Subramanian, adding that the supply may be slightly long drawn compared to current absorption levels.

"There are no major concerns. Sales are happening, developers are content with the sales. There is a bit of a slowdown in the market, but that is to be expected in any market and it's not alarming," he said.

So far some 700 apartment units have been completed. Responding to questions, Subramaniam said that even when the market was good, many of the luxury apartment buildings didn't have 100% capacity. Projects such as Emperor had vacancies for some time. On320, which was declared open in 2015, he said, had 475 apartments in total and is now currently running at 70% occupancy.

"The 20% vacancy doesn't mean there is no demand," said Subramanian, adding that rental occupancy demand is not growing as high as in other sectors, but that growth will come in conjunction with growth in business.

"It's all connected. FDI policy and other factors will have a knock on effect. With more international companies coming into the country, the demand will increase," he said.

Reiterating that the average annual absorption has been consistently growing, Subramanian said that the number of projects announced is a little more than what the average growth is, warning that there is likely to be a delay in the absorption.

Meyes, delivering the closing remarks of the presentation, was optimistic of Sri Lanka's potential.

"I think Sri Lanka is on the precipice of a golden era - due to the geopolitical situation, the investment, the infrastructure, the construction sector, the growth in welfare, etc. Of course it's not going to be all uphill. There are going to be slips and trips along the way. The One Belt One Road project, I know, is contentious, but it's putting Sri Lanka very much on the radar, very much on the focus. I think Sri Lanka's profile on the global stage has been increasing," he said.

According to the JLL report (issued for May 2017), a major change which has emerged in the ongoing post-conflict period is the increasing investment by Non-Resident Sri Lankans (NRSLs). Although the country lacks entertainment venues and destination malls, the company said international brands are also showing increasing interests in Sri Lanka as consumers are adopting a more brand-conscious attitude.

JLL noted that the country has reached the two million mark in 2016 in foreign tourist arrivals and has seen a growth of 14%, attributing the growth to, among other things, a stable political condition, which the company said one can clearly see as Sri Lankan Tourism amounts to 22% of the annual growth as of 2016.