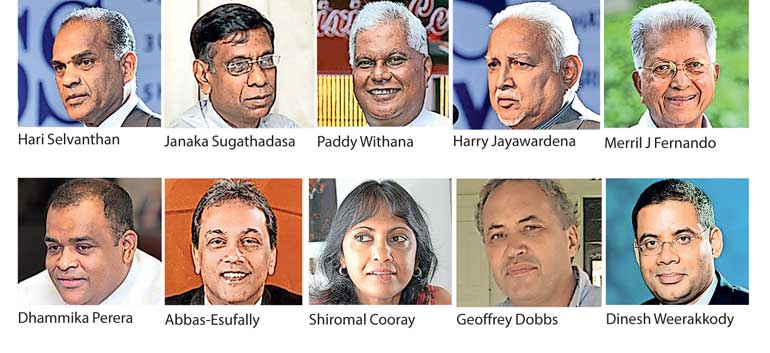 A new high-profile taskforce has been appointed to drive Sri Lanka's 2025 vision for the tourism industry.

The 13-member taskforce recommended by Prime Minister Ranil Wickremesinghe has been approved and appointed by the Cabinet.

The taskforce is chaired by Hari Selvanthan and comprises Tourism Ministry Secretary Janaka Sugathadasa, Sri Lanka Tourism Chairman Paddy Withana, Harry Jayawardena, Udaya Nanayakkara, Merril J. Fernando, Dhammika Perera, Abbas Esufally, Shiromal Cooray, Geoffrey Dobbs, Dinesh Weerakkody, Dileep Mudadeniya and Thilak Weerasinghe.

John Amaratunga's Tourism Ministry will be responsible for monitoring the progress of the recommendations made by the taskforce. The members of the taskforce met Prime Minister Wickremesinghe prior to his departure to the US.

The tourism industry also has an Advisory Council appointed under the Tourism Act. It comprises several of the members of the new taskforce as well and meets quarterly.

Sources said the council plays a more advisory role whereas the taskforce will be more aggressive in terms of policy and strategy with several critical subcommittees to drive national plans.

The industry has set its sights on four million tourist arrivals by 2020, with earnings of $ 5 billion.

At present tourism accounts for close to 5% of Sri Lanka's $ 81 billion GDP. Tourist arrivals to Sri Lanka crossed the two million milestone for the first time in history, reaching 2,050,832 arrivals, recording an impressive annual growth of 14% in 2016.

Earnings from tourism last year hit an all-time high of $ 3.4 billion as against $ 2.98 billion in 2015.

Post-war Sri Lanka has enjoyed a 93-month streak of tourist increases until February this year when arrivals were impacted because of the partial closure of Bandaranaike International Airport (BIA) to upgrade the runway.

Arrivals in the first four months of this year were up 6% to 765,202 with performance in January-March impacted by the partial closure of BIA.

Though Sri Lanka is targeting four million tourists by 2020 (original figure was 4.5 million but was revised to lure more quality and high-spending visitors), recently the Pacific Asia Travel Association (PATA) said its forecast for Sri Lanka in 2020 is 3.7 million with an annual average growth of 10.4% from 2017 onwards.

However, Sri Lanka's growth estimate is a higher forecast for Asia Pacific which is 6% in 2017 and will continue at 5% per annum to 2021. South Asia's average is 7.5% per annum and Southeast Asia's is 6.6% although both are among the fastest growing destination sub-regions between 2016 and 2021 according to PATA.