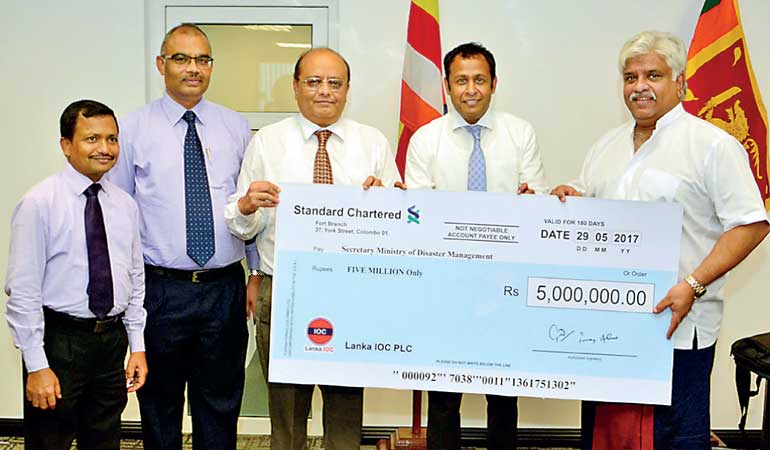 The southern area of the island country is facing nature's fury and huge swathes of land have submerged due to the torrential rains during the last week. Several lives have been lost due to flooding and landslides and more than 450,000 people have been displaced. Efforts are on by the Government authorities to rescue people who are marooned and trapped in continuing rains and the fear of landslides still lurking around.

Citizens' welfare has always been a priority area for Lanka IOC. In this hour of national crisis to supplement the rescue and relief measures, Lanka IOC MD Sh. Shyam Bohra handed over a cheque of Rs. 5 million for the Disaster Relief Account to Minister of Petroleum Resources Development Arjuna Ranatunga. The Minister was very appreciative of this gesture. The employees of the company are not far behind and have pitched in with a contribution equivalent to their 1 day salary to the relief fund. The company contributed Rs. 5 million in July 2016 in relief due to another disaster arising out of a massive landslide in heavy rains. As part of its CSR activities, the company organises health camps, blood donation camps, distribution of wheel chairs and English literacy campaigns for poor children. It has also provided ambulances and reconstructed two primary health centres and maternity homes.

Lanka IOC business partners have also galvanised to associate themselves in providing relief measures at local level and also with financial contribution. The company is also making all efforts to restore normal operations of its filling stations which were badly affected due to this devastating flood. Continuous monitoring is being done in close coordination with Government officials to ensure availability of petroleum products across the island.

Lanka IOC said it remained committed to the nation and would always be ready to extend all possible help and assistance in such hours of human crisis.