By Sharmila Bandara


According to a 2016 survey conducted by the Sri Lanka Labour Force, 50% of the Sri Lankan population consists of women and 35.9% of them make up the female labour force of Sri Lanka – and the number of women entering the workforce is growing considerably.

As encrypted in history, women's roles have been predominantly defined by society. Women are brought up in a manner that is completely different to that of a man, in terms of stereotypical gender markers, like decorum, dress code, behaviour, assertiveness, etc. which is why most women, particularly in South Asia are reluctant to pursue challenging and demanding careers.

Further, apart from having to keep up with the fast evolving advancements in the workplace, their role as women inevitably calls for the demanding role of multi-tasking between multiple roles as mother, spouse or breadwinner.

Empowerment of women in the context of knowledge societies entails building up and developing the capacities of women so as to strengthen their participation in the economic processes and thereby produce an overall improvement in their quality of life.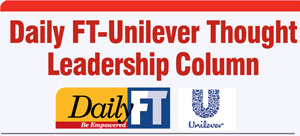 Unilever Sri Lanka nurtures a culture of empowerment, where women are encouraged to take up job roles that are on par with their male counterparts and are recognised for their efforts in contributing to the growth of the company. This is apparent in the fact that many of the pivotal roles that positively impact the company decision-making process are held by women employees who have proven to be focused, adaptive, risk taking and responsive to change.

Women can bring innovation, creativity and a unique skill set to a forum, with much more thought and empathy, which result in people acknowledging women in positions of power to be confident and empowered as opposed to the conventional, passive South Asian woman.

As a leading FMCG company in the country that predominantly caters to the Sri Lankan woman, it makes good business sense to have that most vital demographic proportionally represented in the company. In Unilever, 45% of our total management today are women. Their unique perspectives, thoughts and attitudes are invaluable in making Unilever's more than 30 brands, some of the most loved in the country.

In an environment that is very dynamic, women as well as men should be able to adapt to the environment on equal grounds, and whoever does so successfully will survive. By being able to do so, women will be able to confidently respond to the changes in the industry, construct ideas through innovative thinking and creativity, as well as make and execute better decisions. This experience in professional careers as better decision makers will be very successful in their personal lives too.

Our Project Saubhagya stems from a deep understanding of the difficulties faced by women in developing markets and the integral part they play within Unilever's own distribution network. It was implemented in 2003 with five brave women entrepreneurs that took the first step towards economic inclusion and the program has progressed from there to more than 5,000 Saubhagya entrepreneurs today. On their journey to economic inclusion they are equipped with basic knowledge in sales, accounts and even in health and hygiene.

While there are initiatives lead by governments and corporations to increase women's inclusiveness in the workforce, there are also misconceptions held by women themselves that need to be overcome. Amongst these is the misconception that successful career women cannot have a happy family life. The right attitude, common sense and willingness to learn will give an extra edge to be a successful career woman.

I was fortunate to start and continue my career in a company with strong values that embraces diversity and nurtures it so that the individual and company both win. I reached the upper echelons of the company through hard work and embracing the fact I am a woman. Of course, success has its own rewards and challenges. Therefore, it is important to find a work-life balance that helps us cope. For me it was the support of my family and my colleagues at work. Through their help and dedication I was able to focus on my family when I am with them and my work when I am at the office. With clear boundaries and neither part of my life creeping into the other, I was able to have it all.

Further, being successful neither means letting go of your feminine side nor giving up a family life. It is actually the complete opposite. However, it does require a fierce dedication to becoming the best at what you do, accepting that sometimes there is no one right way of doing something and that even the best of us sometimes need help.

In spite of drawbacks and hurdles that still prevail, South Asian women are no longer hesitant about claiming a share and visibility within the family, at work, in public places, and in the public discourse. The odds are improving thanks to many who have made it as top women in the industry. These power players are selected for their ability to adapt, their leadership qualities and perhaps most importantly, their influence in an industry.


(Sharmila Bandara is the Marketing Director – Personal Care at Unilever Sri Lanka. She has worked across various roles in Sales and Marketing at Unilever in 50+ countries and counts 18 years of experience in the FMCG industry.)