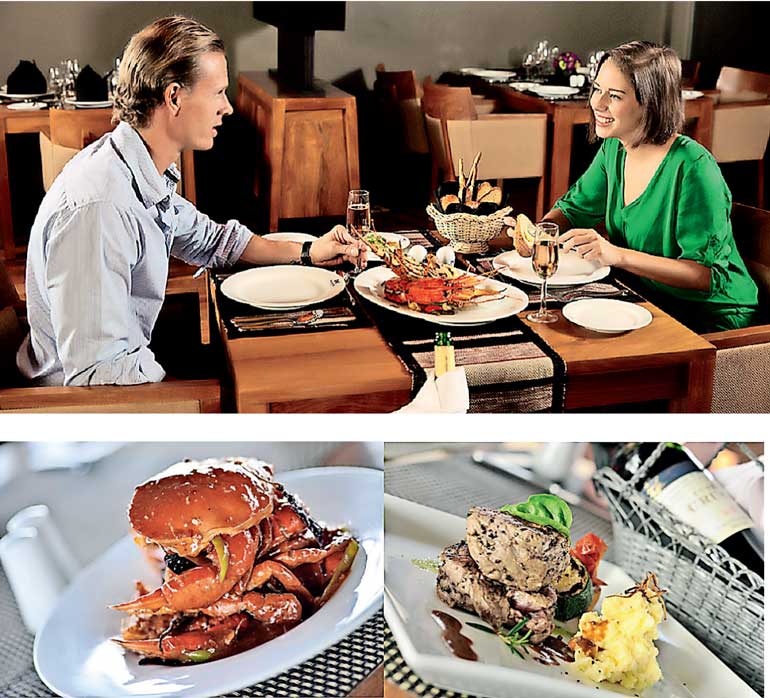 Anantaya Resorts and Spas Sri Lanka, owned and managed by LAUGFS Leisure provides discerning travellers the pleasure of enjoying an array of exquisite culinary offerings, highlighting some of the island's finest seafood, in a myriad of preparations at the 'Singing Fish' restaurant at Pasikudah and 'Ocean' at Chilaw.

At the 'Ocean' Restaurant in Anantaya Chilaw, Chef Chaminda Hapugoda and his talented team whip up an amazing selection of dishes with the chief ingredient being the freshest catch from the sea and the Chilaw lagoon. Delicious crabs are the best part of the restaurant's menu with a variety of speciality crab preparations on offer, which include Chilaw Lagoon Crab, Singapore Chili Crab, Crab Curry, Baked Crab, Steamed Ginger Crab, and the Sri Lankan specialty – Lobster Tail curry. The choice of crab can be paired with an extensive selection of wines offered by the restaurant.

Meanwhile, at Anantaya Pasikudah's 'Singing Fish' Restaurant, which specialises in fusion cuisine, guests can savour a delectable range of seafood inspired cuisines prepared with utmost care.

The resort has taken personalised dining to the next level, and offers a la carte dining anywhere at any time according to the guests whim and fancy. Dining options at Anantaya Pasikudah include in-Villa Dining, a la carte and a daily buffet which showcases the finest seafood the East Coast has to offer. There are also tailor-made special dinners to suit your palette with interesting options such as Beach BBQ, Private Dining, Romantic Beach Dinners and Dine under the Stars. In-room and spa dining are the most popular options for guests, who relish the experience of customised dining.

The resort offers a special Gourmet Calendar featuring special food promotions and events happening each month. Executive Chef Athula Kumarage who oversees the culinary offerings at the resort ensures that guests savour nothing but the best when dining at the resort. The chef and the food and beverage team are always ready to create personalised menus to suit the guests' needs, be it 2 or even 500 people.

Speaking about the specialised dining options available at Anantaya Resorts and Spas Chilaw and Pasikudah, LAUGFS Leisure Director/Chief Executive Officer Roshan R. Perera commented, "Our resorts have become popular among guests for offering luxurious getaways, and we want to capitalise on this by offering unique dining experiences that showcase the island's diverse array of ingredients, which include our amazing selection of seafood. We want to celebrate and promote Sri Lanka through our food, allowing guests to enjoy an immersive culinary adventure during their stay at our resorts."

Anantaya Resort and Spa Chilaw boasts of breathtaking views surrounded by the deep blue waters of the ocean and lagoon, presenting the ultimate exotic and tropical getaway for anyone who yearns to rekindle their love for nature.

The ideal space for some much-needed rest and relaxation, the resort, located in the coastal town of Chilaw, offers both luxury and tranquillity. Equipped with 87 rooms and suites, this breathtaking property pampers visitors with world class hospitality, making their stay even more pleasurable.

Meanwhile, Anantaya Resort and Spa Pasikudah delights guests with its vast open spaces that overlook sublime turquoise beaches. The eco-friendly design of the resort impresses the eye, elevating its allure, thus making it one of the most iconic properties on the island. It is indeed the perfect getaway, for those who yearn to surrender to the beauty of nature, in the lap of luxury.

LAUGFS is one of the largest diversified business conglomerates and a trusted name in Sri Lanka. Founded in 1995, LAUGFS today has expanded across 20 industries in Sri Lanka and overseas, establishing a strong presence as a leader and pioneer in the power and energy, retail, industrial, services, leisure, logistics and real estate sectors. With over 4,000 employees and an annual turnover exceeding Rs. 28 billion, LAUGFS continues to expand and empower millions as a trusted Sri Lankan brand.