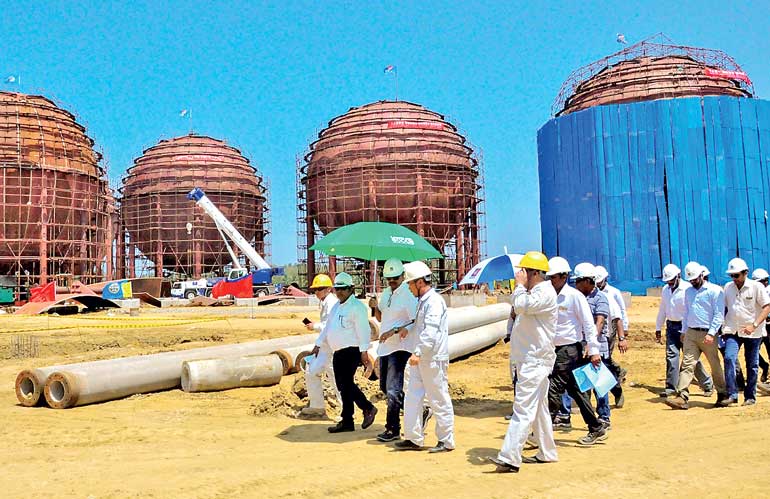 One year into the construction of the LAUGFS LPG import and export terminal in Hambantota, the first phase with a 30,000 MT capacity is seen progressing well on schedule to be commissioned by the first half of the 2018 financial year as planned.

Built with an investment of $ 80 million, the LAUGFS terminal is set to be one of the largest LPG import and export terminals in its class in South Asia. It was the first and the largest investment in Sri Lanka's Hambantota Port, which is known for its strategic nautical location in the Indian Ocean.

"The new LPG terminal will reinforce our energy presence within the region by tapping the energy requirements of some of the largest emerging LPG markets, including India, Bangladesh and Myanmar. The Hambantota Port provides a strategic advantage to further strengthen this position given its location amidst some of the world's largest nautical/shipping routes. Combined with these strategic advantages, we believe our own LAUGFS terminal will help position Sri Lanka as a break-bulking hub of the region, yielding tremendous economic benefits to the country," commented LAUGFS Group Chairman W.K.H. Wegapitiya.

Further elaborating on the project, LAUGFS Group Managing Director Thilak De Silva stated: "We are delighted to see the construction progress of the LAUGFS Terminal on track for commissioning in 2018. As a trusted Sri Lankan conglomerate, we take immense pride in being able to invest in a project of this magnitude and being part of the business expansion opportunities centering the Hambantota Port.

Once commissioned, it will create many direct and indirect employment opportunities, and will be a lucrative foreign exchange generation avenue for our country."

LAUGFS Terminals, a wholly owned subsidiary of LAUGFS Gas PLC, is expected to further expand the terminal capacity with an additional 15,000 MT in its second phase, enhancing the handling capacity to over 100,000 MT.