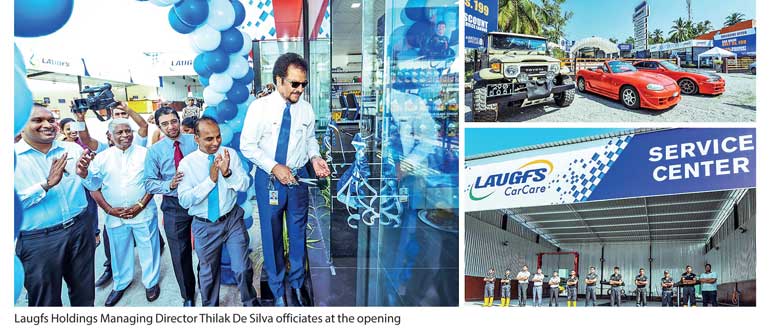 LAUGFS Car Care expanded its reach with the launch of a brand new state-of-the-art car care service station in Kalagedihena facing Kandy Road. Over the years, LAUGFS Car Care has grown to become a trusted brand for high level of service excellence among motorists with its technically qualified and experienced staff, offering superior service. The newest addition to the fast expanding LAUGFS Car Care network in Kalagedihena, is the perfect solution for motorists in areas such as Kadawatha, Miriswatta, Balummahara, Gampaha, Weliweriya, Pasyala, Veyangoda, Yakkala, Thihariya and Nittambuwa.

Currently, LAUGFS Car Care owns and operates 10 service stations and the brand new service station in Kalagedihena will be the 11th addition to the portfolio. This is also significant as it is the first branch to carry the new logo of the recently re-launched LAUGFS Car Care Brand. All the stations will carry new brand logo in the future.

LAUGFS Car Care centres, which offer services like Car Wash Packages, Detailing Services, Full Service Packages, Engine Tune Ups and many more, is known for a high customer service excellence. Apart from the vehicle services, they are also equipped with a Lube Shop for all Lubricant necessities, Car Care items and other accessories. LAUGFS Car Care is a one-stop solution for all motorists.

In view of the opening of the new service station in Kalagedihena, LAUGFS will offer a discount for a Car Wash and 50% off on Full Service Labour, as a limited introductory offer for its customers. LAUGFS Car Care Assistant General Manager Dimuthu Daasaman remarked, "We are excited to launch our latest Car Care service station in Kalagedihena, which allows us to better serve motorists from the Gampaha District. Not only is LAUGFS Car Care a one-stop solution for all motorists, it also provides an unmatched service, which is one of the reasons behind the brand's rapid expansion over the years."

Established in 2000, LAUGFS Car Care is a sub-division of LAUGFS Lubricants Ltd., which has expanded rapidly with a network of service centres, including a modern hybrid centre to exclusively cater to hybrid and electric motor vehicles. It employs a highly trained and professional team of experts to offer a complete range of services for all types of vehicles, from a basic exterior wash to high-tech service offerings. Renowned for expert knowledge, state-of-the-art technology, and uncompromising service standards, LAUGFS Car Care has become a trusted brand among local motorists. Its network of service centres continues to grow rapidly, with a number of centres to be added around the country soon in the near future.