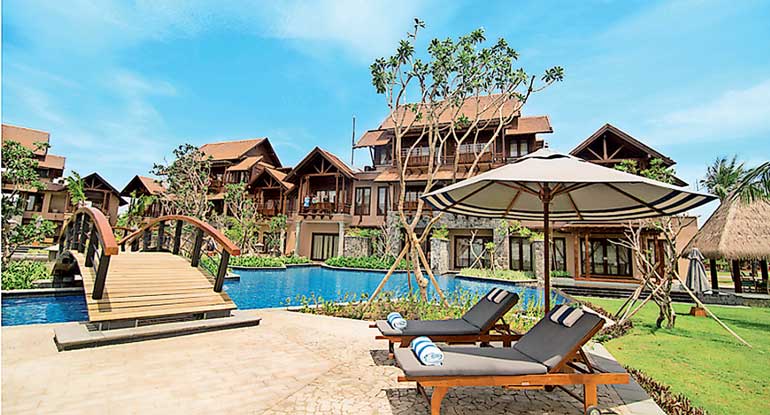 Heralding a significant milestone for the luxurious beach front property, LAUGFS Leisure's Anantaya Resort and Spa Pasikudah was recently classified as a five-star beach resort by the Sri Lanka Tourism Development Authority after having fulfilled all the required criteria. With Sri Lanka gaining popularity as a destination in every traveller's ultimate wish list, a certification of this nature helps Anantaya Resort and Spa Pasikudah further reassure guests of the resort's high quality and impeccable standards, paving the way for Sri Lanka to welcome more discerning travellers from across the world.

Modelled after lavish high end properties seen in tourist hotspots such as Maldives, Seychelles, Mauritius and the Caribbean, Anantaya Resort and Spa Pasikudah boasts of 51 villas, suites and rooms, which are tastefully furnished, inviting nothing but pure escapism. The resort consists of extensive food and beverage outlets including the signature fusion restaurant, 'Singing Fish' and also has a small banquet facility catering up to 150 people indoors and outdoors. This unique property sets the stage for the ideal destination wedding, a truly romantic honeymoon getaway and the best location for holiday-goers looking to get away from it all and rejuvenate in the lap of luxury and subliminal comfort.

Currently, the leisure arm of LAUGFS Gas PLC owns and runs two luxury resorts in Chilaw and Pasikudah, and is looking to cement its presence in the hospitality sector with the establishment of a third property in the southern coast of Sri Lanka.

When contacted, the LAUGFS Leisure Director/Chief Executive Officer Roshan R. Perera, speaking about the classification said, "This is such a great achievement for Anantaya brand. We are extremely excited about the property gaining a five-star classification. This became a possibility because of the passion and dedication shown by each and every employee to ensure that Anantaya Pasikudah becomes the much loved property it is."

Perera also paid tribute to the resort management and team, led by Ranika Wickramanayake, for their dedication and commitment to elevating the resort's status to this level. He also mentioned the support provided by the resort's engineer, Gamini Siriwardena who incidentally was also the resort's Project Manager during the final year of its construction.

Owned by LAUGFS Leisure, Anantaya Resort and Spa Pasikudah, is the second luxury property of the Anantaya chain of resorts. Anantaya Pasikudah also boasts of a range of restaurants, each offering specialised and unique cuisines that allow guests to savour the food of the world in the comfort of the resort. The iconic resort, with its eco-friendly design and impressive architectural elements, elevates the sense of opulence yet creates an inviting minimalistic charm while the team of experienced hospitality industry professionals ensure that guests enjoy a relaxing and luxurious stay, amidst international standards.

For travellers looking for the ideal getaway, Anantaya Pasikudah is the perfect location. Apart from the uniquely designed villas, pool suites and rooms, the resort also offers a Balinese spa, play area for kids, a fully equipped gymnasium, Sports and Recreation Centre and a Travel and Tour Desk.

LAUGFS is one of the largest diversified business conglomerates and a trusted name in Sri Lanka. Founded in 1995, LAUGFS today has expanded across 20 industries in Sri Lanka and overseas, establishing a strong presence as a leader and pioneer in the power and energy, retail, industrial, services, leisure, logistics and real estate sectors. With over 4,000 employees and an annual turnover exceeding Rs. 28 billion, LAUGFS continues to expand and empower millions as a trusted Sri Lankan brand.