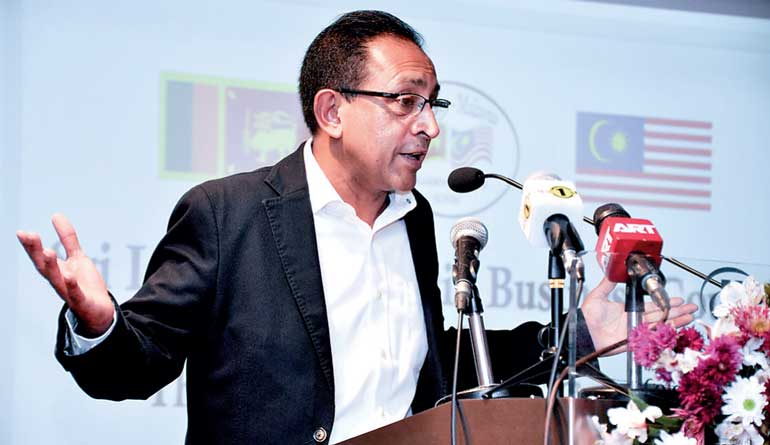 Public Enterprise Development Minister Kabir Hashim addresses the Sri Lanka-Malaysia Business Council breakfast meeting on 'Public Private Partnerships in Sri Lanka – the way forward' yesterday - Pic by Lasantha Kumara
​
Minister Kabir Hashim calls for national consensus for SOE transformation
Revenue of top 10 SOEs accounts for half of all 295 listed companies on CSE
The Bill to boost state-owned enterprises (SOEs) that are loss-making and burdening the public is being studied by the legal draftsman, a top Minister revealed yesterday.

Public Enterprise Development Minister Kabir Hashim said that a Public Enterprises Board will be set up, the Bill for which is now being studied by the Legal Draftsman.

He said the proposed Board would endeavour to depoliticise core public enterprises, staff them with professionals, make the entities financially viable and enhance their profits.

Speaking at the Ceylon Chamber-linked Sri Lanka-Malaysia Business Council breakfast meeting on 'Public Private Partnerships in Sri Lanka – the way forward', the Minister said that there were an estimated 245 SOEs and around 70 came under his purview. "Overall SOEs make the largest contribution to the economy. For example the revenue of the top 10 SOEs, which is Rs. 1 trillion, accounts for half of the turnover of all 295 listed companies on the Colombo Stock Exchange of Rs. 2.2 trillion," Hashim revealed.
However, highlighting that several SOEs were facing financial difficulties, the Minister said 42 entities received Rs. 215 billion in budgetary support in 2012 and 2013.

"In 2014 it was Rs. 123 billion which means each of the households in Sri Lanka were burdened with Rs. 24,000," he added.

"The losses of SOEs in 2014 amounted to Rs. 60 billion, which is equal to building 60 hospitals of 300 beds each or supporting 100 schools," said Hashim.

Noting that political interference, corruption and inefficiency were the key causes for this situation, the Minister said reforming and revamping SOEs was a challenging task yet the Government has committed itself strongly. He said during the past two years the performances of SOEs had improved.

The Minister also reiterated that the Government had decided to divest several non-core state assets such as stakes in Hyatt, Hilton and Lanka Hospitals while for several others a progressive Public Private Partnership approach would be adopted.

Hashim also emphasised that Sri Lanka needed to build a national consensus for SOE transformation. "Today the country is facing a crisis by the unbearable debt in SOEs. We need to think beyond political lines and all - President, Prime Minister, politicians, trade unions, officials - should work together towards transforming SOEs," the Minister emphasised.

The Government's efforts to implement key learnings from the success of Singapore and Malaysia in reviving SOEs were also shared by the Minister at the forum.
---
Doors still open on SriLankan Airlines
The Government said yesterday that the opportunity still existed for interested carriers to opt for a Public Private Partnership on SriLankan Airlines.

This is despite world-famous private equity firm TPG being shortlisted from 14 bidders through a transparent process and carrying out due diligence.

Public Enterprises Development Minister Kabir Hashim said the Government had the option to explore the best option to revitalise the national carrier. "We have received information that some airlines are relooking at SriLankan," he added.

The Government's thinking is that whilst TPG was the most qualified party, hence it being shortlisted, the option of a fully-fledged airline studying prospects on SriLankan must be encouraged if any airline is interested.
---
Shares rise for second day on foreign investor buying
Reuters: Shares rose for a second straight session on Wednesday, posting their highest close in nearly one week, helped by foreign investor buying and quarter-end window dressing, stockbrokers said.

The Colombo stock index closed 0.61% firmer at 6,021.54, its highest close since 21 March.

It had closed at its lowest since 15 March 2016 on Monday after the Central Bank tightened its monetary policy on Friday by 25 basis points to contain high inflationary expectations.

Stockbrokers said rising interest rates have kept most investors on the sidelines. Yields on treasury bills rose 6-16 basis points at a weekly auction on Wednesday.

"Today, it was largely retail trade with some foreign trades," said Softlogic Stockbrokers Deputy CEO Hussain Gani.

Foreign investors net bought shares worth Rs. 88.5 million ($ 582,811.99) on Wednesday, raising the year-to-date net foreign inflow to Rs. 4.38 billion in equities.

Turnover stood at Rs. 388.5 million, more than half of this year's daily average of Rs. 710.6 million.

As of Tuesday's close, the index had lost 2% since 7 March when the IMF called for monetary policy tightening if credit growth or inflation do not abate.

Shares of conglomerate John Keells Holdings Plc jumped 1.56%, while Melstacorp Plc rose 1.84%.