It is well known that businesses have to constantly evolve to keep pace with the changes around them. The rise of digital technologies is disrupting the way we work and live. Technologies that didn't exist till about a decade ago have now become critical elements of our day to day lives. Working together with a myriad of other factors such as economic uncertainties, dynamics of demographic and climate change, this has created an increasingly volatile, uncertain, complex and ambiguous (VUCA) world. It is imperative for businesses to embrace the change towards a more adaptive and agile organisation in order to survive and flourish.

While leaders across all industries are grappling to come to terms with this new reality, the human resource professionals among them need to help from a human capital perspective – What would people management mean in the future? What do we do now to set ourselves for success in the future?

To begin with, the core remains the same, i.e. to attract, manage and develop people who are best suited for current and future requirements of the business. However, what changes is the way we approach the evolving aspirations of people and demands of the business. We need to have adaptive people who can thrive in such dynamic market conditions and we need to develop them by creating an environment that is inclusive, flexible, collaborative and empowering.

Taking one step at a time, let's first look at the ever prevalent challenge of attracting the right kind of talent. In today's global marketplace, we are no longer competing for talent within a specific market or industry. While companies usually focus on monetary compensation, a positive work environment and the like; these factors alone are not sufficient any more. Employees, especially millennials, seek a higher purpose in life. They want to make a difference in the world and have a positive impact on society.

The Deloitte Millennial Survey 2017 report notes that 'millennials feel accountable for many issues in both the workplace and the wider world'. It goes on to say that 'It is primarily in and via the workplace that they feel most able to make an impact'. Hence, their career choices are increasingly shaped by this deep personal aspiration. They look for organisations that share their purpose and would empower them in the pursuit of the same.

We have a clear and simple business purpose at Unilever – to make sustainable living commonplace. To us, sustainability is not a disjoint CSR activity done by a separate wing; it forms the core of our business and an integral part of our iconic brands. The Unilever Sustainable Living Plan (USLP) is our strategic response to the challenges we face and our blueprint for sustainable growth. It guides everything that we do and shows how we intend to achieve our ambitions for growth by embedding sustainability into every brand and market, and throughout our value chain or as we say at Unilever, 'Doing Well by Doing Good'. We believe this is the only way for our business and brands to grow in a sustainable manner over the long-term.

Studies have shown that this purpose strikes a strong chord with thousands of talented bodies and individuals around the world who, with their winning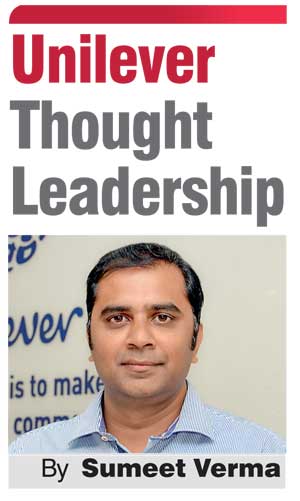 mindset, passion for consumers and an appetite to drive personal performance, wish to partner with us. It has been instrumental in helping us continue to be recognised as one of the world's most admired employers. In Sri Lanka, we have the distinction of being consistently ranked as the overall 'No.1 Employer of Choice' in Nielsen's Employer of Choice survey for the past four years.

A shared sense of purpose is a great starting point for any recruitment conversation. However, employers still need to know if a prospective recruit is suited to the organisation and the job at hand. Recruiters often place greater emphasis on the specific set of skills required for the current job role. They tend to neglect the changing dynamics of the business world that decree employers to take a longer term view of their recruitment decisions. At Unilever, we believe that we need to hire people for a career rather than a job. We offer development and growth through different roles that one would be in during the course of a career.

The need to take a long term approach while hiring is even more important when dealing with millennials as they view their current job as a stepping stone on the path to greater career success. A recent Gallup study notes that millennials consider opportunities to learn and grow extremely important and that this is one of their primary concerns when looking for a job. Given this generation's sense of purpose, organisations need to ensure that the learning and development opportunities they offer are in line with the individual's purpose.

Just as we have integrated our sustainability goals to the goals of the business, at Unilever, we have started building our career management efforts around each individual's purpose. Allowing every member of the Unilever family to shape their own career paths, we will focus on providing an environment that offers them more ways to take advantage of development opportunities, more room to succeed and grow, and numerous directions in which to pursue a career. All this will be done by connecting the company view of talent to the own wishes based on the individual's purpose.

Rather than have one template for all; we will be creating flexibility in our processes to really cater to what the employee's purpose is. We also place greater emphasis on learning by experience over formal classroom learning, with on the job learning and mentoring forming the core of our development initiatives. This has allowed us to attract and retain the brightest minds across markets to shape the future of some of the world's most loved brands.

Recruiting the right set of people alone doesn't guarantee business results. Even the best talent need the right tools and environment to flourish. Being in the FMCG business, we need to stay in sync with the evolving lifestyles of our diverse sets of consumers across the world. To respond to this challenge, we have made changes to the way we make decisions. Our teams working closest to the market are the ones best suited to interact with and learn from the consumers.

Hence, while we constantly share learnings across markets, day to day business decisions are vested with the teams in individual markets. The endeavour is to be a global company that acts like a local one and this requires leaders and teams to take ownership while being empowered. To be able make the right decisions that deliver great value to our business as well as our partners and consumers, these cross-functional teams function like independent business units.

At Unilever, we leverage technology to create an agile work environment, armed with connected devices and a host of business and communications tools, they are as easy to use on the field as in the boardroom. The same technology also allows us to have flexible work practices. We promote agile working to enable employees to strike their own work-life balance. Agile working not only contributes to higher productivity but also offers convenience, flexibility and adds to the inclusive culture of the organisation. This facilitates greater levels of interactions across our teams and all relevant stakeholders, enabling them to collaborate and deliver outstanding results.

Our systems and practices have the capacity to promote greater employee wellbeing too. Starting with simple everyday conveniences such as meals on site with a conscious selection of healthy food; team members are also free to use the onsite gym. With the rise of nuclear families, we offer six months' paid maternity leave with the option of taking an extended break for another six months. We also have in-house crèche facilities which allow working parents to stay close to their children.

In summary, businesses need to have a strong purpose; that they can induct their consumers and customers into, to succeed in a rapidly transforming world. It is no different when it comes to dealing with employees; only that we need to go a step further and help them articulate and deliver their own individual purpose as well. Gone are the days of one-size-fits-all. We have now entered the era of mass-customisation. Flexibility in people policies and practices that offer a more meaningful employment experience require strong conviction in the long term benefits among HR professionals and the wider leadership of the organisation. If not, we run the risk of this becoming another large change agenda that an organisation needs to deal with.
(The writer is Director – Human Resources and Corporate Relations at Unilever Sri Lanka. Having moved to the Sri Lanka unit from his previous role at Unilever's Global HR expertise team in London where he focused on Performance Management and Employee Insights, he has held several leadership positions in India and the United Kingdom through his decade long career with the company. Prior to Unilever, Sumeet was a rewards consultant with Hewitt Associates. He is an English literature graduate and holds a Masters in Business Administration. He likes to read in his spare time.)