In a typical marketing situation when a brand loses its appeal in the target market, a deep dive is done and there after the brand is re-launched after correcting the product offering or any other element of the marketing mix.

For instance, I remember when I was managing the Dettol brand we found that Dettol soap was losing customers and then we catered to a new trend 'hand wash' due to the outbreak of SARS and other diseases, etc. on the theme 'Families that use Dettol fall ill less often'. We were able to win back lost consumers and also new customers like school children and office workers who started using the product for hand wash.
Brand Trump needs a re-launch – approval rating at a low ebb of 37%


Brand Trump
This same concept can be used when it comes to marketing a service which includes a politician even though an imminent behavioural scientist once said: "Marketing a political candidate for high office is an ultimate indignity to the democratic process of a country." But I guess, the reality needs to be picked up and then addressed, be it a product or a political brand, if one is to survive in today's world.

The brand Donald Trump is only two months in the marketplace and his approval rating has fallen to a new low, according to the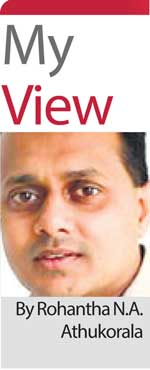 latest Gallup poll. The US President's approval has dropped three points this weekend to 37%, the slowest point since Brand Trump stepped into the White House.

If we take competitor brands (other presidents), they have also suffered even lower ratings during their time in office, but this is the first time in at least 70 years that any president dipped to this point by March of their first term is what research says.

Brand Donald Trump's job approval rating (product performance from a strictly marketing point of view) has dropped to 37%, while 58% of Americans disapprove of his performance so far as president, new Gallup figures show.

The approval ratings, Trump's worst since taking office two months ago, come as FBI Director James Comey is expected to tell lawmakers that there is no evidence for the President's unverified claim that former President Barack Obama wiretapped Trump Tower during the election.

Apart from the controversy over Trump's wiretapping claim, the latest poll numbers suggest growing dissatisfaction with his performance following the chaotic rollout of the Republicans' plan to replace the Affordable Care Act and reaction to his travel ban that has faced stiff legal opposition.


Research insight
Typical marketing performance is checked in Sri Lanka either through retail audit to consumer behavioural data via household panel audits. In the case of the US President, Gallup tracks the performance of the President by checking if a representative cross section of Americans approve or disapprove of Trump's job performance. The daily results are based on telephone interviews with about 1,500 national adults and have a margin of error of three percentage points. This is a good practice that many of Sri Lanka's political leaders must also adopt so that one can stay relevant in today's changing world.

Apart from the alleged wiretapping saga to firing key people like the Defence Advisor, let me do a deep dive on what dented brand Trump.

1) Tourism

The tourism pillar has been the focus of the US Tourism Authority, investing in marketing a few years back on brand tourism USA for the first time in the last 273 years. After having never focused on this area of the economy for driving revenue, the outcome was so positive that it shook the world of marketing with an amazing campaign themed 'A land of dreams'.

Two days into power when brand Trump signed the executive order banning travellers from Iran, Iraq, Libya, Sudan, Somalia, Syria, and Yemen to the US for a 90-day period, it created a backlash for the 19.7 trillion dollar brand that ultimately led an eruption around the world denouncing this decision, starting with David Scowsill, President and CEO, World Travel & Tourism Council (WTTC).

A very straight-talking man, he issued a strong statement stating that the ban violated the fundamental right of Freedom to Travel as per the UNWTO values. He went on to say that it had created immense confusion among travellers and travel companies worldwide and the WTTC believes that all people have the right to cross international borders safely and efficiently for business and tourism purposes, which was the first agitation that Trump saw from an worldwide policy making body.

The whole of the tourism fraternity in US supported this view given that none of the shocking domestic incidents in the US since 2001 have been attributed to external terrorists who have specifically flown into the country to commit an atrocity. Hence this decision is in fact was flawed to my mind.

Brand Trump had forgotten that the ethos of travel and tourism is about building bridges between divides in cultures, fosters understanding across religious and geographic boundaries, and generates more peaceful co-existence.

The tourism sector is responsible for the livelihoods of millions worldwide and is reported to give 1:11 jobs globally. It accounts for 24% of the GDP in some economies like Thailand and Malaysia. Hence, if President Trump is actually keen on making the US great again, this industry will need more careful nurturing than just banning people visiting the country. This sure contributed to the 37% low approval rating that he now shoulders as at now.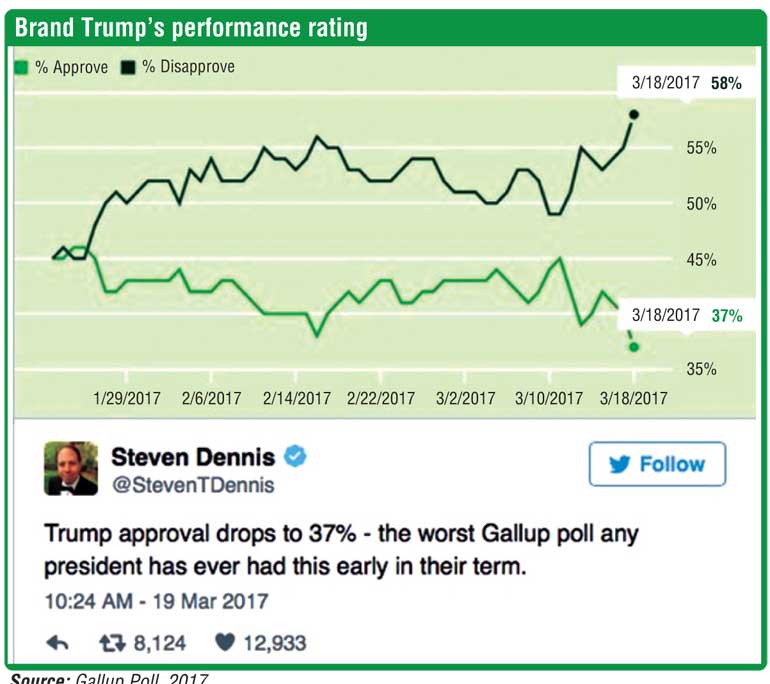 Tourism worth $ 247 b
Latest research reveals that travel exports to the US recorded a mammoth $ 247 billion whilst overall US exports declined by 2.3% in 2016. International travel also generated an $ 88 billion trade surplus in 2016. US travel researchers noted that without the travel surplus, the overall 2016 US trade deficit of $ 502 billion would have been 18% larger. I guess President Trump may have not known of this fact when he intervened in policy on this sector in his first week in office.

Trump forgot that post 9/11, the US made a policy decision on the Visa Waiver Program that resulted in the creation of the Brand USA marketing organisation. Open Skies aviation agreements with many countries propelled the 19.7 trillion brand USA to what it is today. At least now President Trump must understand 1.1 million Americans have a livelihood and are dependent on this industry and as industry needs are increasing the per visitor earnings can offset the health policy that will not be applicable to almost 24 million Americans and can be cushioned with increased earnings.

2) Exports

The decision that gave a poor picture on the performance of brand Trump was the moving out of TPP. Trump forgot that the TPP was the working by 12 countries for over 10 years and he had undone all this work by just a stroke of pen, once again taking away the dream of the American farmers to penetrate Japanese market which is currently on protection mode. The ramifications to countries like Sri Lanka is yet to be seen.


Lessons for Sri Lanka
1) A politician is similar to brand and the perception of the target group must be monitored.

2) The attributes that affect the perceptions of people on the politician must be identified and focused communication must be done together with the 'product' living up to this promise.

3) The politician's brand performance must be tracked over time on the performance of these attributes just like in the US, so that one can if need be change the product offerings to cater to the changing market needs.

4) Competitor political brand perceptions must be analysed so that share of mind can be linked to share of market.

[Dr. Rohantha Athukorala is an award-winning marketer who has also served the public sector as Chairman of the Sri Lanka Export Development Board (EDB) and Sri Lanka Tourism Promotion Bureau. He has served the UN for five years when the country won the Best Global project award. The thoughts are strictly his personal views.]