CB Deputy Governor sounds warning note to banking industry and calls for technology embrace
By Charumini de Silva

Sri Lanka's financial sector needs to rise up and embrace technology to foster economic growth or risk having the system be disrupted by more dynamic sectors, warned a top banking official yesterday.

Central Bank Deputy Governor Dr. Nandalal Weerasinghe, delivering his keynote address as Chief Guest at BankTech Asia, Sri Lanka Series called on the industry to take its services and access to the next level.

"My fellow colleagues, the new reality for the banking landscape is disruption," he said.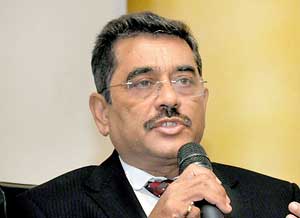 Central Bank Deputy Governor Dr. Nandalal Weerasinghe

– Pic by Lasantha Kumara
Emphasising that the financial services sector needed to disrupt itself before someone else does it for them, Dr. Weerasinghe called on the financial sector to rise up to the challenge by investing in technology.

Pointing out that banking and finance has always been the lifeblood of many economies, with Sri Lanka no exception, he insisted that it was vital that the industry modernise its technology to provide more efficient, safe and better services for the country to advance in economic development.

"We as an industry are faced with two options in the new modern economy. We can choose to adapt to shifting consumer demands for digital technology or we can remain complacent and be left behind in this fast-paced world," he added.

Given the rise of mobile technology, Dr. Weerasinghe said the banking sector could not remain complacent as it could make these services available to its customers around the clock.

"The banking sector is undergoing rapid transformations. Increasingly around the globe, and to some extent Sri Lanka, we are witnessing challenges competing with the incumbents with faster and more agile technology. Gone are the days when customers were required to walk into a branch to conduct their banking activities. They now expect safe and secure banking at the tips of their fingers," he stated.

He acknowledged that the Central Bank had continued to take measures to strengthen the payment and settlement infrastructure of the country and to develop an efficient and stable system, capable of catering to growing payment needs

"To drive this crucial function, we are working towards improving the national payment system to promote electronic payments that would eventually lead to a less cash dependent society," he noted.

In this regard, Dr. Weerasinghe said several measures had been included in the Central Bank of Sri Lanka Road Map for 2017-21. A payment platform is being developed to effect Government payments, particularly payments to Sri Lanka Customs, through the Common Electronic Fund Transfer Switch (CEFTS) in real time.

In addition, a National Card Scheme (NCS) is being introduced as a cost-effective alternative to currently available international card schemes and a Common Point-Of-Sale Switch (CPS) is being developed to facilitate clearing and switching of transactions carried out using payment cards issued under the National Card Scheme. A Common Mobile Switch (CMobs) will be implemented to facilitate interoperability between mobile wallets.

"We will monitor the progress of licensed banks and other financial institutions joining the CEFTS, CPS and CMobS and adopt policies with a view of increasing the efficiency of electronic retail payment systems and minimising risks associated with such payment systems," he added.