Plantation Industries Minister to obtain Cabinet approval to import fresh kernels for value addition exports
CDA to get promotion agency, possible plans for overseas campaigns
By Charumini de Silva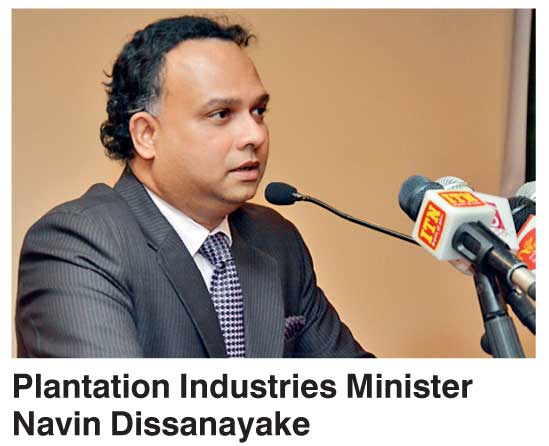 As a step towards reviving coconut-based value addition and exports, the Government is considering liberalising restrictions on coconut imports, Plantation Industries Minister Navin Dissanayake said.

"I have taken a bold decision to relax the restriction on the importation of coconuts into Sri Lanka. This is to enable DC (desiccated coconut) millers to import coconut as husked nuts or as fresh kernel. This is only for value addition and export," Plantation Industries Minister Navin Dissanayake said at the Sri Lanka Desiccated Coconut Millers Association Annual General Meeting (AGM) recently.

Govt. mulls...

Faced with uncertain weather conditions, increased domestic consumption and coconut trees being felled for real estate, he said Sri Lanka needed to develop a model similar to that of the rubber industry which was liberalised to import rubber which has now developed from being an agricultural crop to a $ 1 billion export industry.

Dissanayake said the Coconut Research Institute (CRI) has responded favourably to his request to allow importation of fresh kernel or de-husked nuts considering the current shortage.

"I will obtain Cabinet approval for importation of nuts for DC millers only for value addition and export, but the importers have to follow certain conditions that are set out at the sea ports and during transport of coconut to their factories," he added.

Annual national coconut production in Sri Lanka varies between 2,500 and 3,000 million nuts, out of which nearly 70% are used for local consumption and only the balance are available for industries.

The Minister pointed out that this decision would allow DC millers to operate their factories at full capacity, secure their share in the world market and thereby generating more foreign exchange income. "This will stabilise the farm gate price of coconut in favour of the DC industry, while coconut growers also get a fair price."

However, Dissanayake said that while supporting the DC industry it was critical to safeguard the coconut industry in the country as a whole from deadly diseases which could possibly be introduced to Sri Lanka through germinating seed nuts.

"Sri Lanka has earned a good name for the supply of high-quality coconut products to foreign markets. Therefore to maintain that high quality is your job and to be cautious about the quality of the material you export," he stressed.

Noting that from 2014 there had been a marked increase in coconut oil, virgin coconut milk, coconut cream and various other value added coconut-based products, the Minister stated that a fast-growing market was predicted for these products.

He said that the Plantation Industries Ministry would soon launch a promotional campaign overseas for new value added coconut products such as virgin coconut oil as well as for traditional coconut products such as desiccated coconut. The Ministry will also find new international markets for such products.

"I have taken steps to amend the Coconut Development Authority (CDA) Act to have a marketing aspect because these acts are very old. The Tea Board has a good marketing arm and now I want the CDA to be proactive," he noted.

According to him China is one such high demand market for coconut juice (a flavoured coconut milk drink) which has been already identified by the Ministry and therefore the Minister insisted that the DC millers can diversify their products and enter the international market, increasing the profitability of their factories and revenue accruing to the country.

The Government is encouraging exports and value addition and will do its utmost to help out the industries that are capable of growth, whether it means more productive plantations, irrigation technology or even rethinking the applicability of ancient and outdated regulations which may hamper the growth of the industry, he said.

However, Dissanayake highlighted that it was up to the private sector to harness this opportunity and help the country in its endeavour to regain its lost glory in the coconut industry and also earn much-needed foreign exchange in the process.