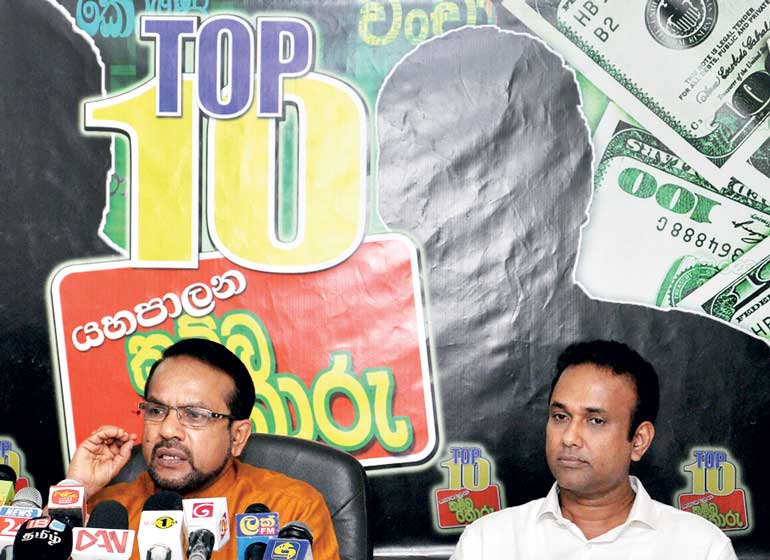 Joint Opposition MP Ranjith De Zoysa addressing the media yesterday in Colombo flanked by Joint Opposition MP Ramesh Pathirana - Pic by Ruwan Walpola
By Chamodi Gunawardana

The Joint Opposition yesterday lodged two separate complaints at the Bribery Commission and Criminal Investigation Department (CID) against Health Minister Rajitha Senaratne alleging unsuitable medicine stock worth Rs. 1.5 billion was imported without tenders.

The second complaint alleged that the Minister incurred losses of Rs. 600 million to the State when he imported eight fishing boats during his time as the former Fisheries Minister under previous President Mahinda Rajapaksa.

Joint Opposition MP Ranjith De Zoysa claimed the stock of medicine and injections was used for the treatment of cancer patients but the Minister imported them without approval from the Sri Lanka College of Oncologists.

"That medicine was not approved by cancer specialists as treatment for the disease. Once, the Chairman of the Sri Lanka College of Oncologists Prof. Damayanthi Peiris also stated that the injection was not suitable for cancer patients. However, Senaratne continued to import them, wasting Rs. 1,500 million," De Zoysa said.

Furthermore, De Zoysa said that last September a group of 25 Oncologists sent a letter to Dr. Senaratne saying that this injection could not be used for cancer patients since it contained a harmful formula. Nevertheless, Minister Senaratne continued importing them despite the opinion of professionals.

He also charged that Senaratne had imported 5,000 injections without calling for tenders. He further claimed that the tender was given to a confidante of the Minister.

He demanded that the Bribery Commission take necessary action against those accused of corruption.

Meanwhile, Joint Opposition MP Sanath Nishantha claimed that Dr. Senaratne had wrongfully issued approval for a Chinese company to import and deploy eight fishing boats for deep water fishing in Sri Lankan waters while he was working as Fisheries Minister.

According to MP Nishantha, the Minister had told the company to make a person who was named by him a stockholder in the company if it wanted to get approval from the Board of Investment (BOI).

Thereafter the company had made one of Dr. Senaratne's Coordinating Secretaries, Lalith Anurada Seneviratne, a stockholder in the company and he had been given stocks worth Rs. 600 million in the Chinese company, Nishantha alleged.

Nishantha demanded that the Bribery Commission take legal action against both Dr. Senaratne and Seneviratne.

Speaking to the media, MP Mahindananda Aluthgamage pointed out that even though the Government had failed to take legal action over the Joint Opposition's past eight complaints, it would never quit its investigations against the Yahapalana Government's ten most corrupt members.

So far the Joint Opposition has filed eight complaints at the Bribery Commission and the CID against Prime Minister Ranil Wickremesinghe, former Central Bank Governor Arjuna Mahendran, Finance Minister Ravi Karunanayake, Foreign Employment Minister Thalatha Athukorale, Development Strategies and International Trade Minister Malik Samarawickrama, Public Enterprise Development Minister Kabir Hashim and Rural Economic Affairs Minister P. Harrison.