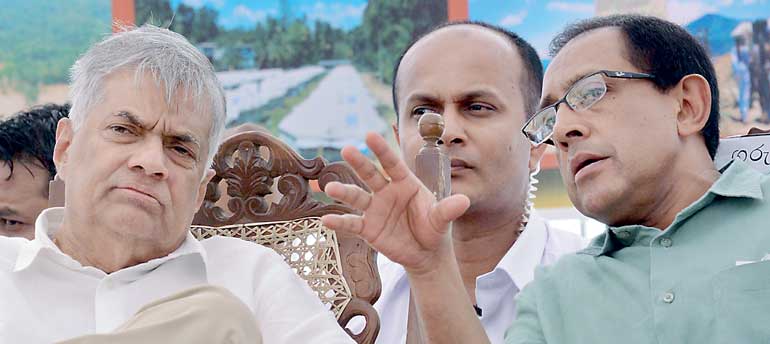 Prime Minister Ranil Wickremesinghe listens to Public Enterprise Development Minister Kabir Hashim at the ceremony on Sunday to hand over new housing scheme constructed for the people affected by the landslide in Aranayake - Pic by Pradeep Pathirana
Prime Minister Ranil Wickremesinghe on Sunday expressed hope in paying off the Government's huge debt and reviving the economy with international assistance as the Government work towards to improve the international standing of the country.

Speaking at a ceremony held to open a new housing scheme constructed for the people affected by the landslide in Aranayake on Sunday, the Premier said the finding a solution to the ethnic problem in Sri Lanka is the Government's most important task.

Prime Minister explained that the ethnic harmony is crucial to revive the economy and hence uniting the people of Sri Lanka would be the first task of the Government. He said that the international assistance will flow into the country once the ethnic issues such as power devolution is resolved.

Prime Minister Wickremesinghe said the Government laid the foundation to develop economy which was in a state of collapse and is implementing a methodology to re-pay the huge debt taken by the previous Government. He expressed hope that the country will receive international assistance.

The Premier noted that the enthusiasm people had in 2015 in the Government has somewhat reduced but the support base can be reenergised when the promises made by the government are kept.

The Aranayake Wasanthagama houses were constructed with the assistance of Rhino roofing products company for the people in Elangapitiya and surrounding villages affected by the landslides of AranayakaSaamasara Mountain. The housing project completed at a cost of Rs. 50 million comprises 20 houses with modern facilities. This is the first phase of providing permanent housing for the people affected by landslides.

The Prime Minister handed over the deeds for the houses to the recipients at the ceremony today.

The Government has decided to grant Rs. 1.2 million each for 350 families affected by the landslides and 76 families received their checks from the Prime Minister at today's event.

Ministers Kabir Hashim and Ranjith Siyambalapitiya also spoke at the event.