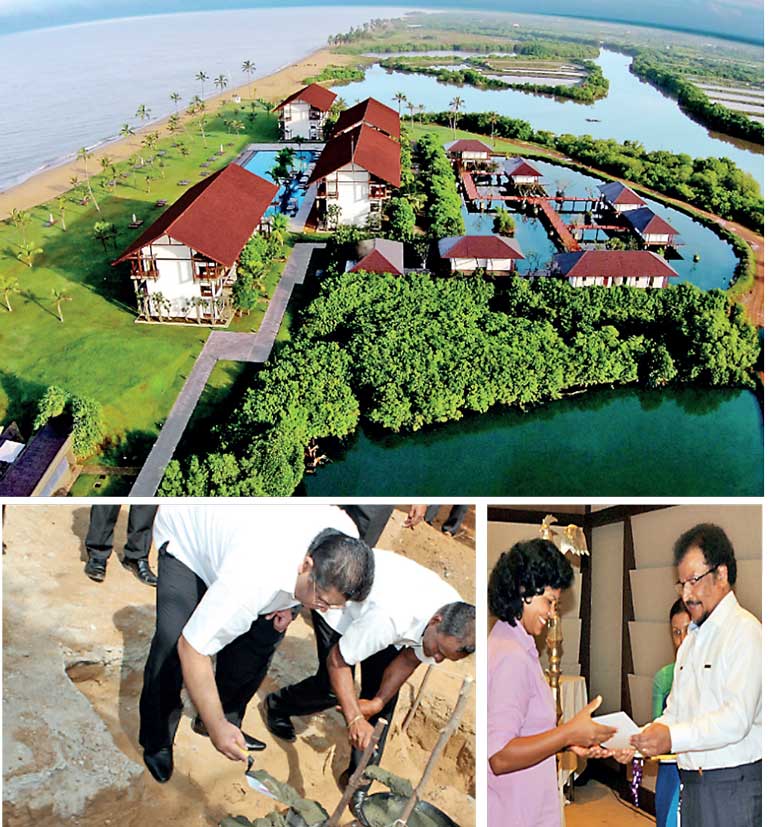 Anantaya Chilaw, the first luxury hotel in the chain of Anantaya Resorts & Spas, recently celebrated its third anniversary as a pioneer in the Sri Lankan hospitality industry.

LAUGFS Leisure Ltd., a subsidiary of LAUGFS Gas PLC, brings Anantaya Resort & Spa, where the golden beaches of Chilaw meet the luxurious comforts of the Tropical Lifestyle.

Anantaya, renowned for its 'eco luxury' concept, and breathtaking natural surroundings, kicked off its celebrations with a shramadana campaign to clean the beaches in the area. The staff then took part in religious activities in the morning, with blessings from the Kottapitiya Church and Kusala Hindu Kovil. Lunch was provided to students of the local Karukupone Tamil School in the afternoon.

A celebratory event was held following this, to appreciate and recognise the Anantaya staff members. The anniversary celebrations concluded with a final session of overnight pirith ceremony.

Coinciding with Anantaya's third year anniversary, the Resort laid the foundation stone to build a cafeteria at the local Koriyapura Sinhala Vidyalaya at Karukupone, which currently accommodates more than 300 students. The occasion was graced by LAUGFS Board Directors and senior management.

Anantaya Chilaw has received numerous local and international recognition for excellence in the hospitality industry during the past three years. Amongst its many internationally recognised achievements are the Country Award for Luxury Hotel & Conference Centre and Regional Award for Luxury Wedding Destination at the World Luxury Hotel Awards 2016, Holiday Check Recognition Award 2015 and 2016 by Europe's largest review portal, TripAdvisor Certificate of Excellence in 2015 and 2016.

Anantaya has also been categorised in the top 25 Luxury Hotels in Sri Lanka by Trip Advisor in 2015 and 2016, which it has also received the Award of Excellence by Booking.com for the years 2014 and 2015 and Greening Awards in 2014, where Anantaya Chilaw was awarded a certificate of merit for energy and water conservation and waste management (In the Large Hotels and Boutique Hotels Category).

"These three years have been overwhelming, as we have surpassed all expectations in terms of business, hotel position and service standards. Opening a new hotel is always challenging in such a competitive hospitality industry, yet within this short span of time, we have proved ourselves to be amongst the best in the country. Credit must be given to the hotel team for doing an amazing job, for providing excellent service to our guests and catering to their every need. I would also like to thank our guests who have visited and given us great feedback and helped us evolve into the market leading resort we are today," said LAUGFS Leisure Director/Chief Executive Officer Roshan R. Perera.

Anantaya Chilaw offers the ultimate exotic and tropical luxurious experience with a quick gateway amidst the breathtaking beauties of the ocean. Surrounded by the deep blue waters, the resort promises a tranquil bay side retreat all year round and beckons travellers to its unique combination of soft sandy beach and a serene lagoon. Kissed by the golden sandy beach and the endless ocean that sets at the horizon, 'Anantaya', it caters to those who want a relaxing break from the hum drum of the daily life.

Cocooned by the breathtaking Indian Ocean and the tranquil Chilaw lagoon, this scintillating 'green' resort is situated 66km from Bandaranaike International Airport and 100km away from the commercial capital of Colombo. With 87 spacious rooms and suites, Anantaya Chilaw offers world class hospitality with an array of services for anyone who is looking to escape from the monotonous schedule of ordinary life and relax amidst nature's bosom.

The resort offers the ideal venue for business functions with state-of-the-art conference and convention facilities. Blurring the lines between inside and out with glass walls, wooden fans and natural decorations, this eco-friendly resort brings you one step closer to the untouched beauties of nature. Offering warm Sri Lankan hospitality and a panoramic view to those wishing to experience serenity and romance in a breathtaking natural setting, Anantaya Chilaw provides a relaxing getaway and an exclusive sanctuary.

LAUGFS is one of the largest diversified business conglomerates and a trusted name in Sri Lanka. Founded in 1995, LAUGFS today has expanded across 20 industries in Sri Lanka and overseas, establishing a strong presence as a leader and pioneer in the power and energy, retail, industrial, services, leisure, logistics and real estate sectors. With over 4,000 employees and an annual turnover exceeding Rs. 28 billion, LAUGFS continues to expand and empower millions as a trusted Sri Lankan brand.