President Maithripala Sirisena has said he will appoint a committee of experts to consult all relevant stakeholders and advise the Government on issues pertaining to the medical graduates of the South Asian Institute of Technology and Medicine (SAITM).

The President said the special expert committee will look into issues concerning private universities and the actions that will be taken according to their recommendations.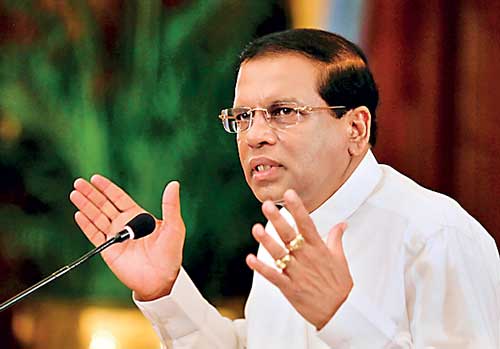 He made these remarks during a meeting with members of the Government Medical Officers' Association (GMOA) and Sri Lanka Dental Association (SLDA) at the President's Official Residence on Saturday (11).

During the meeting, the representatives of the Medical Associations apprised the President of the details of the issues that had risen over SAITM. At the meeting members of the GMOA and SLDA submitted their proposals on this issue, which are to be taken into consideration when providing solutions in this regard.

President Sirisena Thursday said he would have discussions with all relevant parties and solve this problem through a reasonable program which everybody could accept. "I will bring justice to every student while being impartial," he said. Medical students at state universities and state doctors are engaged in protests following a Court of Appeal ruling in January for the Sri Lanka Medical Council (SLMC) to recognise the medical degree granted by SAITM and allow provisional registrations of its graduates and with the council. Meanwhile, deans of medical faculties of eight universities in a letter to Higher Education Minister Lakshman Kiriella stressed that the SLMC should be the authorised institution that would decide the standards of medical doctors and that its independence had to be safeguarded.

The academics, among other things, have suggested that SAITM graduates should obtain proper clinical training and the SLMC should conduct an examination in order to gauge the level of their knowledge.