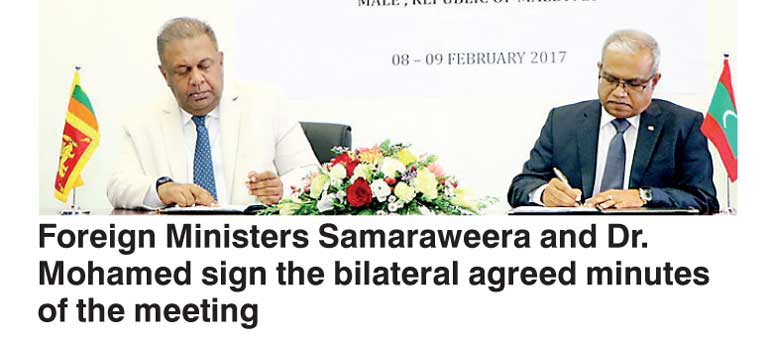 The Third Session of the Maldives-Sri Lanka Joint Commission was held last morning (9), at the Ministry of Foreign Affairs.

Dr. Mohamed Asim, Minister of Foreign Affairs, headed the Maldivian delegation, and Mangala Samaraweera, Minister of Foreign Affairs of Sri Lanka, headed the Sri Lankan delegation.

The Joint Commission deliberated on a wide array of issues of mutual importance to both countries, including trade and economic cooperation, education and social protection, culture and tourism, fisheries and health cooperation.

Discussions also focused on consular and community issues, human resource development and cooperation between the two Foreign Ministries.It was agreed that the Joint Commission would be held biennially, with the next session scheduled to be convened in 2019 in Colombo, Sri Lanka. Minister Samaraweera also had a separate meeting with his Maldivian counterpart.

Discussions between the two Ministers focused on ways of further strengthening and enhancing the strong bonds of friendship and cooperation between the two countries.

Minister Asim highlighted the importance of regular consultations between the two countries and expressed appreciation to the Government of Sri Lanka, for their continued support to the Maldives.