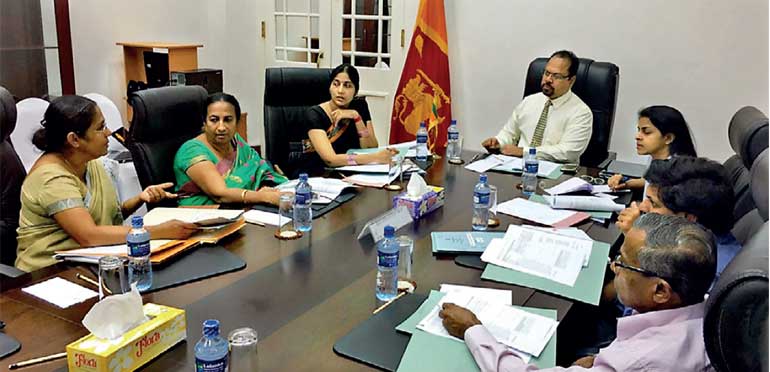 Ministry of Education Director Badra Withanage, NIE Director General Dr. Jayanthi Gunesekara, OGP CSO Coordinator Pushpi Weerakoon, Viluthu Executive Director Maithreyi Rajasingam, NNAF Director Elankovan, NNAF Director Gamage and OGP Government Coordinator Harim Pieris in discussion
After the Cabinet approval of the 'Open Government Partnership- National Action Plan' on 11 October 2016, the joint working committee on the 'Education' met for the first time at the Ministry of Foreign Affairs on 18 January.

The officials from the Ministry of Education, National Institute of Education (NIE), Viluthu and National NGO Action Front (NNAF) together with the OGP CSO coordinator and the OGP Government coordinator discussed the joint implementation of the milestones in the Education Commitment in order to 'Ensure transparency and impartiality in teacher recruitment policy and process in Sri Lanka'.

Badra Withanage (Director – Ministry of Education), Dr. Jayanthi Gunesekara (Director General – NIE), Pushpi Weerakoon (OGP CSO Coordinator), Maithreyi Rajasingam (Executive Director – Viluthu), Elankovan (Director – NNAF), Gamage (Director – NNAF) and Harim Pieris (OGP Government Coordinator) in discussion.