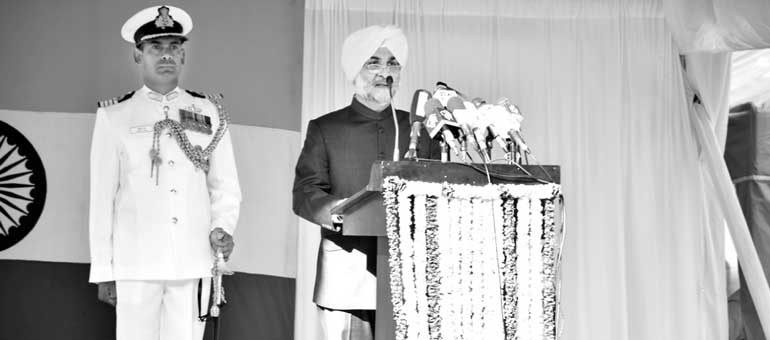 Indian High Commissioner Taranjit Singh Sandhu addresses the 68th Republic Day of India celebrations in Colombo on Thursday
The new High Commissioner of India to Colombo, Taranjit Singh Sandhu said Sri Lanka continues to be a key part of India's 'Neighbourhood first' policy.

Speaking at the 68th Republic Day of India celebrations in Colombo on Thursday, Sandhu expressed hope that Sri Lankan businesses will take advantage of their proximity to the fastest growing major economy in the world.

Highlighting India's achievement in social, political and economic fields in the last six and half decades, the High Commissioner said today, India is the fastest growing economy amongst the major economies of the world.

Congratulating the Government of Sri Lanka on completion of two years in office, the High Commissioner, who presented credentials to Sri Lankan President Maithripala Sirisena on Tuesday, added that India's total development assistance commitment to Sri Lanka is now around $ 2.6 billion, with over $ 435 million as outright grants.

Indian flagship housing project, aiming to construct 50,000 houses, is proceeding well with over 45,300 houses constructed till date.

High Commissioner cautioned against the threat posed by the dark forces of terrorism and stressed the necessity of defeating these forces decisively.

High Commissioner and officials of the High Commission paid their respects to the memory of fallen soldiers of the Indian Peace Keeping Force (IPKF) in a solemn ceremony at the IPKF memorial in Colombo.