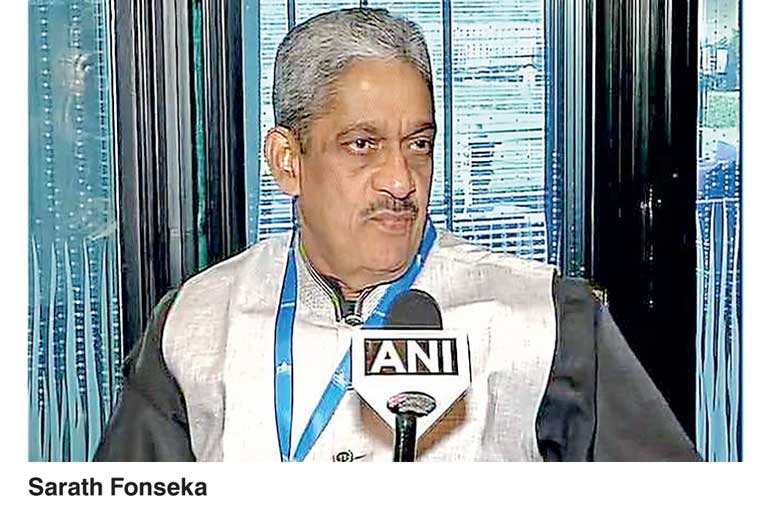 ANI: New Delhi- Highlighting the changes taking place in Sri Lanka between the majority and Tamils, Field Marshal turned politician Sarath Fonseka on Tuesday said that there are no grouses with the majority community in the northern Sri Lanka regarding the 13th amendment.

"We have given that message to the majority community in the south also. There are no grouses with the majority community with the people in the north now. We didn't want to make the same mistakes," Fonseka told ANI in an exclusive interview.

Fonseka asserted that the present government is considering all aspects to go ahead with the 13th amendment taking care of the legal and political issues.

"There are few legal and political issues to a certain extent. Of course we are determined that everybody in the country is given due place, equal place," he said. Expressing hope that the current change in the social perspective Fonseka said, "We have mentally conditioned the country to live together. They understand that there must be reconciliation as one nation.

But political devolution and so things are being discussed. Legal issues are there changing Constitution, referendums and various things are being considered. Hopefully things will fall in line."

13th amendment promises to devolve powers to northern and eastern regions of Sri Lanka which are dominated by Tamilians (a minority community in Sri Lanka). The region lacks autonomy in administration and is controlled by Central Sinhalese (majority community) government.

13th amendment was product of a pact signed between Rajiv Gandhi ( then Indian Prime Minister) and J. R. Jayawardene (then Sri Lankan President) in 1987.

According to this pact, LTTE (Liberation Tigers of Tamil Elam) - an extremist separatist group were to surrender their arms in exchange for peace and autonomy in the region. The pact also promised the equality for Tamilians, while shedding their second class citizen status.