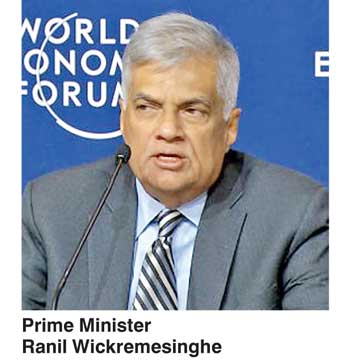 Sri Lanka is making its contribution to the economic integration in South Asia by making Sri Lanka the hub of Indian Ocean, Prime Minister Ranil Wickremesinghe said yesterday.

Addressing a press conference at the World Economic Forum annual meeting in Davos, Switzerland on Tuesday along with Ministers Malik Samarawickrema, Ravi Karunanayake and Harin Fernando, the Premier said with Sri Lanka's hub concept, logistics and the business hub, the integration will become more viable.

Speaking on Sri Lanka's plans for economic development, the Premier said "We are to complete negotiations by mid this year for market entry, firstly, to single market."

The GSP+ which gives tariff concessions to Sri Lankan goods and services has been approved in principle by the European Union, and an announcement will be made after the customary two-month period as to the date on which Sri Lankan goods can enter the single market, he said.

On the Asian Side Sri Lanka is now dealing and negotiating, firstly, with India, with whom Sri Lanka has a FTA, for a further comprehensive and deeper trade agreement Economic and Technology Corporation Agreement (ETCA).

"Within the ETCA we envisage that it will be possible for us to have a separate arrangements with the five southern states of India- Andhra, Telangana, Karnataka, Tamil Nadu and Kerala. It is a US$ 500 billion regional economy and has the prospects of even going up to a trillion US dollars."

"We are also having negotiations with Singapore and we will complete an FTA soon. ETCA with India and FTA with Singapore will enable Sri Lanka to have further agreements with Bay of Bengal countries, firstly with Bangladesh and then other countries such as Malaysia, Thailand, Indonesia, and Myanmar. One option may be to have an agreement with all of Asia rather than to negotiate with individual countries."

Sri Lanka is also negotiating a FTA with China. With that three of the four large markets in the world will be within the reach of Sri Lanka. Si Lanka will also talk with Japan on a FTA and expand FTA with Pakistan, he said.

Together with these Sri Lankan government is also undertaking structural reforms, which would be announced in February and March. The reforms for new tax incentives, macro-economic stabilization, and program with IMF that has been agreed to will make it easier to do business with Sri Lanka.

"With that we are looking at an infrastructure development called a southwest corridor, a development area starting in Kandy going through Colombo and ending up in Hambanthota. There will be two airports, two harbors and with the industrialization of Hambantota and Ruhuna to take place, the new developments of the harbor and the airport, we'll be having the bulk of industrial economy in that corridor with further industrialization to the North of Colombo into the North western Province," the Prime Minister elaborated.

Similarly, a second area of development will be the north eastern economic development corridor around Trincomalee. "The Trincomalee harbor will be developed. We have a contract with Surbana Jurong of Singapore, for the planning out of port of Trincomalee, we are talking with India to come into the development and also with Japan and Singapore for their involvement in developing the port," he said.

The development of interior, agriculture has been already started in part of the areas under the direction of President Maithripala Sirisena, the Premier noted.

Sri Lanka is also initiating work on the financial city, as an offshore center for South Asia and will be focusing on manufacturing, digital economy, tourism, modernization of agriculture starting with plantation crops.

"By end of 2017, the plan will be in place and we'll be operational. The laws will be in place and the strategy that we mapped out last year will come into play to make Sri Lanka's contribution to the integrate," the Prime Minister asserted.

Speaking at the conference, Minister Samarawickrema said Sri Lanka made good progress on negotiations of trade agreements with India, Singapore and China, giving market access to over 2.5 billion people. The agreements will be finalized in June this year,

The Minister pointed out that the problem Sri Lanka having was that the exports have been to traditional markets such as US, UK and India. "We need to diversify the markets as well as the products," he said adding that Sri Lanka lacks the 'know how' to diversify products and hopes to obtain the know how through the diaspora or Foreign Direct Investment.

Also Sri Lanka is looking into improving the ease of doing business, the Minister added.