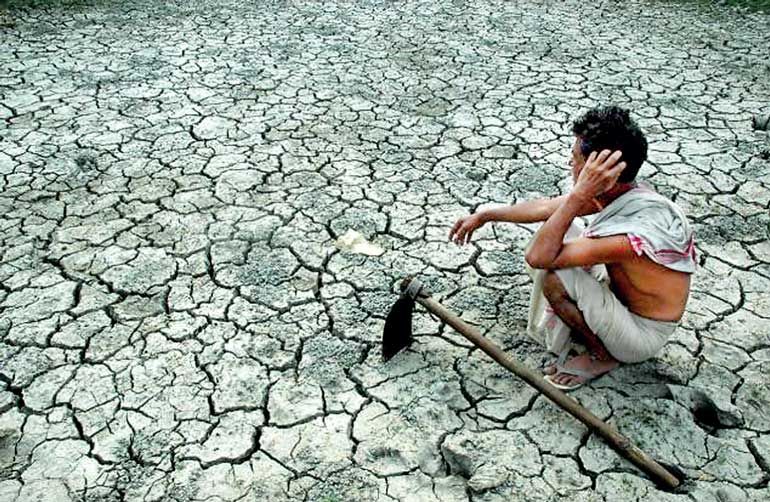 In Sri Lanka, drought is looming into a larger issue as one-third of the population is engaged in agriculture-related activities.

According to the Department of Agriculture, 1.8 million farming households across the island are engaged in paddy cultivation. The prevailing drought has affected majority of these households spread across 13 districts. As a result, thousands of acres of paddy cultivation are on the verge of being destroyed due to lack of sufficient water.

Water, the most important resource essential for humans' continued existence on Earth, is disappearing from the Earth's surface. Drought is currently becoming prevalent in many areas across the globe. The current drought in Sri Lanka is considered as the worst since the 1970s.

Businesses underestimate the impacts of drought and consider it as a temporary phenomenon that won't prevail for longer periods. However, drought is frequently occurring in Sri Lanka with severe and disastrous impacts. Rainfall had become more erratic in recent years with large volumes of rain coming in a short time and with longer periods where there is little or no rain, which creates droughts even though annual rainfall hasn't diminished.

The Central Bank's Annual reports for the last five years have highlighted on the 'adverse and extreme weather' as the causes to support the poor performance of the agricultural sector which clearly indicates the severity of the issue.

Generally, drought is easily perceived as a climate condition impacting the livelihood of farmers. However, it's important to note that climate change and the failure of a season doesn't merely affect the farmer only but also the entire value chain. And it's only a matter of time until the effects trickle down to impact the other components of the value chain as well.

As the drought persists for longer periods, the activities of the system compromising wholesalers, retailers, middlemen, warehouses, banks, logistics service providers, etc. will be disrupted.
Sales plunge

experienced by retailers


Sithamparapillai Ananthan, owner of a large scale retail shop in Nochchiyagama, says his store had experienced a 15-20% sales plunge over the last month in December, as the customers didn't have enough cash on hand to purchase as usual.

"Customers with a usual purchase value of Rs.3,000-4,000 have become picky nowadays and are only purchasing the essential items in smaller quantities. As a result the total bill value has dropped to around Rs. 1,000-1,500," he said.

The retailer further stated: "Food items are moving fast though in smaller quantities, while the other categories such as soft drinks and personal care products are slow moving and are getting piled up in the store rooms and shelves."

The retailer had to request the distributors to hold back the slow-moving items in order to make room for the fast-moving ones. Retailers are acting cautiously during this uncertain period to prevent unnecessary risks and avoid blocking money and space by stocking slow or non-moving items.
As water runs dry, so

do farmers' financials


Ranjith Gunawardena, a farmer situated in the Ralapanawa farming village in Nochchiyagama, has spent over Rs. 1.25 lakhs on his five-acre paddy field. In the event of a good harvest, he would have earned a return of at least Rs. 2.25 lakhs. However, his hopes gave waned over time given the present climate conditions.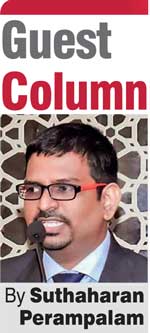 Ranjith said: "We were supposed to receive water from the Mahaweli stream. However, we received water only for a day during the last two weeks and it's insufficient to save the paddy."

The farmer's financial worries are further intensified with lack of funds to settle the lease payment for his tractor, which is due following the cultivation of the paddy.

Nevertheless, Ranjith had wisely invested efforts to cultivate pumpkin on his two-and-a-half-acre land along with the paddy cultivation. He has managed to save the pumpkin crops by pumping water from the well, even though it's an expensive process and would thin his margins.

"We are lucky as there is adequate ground water unlike the other dry zone areas where the ground water is drained and crops are already dead," said Ranjith worriedly.


Failed crops and decline in purchasing power


"Last time when we had a good harvest, I earned about two to three lakhs and was able to adequately spend whenever I visited town. In addition to that, I was also able to complete the construction of the front yard and bathroom and also saved some money which was used for paddy preparation this time," he said.

However, during this harvest, his cash flow is severely affected which has impacted the spending pattern. The farmer's food reserves have also been used up and he had not been to the town for the entire month.

Farmers generally doesn't have adequate savings and are forced to use up food reserves, whilst others depend on borrowings or take up non-agricultural related employment.
Need to implement mitigation strategies


With appropriate contingency plans in place at the right time, the adverse impacts could well have been minimised, if not eliminated.

One way of bridging the gap between the potential yield and actual yield would be to replace the drought susceptible varieties with relatively resistant/tolerant varieties to sustain overall production. The Department of Agriculture has mentioned that the farmers have remained ignorant despite their warning early in the season itself.

The majority of the small farmers in the country blindly believe in rainfall during the farm operations. Therefore it is essential to adequately educate the dos and don'ts during the occurrence of a drought based on the value additions provided by the weather data.

Corporate institutions and masters of effective communication could aid in developing communication strategies partnering with the Government. Creating awareness and preparedness could be a valuable Corporate Sustainable Responsibility if well utilised.

The valuable lessons learned from this season should be used as guide to prevent repeated losses in the future.

(The writer is a market research professional, specialising in the demand-side estimation and segmenting consumers. He can be reached via haran5555@gmail.com.)