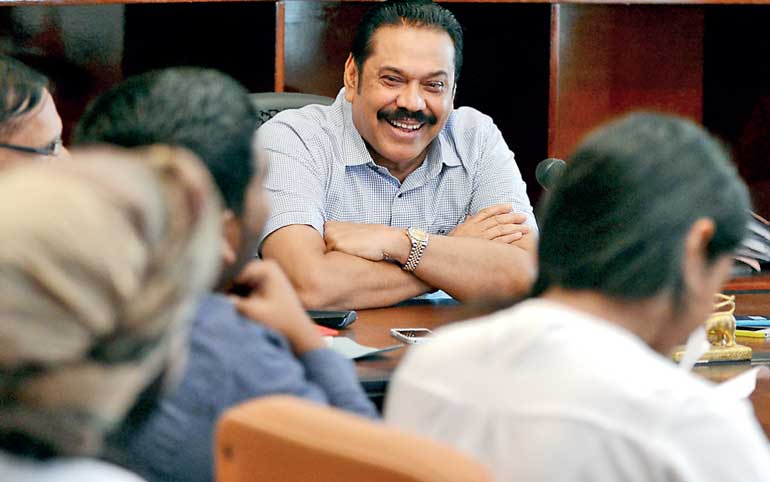 Former Sri Lankan president Mahinda Rajapaksa addresses foreign media at a press event in Colombo yesterday - AFP
By Dharisha Bastians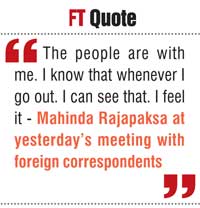 Former president Mahinda Rajapaksa yesterday vowed to make it his mission to topple the National Unity Government and regain power in 2017, nearly two years after he was ousted in a shocking election upset.

During a meeting with Colombo-based foreign correspondents, the former President said that even though the National Unity Government currently held a two thirds majority, that balance of power could shift given the current political climate.

"They are fighting with each other. It can't go on like this. It is bad for the country," Rajapaksa told reporters at his official residence at Wijerama Mawatha in Colombo yesterday.

Ironically, the old colonial residence was President Maithripala Sirisena's ministerial residence when he served as Rajapaksa's Health Minister. For several months following his election, President Sirisena continued to operate out of his old residence. When Sirisena was the occupant of the Wijerama Mawatha residence, portraits of communist icons Karl Marx and Lenin hung on the walls.

The new occupancy has brought a new set of portraits, all of them featuring the ex-President and the former first family. Even the tea sets are emblazoned with images of a kurahan saatakaya – Rajapaksa's signature maroon shawl.

Seated at the head of the table, looking casual in a checked shirt and handloom sarong at his first meeting with foreign correspondents since his defeat two years ago, the former President expressed supreme confidence in his ability to tip the political scales in the coming year.

"When I said I would defeat Prabhakaran I did it. I have the same confidence here," he says, referring to his ambition to overthrow the Sirisena-Wickremesinghe Government.

But many political analysts feel that Rajapaksa's only path to power was through reconciliation with President Sirisena which could then result in his appointment or election as prime minister of a SLFP-led Government.

At the moment the two appear to be at loggerheads. President Sirisena recently slammed the former President for sowing racism and mobilising support against the new constitution that his Government hopes will deliver on a political settlement to ethnic strife that has spanned six decades.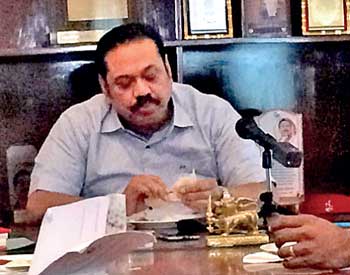 Hopper host!
Hoppers became part of local political lore when former President Mahinda Rajapaksa mocked his successor Maithripala Sirisena for sharing a meal of the Lankan delicacy with him the night before joining ranks with the Opposition. In that context, it was interesting to see Rajapaksa savouring hoppers with foreign correspondents yesterday during their meeting. This will no doubt be the talk of the town in days ahead


Rajapaksa meanwhile blamed President Sirisena for forcing him back into active politics. "This man started attacking me from 9 January," he told reporters referring to President Sirisena, "I ignored him for two months but then I had to begin to respond. I had to come back to politics because of the way he was treating me."

But asked if he could work with President Sirisena if he managed to craft a path to the premiership, the former President retorted that he had known the current SLFP leader since 1970. "Now, Prime Minister Ranil Wickremesinghe is working with him. He (Sirisena) was with me for many years," he explained.

US, India, RAW blamed for defeat

Corruption, nepotism and his failure to reconcile the country after ending a 26-year civil war were the main criticisms against his Government.

But according to former President Rajapaksa, his defeat was caused fundamentally due to meddling from the United States and India. "We couldn't match the opposition campaign, with the Americans, Indians and RAW coming in," he explained.

He also attributes his electoral losses in 2015 to a mutiny inside his own Government.

"We didn't know what was going on inside our party," Rajapaksa reflected now, two years later.

Since he lost the presidency nearly two years ago, Rajapaksa has consistently blamed the Indian spy agency RAW and Western countries for supporting his challenger.

Delhi's 'double standards' and opposition to Chinese deal on Hambantota

He also seemed irked at what he claimed were New Delhi's double standards on the Sri Lankan Government's proximity to China.

Rajapaksa said he had been "shouted at" by Indian diplomats and officials over his burgeoning ties to Beijing, and specifically with regard to the docking of a Chinese submarine at the Colombo Harbour in 2014. But when confronted with a similar nexus with China under the new administration, New Delhi was being as "quiet as a mouse", he claimed.

The former leader said the Indian Government was not reacting the same way to the new Government's plans to lease a strategic harbour and 15,000 acres of land for an industrial park to a Chinese company in Hambantota, even insinuating that New Delhi had been promised something in exchange for its patience.

"They also must be getting something. I don't know whether the Trincomalee Harbour is going to them or Palaly and Kankesanthurai," he said referring to ports and airports in the Northern and Eastern Provinces.

Hambantota is the former President's hometown, where his Government constructed an airport, a port and an international convention centre using loans from Beijing. But now he expresses fears about his hometown being dominated by China.

"This is the people's land, no other Government would give this much land to a foreign company," he charged.

Since the enactment of the 19th Amendment, Rajapaksa, who has held office for two terms, is no longer eligible serve as President of Sri Lanka. In his fresh bid for power, he could only seek to establish himself as the country's Prime Minister, but the 19th Amendment has also made it impossible to declare fresh elections for Parliament before 2019 at the earliest. Under the circumstances, political analysts say the former President's only path to power lies in a major reconfiguration in the balance of power in Parliament.

Given the prevailing tensions in the ruling coalition, such a reconfiguration was not entirely implausible, according to political analyst Kumudu Kumara, who is a senior lecturer at the Department of Sociology at the University of Colombo. "As the cold war between the UNP and the SLFP heats up, the possibility of a fully SLFP Government being formed in 2017 is not entirely far-fetched," he explained.

Third force?

Rajapaksa told reporters yesterday that a politician did not need to be president to rule a country. Even staking a claim for premiership was "not a main concern", he claimed. As he plots his comeback in 2017 and beyond, the former President says he will begin his political campaign with agitations over the new Government's privatisation plans and financial mismanagement, targeting local government elections scheduled for next year.

The Podujana Peramuna, a new political party led by former Foreign Minister and Rajapaksa loyalist Prof. G.L. Pieris has announced it will contest the local council polls and nurses hope that the former President will take up the mantle of leadership in the new party.

"This party is just an avenue for President Rajapaksa to come and play a leading role. It is his party – no one else's," said Pieris who was also present at the press interaction yesterday.

But for the moment, the former President remains a member of the SLFP led by President Sirisena. Yet for months, he has been threatening to lead an alternative political movement to defeat the ruling coalition. The SLFP, Rajapaksa says, is just an appendage of the UNP now. "The Podujana Peramuna is where the true SLFP resides and we are confident our party members will come home," Pieris, who was seated next to Rajapaksa at the meeting, told journalists.

But according to analysts, unless the SLFP put its differences aside and face local government elections as a single entity, its current fractured status could benefit archrival UNP.

Without a rapprochement between the feuding factions of the SLFP, mass support for even a Rajapaksa-led alternative to the SLFP was doubtful, says Kumudu Kumara of the Colombo University.

While Rajapaksa could be a force to be reckoned with if he leads a third party in forthcoming elections, this does not necessarily ensure his return to power, other observers also note.

Dr. Nishan De Mel, Executive Director of the Colombo-based think-tank Verite Research, says Mahinda Rajapaksa was creating what might become the most significant third force in Sri Lankan politics. "It can permanently change Sri Lanka's political dynamic," Dr. De Mel added.

Yet with the shine wearing off the 'Yahapalanaya' Government as it struggles with growing unpopularity and public discontent, poor economic management and the failure to curb corruption within its own ranks, Mahinda Rajapaksa believes his moment may come in 2017.

"The people are with me. I know that whenever I go out. I can see that. I feel it."