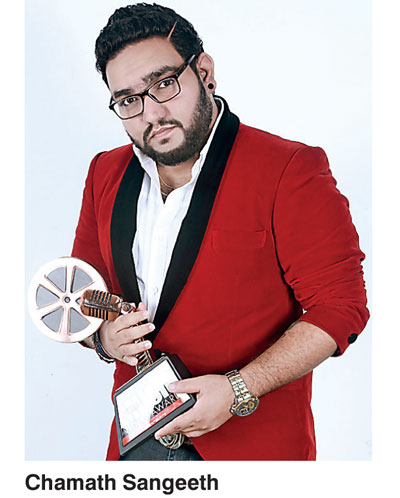 Chamath Sangeeth is a multi-talented music producer and recording engineer.

He stepped into his music career with the consent of his late father and later obtained a vast understanding about recording engineering from Milan Fernando. Then he used this knowledge to experiment and develop new creations of his own.

In the year of 2013 with the song 'Me Galana Wedana' sung by Waruna Madushanka, Chamath started working with artists in the industry with the assistance of the most loved lyricist in the Sri Lankan music industry of this age Sajith V. Chathuranga.

Later he went on producing Dushyanth Weeraman's 'Obawa Mata Himni Ne' in latter part of 2013 and Shahil Himansa's 'Aye Noena' in 2014 which received 550K YouTube views and good feedback from viewers.

After that he joined the company Hari Creation as a Music Producer and went on producing Noel Raj's 'Amma', Sandun Perera's 'Thani Wenna Epa' and 'Oba Sathuten'. For these successful productions the Hari Creation Company and its Head Lahiru Mudalige provided immense support.

As time passed in the year of 2015 Chamath got the opportunity work with Ruwan Hettiarachchi who is one of the biggest artists in the industry. Sajith V. Chathuranga added his miraculous touch of heart touching lyrics into the production. With the mixture of best lyrics from Sajith and mind seducing vocals by Ruwan, Chamath was able to put them altogether and give birth to the master piece 'Wen Weela Giyada Patan'.

With the immense support of the great vocalist Ruwan and the catch phrase 'Obata Sathutuida Den' written by Sajith, popularity of this song was inevitable of being one of the greatest. Starting from politicians to normal citizens, this phrase was being used in daily life and it spread out like wildfire.

Even though Chamath didn't expect it to be, this was the most significant turning point of his music career so far. The song couldn't stay in the bottom of any Top charts of Television and Radio Programs because people loved the song so much that it's hit the No. 1 spot and was able to stay there for a long period of time. It currently has over 2.1 million YouTube views and finally it is awarded as the 'Most Popular Bronze Award' by Derana Music Awards 2015 which was held on 11 November.