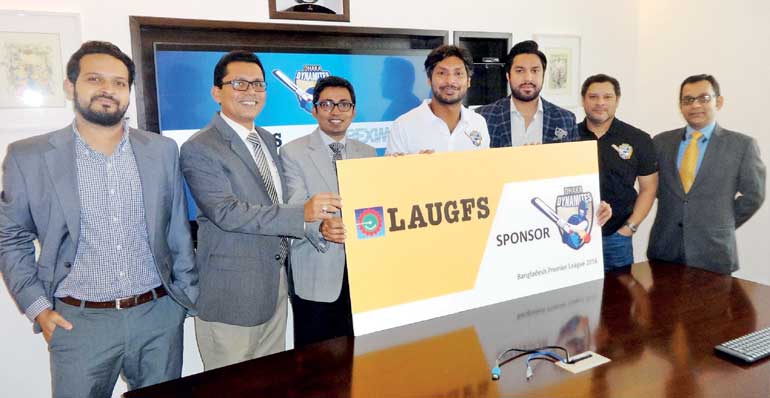 From left: LAUGFS Gas Bangladesh Deputy Manager Marketing Tawsif Islam, LAUGFS Gas Bangladesh GM Sales and Marketing Nazeer Latiff, LAUGFS Gas Bangladesh Director/CEO Saidul Islam, Kumar Sangakkara (playing for Dhaka Dynamites), Dhaka Dynamites Advisor Rafey Alam, Dhaka Dynamites CEO Obeid Nizam and Beximco Petroleum CMO Muntasir Alam
LAUGFS Gas Bangladesh, the only 100% owned multinational entity in LP Gas industry of Bangladesh, partnered with Dhaka Dynamites Team as one of the major sponsors in this year's edition of Bangladesh Premier League (BPL). The occasion was celebrated with an official ceremony at Dhaka Dynamites office in Gulshan, Dhaka.

LAUGFS Gas Bangladesh Director/CEO Saidul Islam, along with General Manager – Sales and Marketing Nazeer Latiff handed over the official cheque to the senior management of Dhaka Dynamites Team at a recently held event. Cricket legend Kumar Sangakkara who has played a pivotal role in building the partnership between these two elites, also took part in the ceremonial arrangement.

LAUGFS Gas is one of the leading LP Gas operators in Bangladesh, which entered the local LPG downstream industry with the acquisition of Petredec Elpiji Ltd. who owned and operated the Kleenheat Gas brand, a trusted name in the local market since 2001. Its operations have since grown rapidly, establishing an expansive distribution network across the country with an annual turnover exceeding $ 38 million.