Sri Lanka's dream of being an Asian trading hub on a par with Singapore may yet be a reality, writes Kieran Arasaratnam, but success will depend on an ability to answer some difficult questions and confront a bloody past
The Indian Ocean is the third largest ocean in the world. Bounded by Africa to the west, Asia to the north and Australia to the east,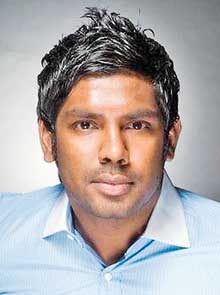 this vast body of water spans 70 million square kilometres and is traversed by hundreds of arterial trade routes connecting over 37 countries. It is a region upon which much global trade relies and yet lacks a thriving financial hub at its heart to rival the world's biggest shipping ports. Instead, sitting at the ocean's physical centre, is a small developing island nation that has struggled to capitalise fully on its surroundings.

Sri Lanka's plans to become a nodal point within this maritime expanse are not new. There have been previous junctures in the nation's history where it has been poised to emerge as a South Asian powerhouse. In every case, corruption, political interference, and ethnic conflict have put paid to its ambitions. Seven years on from the end of a bloody civil that pitted the country's majority Sinhalese community against Tamil separatists for more than 25 years, Sri Lanka is at another juncture.

Before his appearance at the World Economic Forum in Davos last January, Prime Minister Ranil Wickremesinghe described how his country was on the cusp of a new age, primed to take advantage of a rapidly changing global marketplace. "We have easy access to lucrative Middle Eastern markets and rising African markets, while the growth engine that is India lies just 20 miles away," he said.

As part of its plans for economic revitalisation, the Sri Lankan Government has been busy seeking trade deals and wooing foreign capital in Asia. The Government hopes to acquire the infrastructure investment its needs to unlock the country's potential. As well seeking stronger ties with its closest neighbour, India, in the form of the Indo-Sri Lanka Free Trade Agreement currently being negotiated, Sri Lanka is also doing deals with other Asian partners such as China and Singapore.

Singapore, in particular, holds a special significance. The Southeast Asian city-state represents the model which Sri Lankan's leaders hope to emulate. Like Sri Lanka, Singapore once had bleak prospects, but within a generation, it transformed itself from a tiny, underdeveloped state, with no natural resources and a population with little shared history, to an economic powerhouse.

Sri Lanka's leaders want to replicate this. There are parallels between the two countries and lessons to learn from Singapore, but for Sri Lanka to capitalise on the similarities, it must also understand the differences.


1. Could Singapore's success be a model for Sri Lanka?
The obsession with the Singapore model that persists among many Sri Lankans goes back some decades. It is the Asian hub that Sri Lanka could have been. Part of this mindset is attached to the disappointment Singapore's late founding father, Lee Kuan Yew, expressed at Sri Lanka's progress following his first visit to Sri Lanka in 1956. On first sight, Yew had seen a country that was bristling with potential, sadly this potential was squandered by poor leadership, mismanagement, and social unrest. In an interview for his 1998 biography, the statesman recalled his initial impressions. Lee recalled:

"...they had sterling reserves. They had two Universities. Before the war, a thick layer of educated talent [...] if you believe what American liberals or British liberals used to say, then it ought to have flourished. But it didn't."

The gulf between Sri Lanka and Singapore is now huge. Singapore has a population of 5.6 million people, just over a quarter the size of Sri Lanka's which is around 21 million but its GDP sits at around $293 billion – around three and half times that of Sri Lanka. As a developed state, Singapore now enjoys greater longevity, higher literacy rates, and lower infant mortality. Sri Lanka, by contrast, is very much a developing nation by all these measures.

Sri Lanka' ambitions are bold but not beyond reach. The nation's economy is still growing apace. While Singapore's growth was at a more modest 2% in 2015, Sri Lanka's GDP growth rate was at 4.8%. The Asian Development Bank expects this growth to accelerate. According to a recent report by the Bank – Asian Development Outlook 2016 – the country's GDP growth is projected to rise to 5.3% this year, recovering to a further 5.8% in 2017.

The South Asian nation also has some favourable demographics. With a higher median age of 32 and a higher birth rate, Sri Lanka does not share Singapore fears of an ageing population.These factors – in addition to its prime position astride major east-west trade routes – make the country's potential as a major gateway to South and East Asia seem even stronger. But for Sri Lanka's leadership, delivering that reality is a much different proposition. Can Singapore's example provide much-needed context for a Sri Lankan strategy?
There are still reasons to be optimistic about Sri Lanka's future as a trading hub – Pic by Shehan Gunasekara


2. What has been Singapore's secret ingredient?
Let us have a look at why Singapore has been a success. There are three core factors. First, it is the obvious benefits of its location. The so-called Lion City has been a bustling port of trade since the 14th century by virtue of its place atop a natural harbour at the mouth of The Strait of Malacca. According to Lloyd's List, it now ranks as world's second busiest shipping port after Shanghai. The second major factor is that under Lee's leadership – following independence – the country had flung open doors to foreign trade and investment. The city-state became a regional hub for many multinationals, and the government went to great lengths to ensure these companies would expand and prosper. This was made possible by a third element: a government that has been efficient, small, and transparent – a rare quality in the region. This made doing business in the city easier.

There are other factors to take into consideration. Under the leadership of Lee, the country established many competent institutions including its lauded Economic Development Board that had the talented leadership needed to see through crucial policy decisions and reforms. The same government was also successful in tackling corruption, strengthening the rule of law and laying out effective public sector performance targets.

Though Lee came in for criticism for his sometimes authoritarian pragmatism, he managed to unite a disparate multicultural population that included ethnic Malaysians and Chinese Singaporean, as well as smaller immigrant groups from other parts of Asia. For Lee, it was imperative to promote a fair, meritocratic "Singaporean Singapore" – a stark contrast to neighbouring Malaysia and its so-called pro-Bumiputra laws which have favoured the ethnic Malay majority. In doing this, Singapore has tackled an issue that is desperately relevant to Sri Lanka and found a solution that is achingly longed for in the wake of Sri Lanka's civil war.


3. What can Sri Lanka learn from Singapore?
So this begs the question: What can Sri Lanka take from Singapore? Harvard University's Center for International Development is working with the Sri Lankan government to help steer the country in the right direction. Many of the steps that were recommended by the Growth Lab research team, led by Ricardo Hausmann, current Director of the Center for International Development, reminds us of some of the examples set by Singapore. The team identifies four key areas where the government can focus, these include:
Stabilising the economy and supporting long-term growth through sound monetary and fiscal policy.
Allowing its existing industries to grow, while delivering higher wages through new industries and making its exports more dynamic and competitive.
Ensuring effective urbanisation and development that will enhance productivity and improve livelihoods across the country.
Promoting social inclusion, and make sure development is spread evenly across regions and social groups.


Aside from tackling the complex issue of Sinhalese-Tamil relations, Sri Lanka needs to get to grips with the basics of good governance. It needs to promote an independent judiciary, crack down on bribery, and nurture a free press. To date, Sri Lanka has scored poorly in these areas. In the World Justice Project Rule of Law Index 2015, the country ranked 58th, behind El Salvador and Thailand, while Transparency International put Sri Lanka at 83rd in its most recent Corruption Perceptions Index, alongside the likes of China, Colombia, and Liberia. Meanwhile, when it comes to freedom of the press; Reporters Without Borders put the country at #141 (though, it is worth noting that even Singapore does far worse on this measure at #154).

The country's deeply ingrained economic problems have been exacerbated by the dominance of loss-making State-owned firms; poor access to financing; an inefficient bureaucracy, and tax issues that are hampering companies trying operate in the country. The mountain of national debt has also stunted progress. Reuters recently reported that the country's debt was around 76% of GDP in 2015, up 71.6% from five years earlier. Foreign debt repayments have held the economy back. The Government has tried to tackle this and inked an agreement with the International Monetary Fund (IMF) this year for a $1.5 billion bailout. This averted a crisis in the short term, but country's debt problems will be an ongoing issue for years to come.

Beyond renegotiating national debt, the Government needs to fast-track growth by bolstering the private sector and encouraging more foreign investment. There has been some progress here. According to local media, the government is to bring in a so-called Development Special Provisions Bill intended to expedite foreign investment project approvals and stimulate job growth. It will also hire management consultancy McKinsey to help set up a government program styled after Malaysia's Central Program Management Unit (CPMU), and hire experts including Singapore's former Head of Civil Service, Peter Ho.

But it is important to remember that the country's macroeconomic challenges are by no means separate from its need for post-war ethnic reconciliation. Just as the Growth Lab research team had identified the importance of social inclusion, Wickremesinghe also highlighted the need for reconstruction in the places worst hit by the country's quarter-century conflict and the need to build bridges between the country's minority Tamil and majority Sinhalese communities.


4. Why is reconciliation important to Sri Lanka's future?
It is hard to underestimate the actual cost of Sri Lanka's 26-year-long war, but in economic terms, the conflict – which ground to a bloody halt in 2009 – has cost the country over $200 billion, according to estimates from the Asia Economic Institute. However, unless the Government can heal the wounds of war, and repair the divisions it has let fester, the economic damage could be compounded for years to come.

When it comes to the process of reconciliation, Sri Lanka's current President Maithripala Sirisena represents a marked improvement from his predecessor – Mahinda Rajapaksa – who had overseen the last bloody years of conflict and subsequently refused to cooperate with the UN as it attempted to investigate alleged human right abuses.Sirisena has promised change but members of the Tamil community – many of whom are still overseas – remain sceptical. At the same time, a recent report by the UN said that while progress has been made in resettling displaced Tamil community, it has not been made fast enough. There have also been issues with the Government's internal war crime inquiry. It is clear that more must be done.

In an article written earlier this year, US Nobel Laureate economist Joseph Stiglitz underscored the need to integrate the country's Tamil minority into the country's economy. The country, he said, will need balanced affirmative-action programs to address economic disparity both within Sri Lankan society and the Tamil community. There is also the need for investment in the northern Tamil region across infrastructure, education, technology. "Markets on their own," he stressed, "won't solve this problem".


5. What role does Sri Lankan diaspora have to play?
Much like Singapore, Sri Lanka will need shore up its most valuable, renewable resource: its people and their talent. For Sri Lanka, much of this resource still resides abroad. Over the past few decades of conflict, many hundreds of thousands of Sri Lankans have fled the country. It is hard to get a precise measure of how large the diaspora is. Unverified figures put the global total at around three million, with the UK estimated to have the largest Sri Lankan population among Western nations. The last official measure of the Sri Lankan diaspora in the UK, the 2011 census, puts the number at 127,000 – around double what is was ten years ago. In reality, the number is probably much higher. The British Tamil Forum estimates that there are one million Sri Lankan Tamils overseas, 350,000 of whom are in the UK. This diaspora growth has inevitably led to a brain drain.

For example, one only needs to look at the number of Sri Lankans in the medical profession in the UK. According to the General Medical Council, around 1% of all doctors practicing in the UK – 2,500 – were trained in Sri Lanka. The proportion is significant enough that in 2005, the then minister of health, Nimal Siripala Da Silva, accused the UK of undermining the Sri Lanka's health system which had 800 specialists serving a population of 18 million people at the time. The deficit of expertise and talent, exacerbated by an enlarged diaspora, inevitably extends beyond health into areas such as education, finance, engineering and all the professional sectors crucial to the country's progress. Efforts to attract this vast diaspora – which includes a disproportionate amount of Tamils – will be inseparable from the government's attempts at post-conflict reconciliation and economic rejuvenation.


6. Why must Sri Lanka look to its neighbours?
This is not the only reason Sri Lanka should look overseas. The country's future rests on its ability to be a gateway to the giants next door: India and, further afield, China. Firstly, India currently accounts for over a third of the GDP of all nations encircling the Indian Ocean and 60% of that group's population. Its economy is growing at 7.6% per year, compared to the Indian Ocean average of 4.2%. Just as the success of cities like Hong Kong and Singapore depended on being seen as a gateway to China – and in the latter case, Malaysia, and Indonesia – Sri Lanka's relationship with India must evolve along similar lines.

The Sri Lankan Government has seen the benefits of closer ties with India. Recent reports show that the two countries are already negotiating a pact that will help widen economic engagement. The Economic and Technology Cooperation Agreement (ETCA) aims to boost cooperation across several sectors, specifically science and technology. It is hoped the agreement will give Sri Lanka better access to India's rapidly growing markets. But again, there are political barriers. Opposition politicians have already raised fears over undue foreign influence, raising the spectre of lingering anti-Indian sentiment in the country.

But Sri Lanka will need to get comfortable – both politically and culturally – with the prospect of more cross-border trade. The country is also building relations with China, particularly in relation to Sri Lanka's role as part of China's Maritime Silk Road and Economic Belt policy, also known as the One Belt, One Road (OBR) initiative. Sri Lanka could be an essential link in China's Maritime Silk Road which will link the South China Sea to the Indian Ocean, the Arabian Sea and then the Mediterranean. A State visit to China by Wickremesinghe this year saw both countries ink several agreements, including China's support for the $1.5 billion Colombo Port City Project. The change, and challenges, this will bring will be dramatic. In July, Forbes reported China requested had 60 kilometres of land in Sri Lanka's southern Hambantota region to make a special economic zone, a move expected to create one million jobs but could also deepen the country's debt obligations to China.

How Sri Lanka manages it relationship with its neighbours will play a central role in its future ambitions, but this will pivot on the current Government's ability to navigate a fragile political landscape domestically. Nevertheless, there are still reasons to be optimistic about Sri Lanka's future as a trading hub. Stiglitz noted that the country could become a financial centre by dint of being a haven in a geopolitically turbulent part of the world. But, again, he warned, "this won't happen by relying excessively on markets or underinvesting in public goods".Instead, he said, peace and emergence of representative political institutions, will give Sri Lanka a better chance than ever to make necessary economic changes. Changes which, if successful, could yet see Sri Lanka claims its place as an ever more important port at the centre of an abundant Indian Ocean.


Dr. Kieran Arasaratnam is a member of the UK-based Tamil diaspora and has been working in Investment Banking for the past 15 years, based in Asia, Europe, and North America. Kieran is an academic advisor to Imperial College London and a founding member of Imperial College Financial Signal Processing Group.