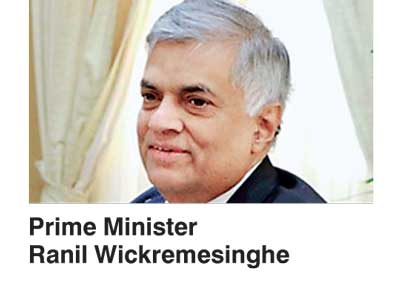 Prime Minister Ranil Wickremesinghe says that the United National Party (UNP) and the Sri Lanka Freedom Party (SLFP) wish to work together in the national government to develop the country and have no intention of destroying each other.

"We (UNP) do not wish to destroy the SLFP and the SLFP does not wish to destroy the UNP. We wish to join together and develop this country for the people," Wickremesinghe said, while addressing a religious event at the Ahangama, Dikkumbura Sri Sudarshi Temple yesterday.

Pointing out that at times in the future the SLFP will be in power and the UNP will be the ruling party at other times, the Premier emphasised that a strong country would be built through a national unity government.

"At times we may have power. At other times the Sri Lanka Freedom Party will have power. At times like this we join together to work for the people," he said.

He criticised the media for being the greatest obstacle to unity between the two major political parties.

"The media is the greatest enemy of harmony between the two major parties. The media has the biggest problem. The media is afraid that they will lose material to report if the two parties merge. But the media should also adapt to the trend. They need to know what will happen to them if they don't change," he said.

The PM stressed that the unity government will continue for five years and the people can decide after that. "We will continue for five years regardless of what comes in our way. Then the people can decide afterwards," he said.

Prime Minister Wickremesinghe opened the newly built shrine room of the Sri Sudarshi Temple today. The pinnacle of the newly built stupa was unveiled to coincide with the ceremony.

Ministers Gayantha Karunathilake and Vajira Abeywardena, MPs Bandulal Bandrigoda and Wijepala Hettiarachchi and Southern Province Governor Hamakumara Nanayakkara were present at the occasion.