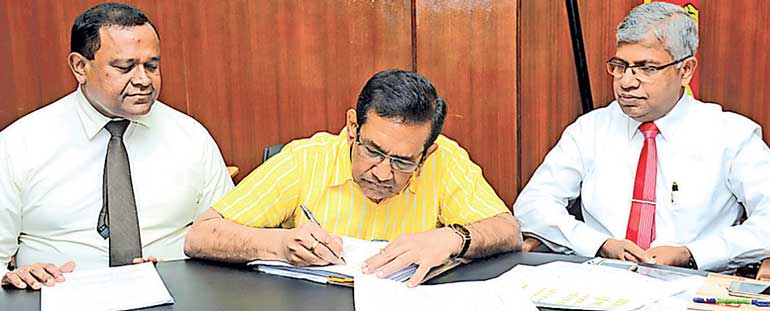 Minister of Health, Nutrition and Indigenous Medicine Dr. Rajitha Senaratne signed the Gazette on reducing the prices of 48 pharmaceutical drugs on Friday at the Health Ministry.

The relevant Gazette notification on reducing the prices of 48 drugs under the National Drug Regulation Authority Act No. 05 of 2015 was issued Friday and it is in force from Friday midnight.

Under the new policy prices of 48 drugs, especially the drugs used for non-communicable diseases such as high blood pressure, and diabetes etc, are reduced.

According to Minister Senaratne the price formula has been finalised in accordance with the internationally accepted standards. Prices of more drugs are expected to be reduced later.

Minister Senaratne said that it is the biggest concession given to the middle class of the country.

According to the Gazette notification, the ceiling on prices of the scheduled drugs shall apply to and in respect of all branded and generic versions of such drug-formulations. Pharmaceutical companies are no longer allowed to revise the CIF prices and arbitrarily increase the prices of medicines above the Maximum Retail Price (MRP) stipulated in the gazette.

The Chief Executive Officer of the National Pharmaceutical Regulatory Authority, Dr. Kamal Jayasinghe said inspection of pharmacies will be carried out from today to ascertain the adherence to the price reductions. A team of Health Ministry and the Authority will engage in the inspection activities.