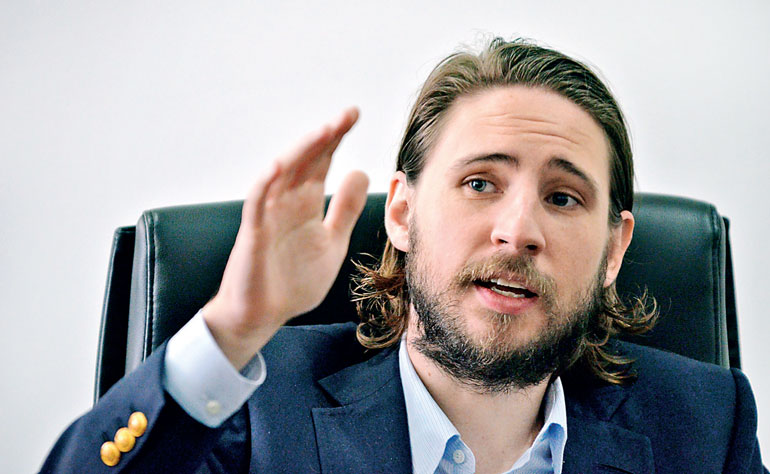 Hela Clothing Director Dominic Mcvey
Dominic Mcvey, one of Britain's youngest self-made millionaires and Founder and Managing Director of Hela Clothing Ltd., Sri Lanka speaks to Daily FT about his experience
By Chathuri Dissanayake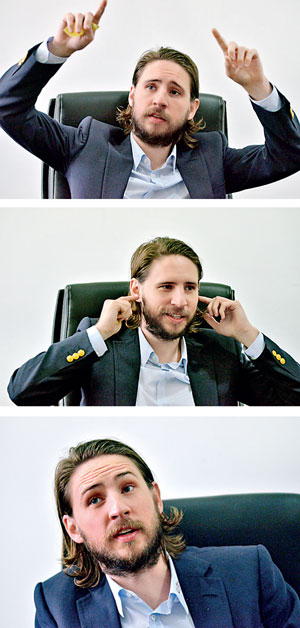 Dubbed the 'Scooter Boy' of the United Kingdom, Dominic Mcvey made his first million at the age of 15 selling foldable motorised scooters imported from a US company Viza. He stumbled upon the company by mistake when he was searching online for Visa credit card, and offered to sell their products in the UK. After about a year of back and forth communication, the company agreed to send him five scooters and one free scooter. Since then he has sold millions, he says.

"It was my first experience of knowing I could see something that others would like. A consumer will see many things that they want, but they don't necessarily think of selling it. Although that is becoming harder as everything is available for us now. Five years ago, it wasn't and 15 years ago when I started no one knew what the internet was," Mcvey says.

Since making his first million almost two decades ago, Mcvey has gone on to multiply his worth over the years. He has diversified into pharmaceuticals, cosmetics and fashion. He is a founding and managing partner of investment firm Ellestone Apparel LLP, the holding company and the controlling shareholder of Hela Clothing Ltd., in Sri Lanka. Mcvey has worked as an advisor on entrepreneurship to the Department of Enterprise, Trade and Employment of the Irish Government as well as the DTI and DFES in the United Kingdom.

His early success also earned him the title 'A Pioneer for Britain in Entrepreneurship' at the age of 18, awarded by Queen Elizabeth. In 2009, he was named Britain's second most influential business person under the age of 30 in the 'Top 30 power players under 30' listed by 'The Sunday Times'.


Starting out young

His entrepreneurial efforts started way before the age of 15 he says. As a young boy, who had the opportunity to travel around the world thanks to his father's profession as a musician with the Royal Shakespeare Company, he was exposed to a lot more than an average boy. He decided to make the most of the given opportunity, he says.

"I was always thinking about what I wanted to do, what is possible, what do I want to be? Being an entrepreneur doesn't have 'early signs' like a young football player or a soccer player, who has a kind of instinct. Entrepreneurship and business are seen differently," Mcvey says relating his childhood experiences.

A constant traveller to Tokyo where his father had a lot of friends, his started buying gadgets from Japan and selling it for a 15-20% mark up in UK. Majority of his customers were his friends' parents.

He even had a website – WickedbyDom.Com set up to sell his gadgets, in an age when most established businesses didn't own websites, but he didn't do 'very well with the internet'.

When he first visited the United States he realised the true potential of the market for scooters, and started aggressively selling the product. In a few years he had sold millions.

"I think I was largely responsible for creating the market in entire Europe, where we sold about 11 million. What I saw was that I liked the product, and I knew I could sell it, took me two years to sell the first few thousands but it worked," he says.

He was only 14 when he first travelled to US to meet the producer of scooters he was selling in UK. At first the seasoned US businessman who Mcvey was supposed to meet, didn't accept that he was in fact Dominic Mcvey – the same person who helped his company sell thousands of scooters to UK consumers.

"He was impressed when he realised," he recalls.

After discussing product related customer complaints with Mcvey, three different types of scooters were developed by the US company.

"We developed a razor scooter, a kick-it scooter and an electric one. Millions of razor scooters were sold, I was probably responsible for helping sell about 11 million in Europe and I sold 15 million from my bedroom. It was not even legal for me to hold a business account in the UK," Mcvey recalled.

When there was a shortage in the US, the country he bought the products from, he resold the scooters to US customers for a premium.


Right product, right time

So what drove the success? Right product, right time, Mcvey says without hesitation.

"I had the right products at the right time and I spoke about it a lot. It was just what we need to see in our business today also, right product right time. I think the garment industry has been slow to embrace the 'right product right time' concept," he says.

Exiting the market at the right time is also important, Mcvey highlights. When the scooter market caught on, so did the knock off products. As he was the known face associated with scooters, he received the complaints. The market was difficult; there was price pressure, so Mcvey moved from scooters. He then diversified to oil shares, pharmaceuticals, fashion and cosmetics.

The biggest transition for Mcvey has been moving from being an entrepreneur to running a business. Having had a lot of experience as an entrepreneur has made him still retain the spirit of entrepreneurship through transition to a businessman.

"I have come a long way from having one employee – myself and my six cats to having 150,000-strong workforce. I have been the HR guy, the accountant and the receptionist, so I try to keep that entrepreneurship going," says Mcvey.

It is this experience and the success that followed with invitations to speak at some of the world's best universities, consultations by UK government and politicians and the publicity that ensued, Mcvey will be sharing at the 37th National Conference of Chartered Accountants. He will speak on 'Breaking Stereotypes – Age is Just a Number' during the first day of technical sessions today.

Pix by Shehan Gunasekara
---
SL garment industry needs to live up to its true potential
Q: How do you gauge the Sri Lankan economy at present? Is it conducive to business and more investments?

A: The positives about Sri Lanka is that the people are well educated, the majority of people speak English, they have a good understanding of English law; in many ways it is the same, the logic is there for me to invest here. To some degrees the BOI companies – Hela is one – can operate freely, the banks are extremely supportive and the banking environment is enterprising.

However retail banking needs to improve in terms of how they engage with customers. The banks here are increasing their number of branches, in England we are closing branches, people don't go to branches anymore. So I think there is a lot more to be done on the technology of the retail banking front. There are challenges with exchange control and how laws are interpreted.

We (Hela clothing) are not governed by exchange laws the way other companies are governed, we are over 20 years old and we don't have any exchange control limits, in-fact the BOI agreement we have doesn't limit us. But when you call the bank and you want to send money overseas, they want to go through exchange control. So this is where the issue is, interpretation of the law. It's almost like your BOI agreement says one thing, but the Government is telling you another thing. There is no clear message there and that can be challenging for businesses. I would say all things are going very well for Hela but I am aware that both Sri Lankan and foreign businesses are having issues here.

What I am seeing is the domestic market is not growing at the pace it should. I don't think the wealth is trickling down the way it should; Sri Lanka is trying to get people to spend by lending lots of money at very high interest rates, which is dangerous. The country has to get the money into the system, Sri Lanka should be thinking about privatising more state assets, it should be pushing more companies to go public and the wealthy families which control a lot of businesses should be thinking about how they start to distribute the wealth among the workforce better, through ownerships, share options and going public.

Otherwise they are going to lose the workforce. The GDP growth in the country is going into the pockets of a few. The average man on the street is going to get eroded by the inflation, and the few that get the benefit spend their dollars overseas, that's how it happens here. I think one of the reasons people try to get their money out of the country is because they are scared of exchange control. The exchange control regulations go tighter recently because people were trying to take their cash out of the country. I am not worried here, because I am not limited here, but as an outsider I can see those challenges.


Q: In your experience, as you have seen the country go through different phases during the past two decades, what areas in Sri Lankan economy should undergo improvement to achieve sustained development?

A: There are things to be done. If tourism is to develop, there should be attractions; there is no nightlife in Sri Lanka. The country is trying to get the Chinese to buy at the same time! There is a big Middle Eastern tourist market here, but they don't get up till the afternoon, they stay up very late, in Dubai the malls are shut at two in the morning. We have to start thinking outside of Sri Lanka. Sri Lanka can be a bit of a ghost town in the evening.

These aspects may come with the port city, but that is 10 years away, and right now there isn't a population to support it at the moment, there needs to be measures taken now to drive the number of tourists up.

Government interference has to be cut down as well. One of the challenges for investors has been Government forcing up salaries. There hasn't been a clear message on that. When you have a large workforce news travel fast. The Government tries to put out messages without having industry level conversations. The last episode where the minimum pay was increased from 10,000 to 12,500 really confused people. They were not sure if there was a 2,500 pay rise or a 20% pay rise.

When you are the biggest employer in the export sector in the country, the Government needs to have those conversations with you – the industry. Sri Lankan garment sector is well established and functions well and been successful even during the war time, as the industry stays out of politics. The last thing the Government wants to do is to disrupt that. There are about a million people working in the garment industry, so you cannot afford to send out mixed messages, confusing the workforce.

If companies like Hela and MAS didn't have the relationship they have with their employers, where it enabled them to have the conversations and iron out confusion, the situation could have been different. We see what is happening in Vietnam and Cambodia, there is a political issue, because the garment industry is the biggest employer there, government is trying to push wages up for political gains. As a result, people are on the streets protesting, factories are being burnt down, and there are riots. And people are going to stop buying.


Q: What is your opinion about GSP+? How will the industry change if Sri Lanka manages to secure it?

A: GSP has to come. This industry has not performed as it should, and I think it would be a huge push. If the Government could do one thing, then make sure GSP is delivered. Not for Hela but for the country. The garment industry is the biggest exporter, yet it still exports only $ 4.5 billion. It is crazy, Bangladesh is doing $ 30 billion, Turkey is doing $ 20 billion and Kenya where Hela also has an operation will do almost $ 2 billion this year, and it's a small industry there. So we need a catalyst to drive the industry.

The Government might say they want to move away from garments. I don't see that happening, and I don't see a reason for that to happen, it's a huge employer, it's the biggest foreign exchange earner, and the industry is the biggest tax payer. As an industry that can double here. We need more second tier here. We need more mills here. It has to be right product, right time theory.

If GSP+ comes there will be 20% growth in the industry but Sri Lanka needs to focus on what they go after. It has to be value added quality products not cheap products. We don't want to be a cheap provider, we want to be a cost effective provider. Sri Lanka has the highest skilled human resources in the sector, working all over the world, and factories in countries like Bangladesh is being run by Sri Lankans.

There could be a more collective approach on challenging other territories and building up the second tier here. Hela is making changes here, but that should not be just for Hela, but for the industry. Sri Lanka must be spending at least $ 2 billion on fabric. We should be looking at building second tier. It could be a cooperative effort by the industry.