DG quits hours before President Sirisena returns from BRICS Summit
'Happy day for corrupt individuals': Weliamuna
Only way to maintain system's integrity is to reject resignation: Transparency Int'l SL
TISL says President's remarks present opportunity for commissions to assert independence

President's warnings to anti-corruption agencies in private meetings not heeded: aides
By Dharisha Bastians

Director General of Commission to Investigate Allegations of Bribery or Corruption (CIABOC) Dilrukshi Dias Wickramasinghe tendered her resignation yesterday, as the fallout continues from President Maithripala Sirisena's furious outburst against Government agencies investigating corruption last week.

Wickramasinghe, a former Additional Solicitor General and President's Counsel, tendered her resignation to President Sirisena yesterday, after she returned from overseas. She told a television news program that she had tendered her resignation, but declined to provide reasons for her decision. The Director General, who functions as the chief executive of the independent anti-graft Commission, is the first top official to quit since President Sirisena's speech last Wednesday, in which he claimed the Commission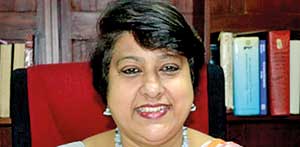 Dilrukshi Dias Wickramasinghe
and other police units investigating corruption were acting on a political agenda.

Several attempts were made to contact Wickramasinghe for comment yesterday, but she remained unreachable.

President Sirisena, who was in Goa, India attending the BRICS summit, returned to the island last evening. However, it was not yet clear if he would accept Wickramasinghe's resignation, aides said.

Speculation was rife that Wickramasinghe would resign following the President's outburst. Rumours continue to swirl around the impending resignation of Bribery Commission Chairman, former Supreme Court Justice T.B. Weerasuriya in light of the President's disparaging remarks.

Authoritative sources told Daily FT that Justice Weerasuriya's resignation also appeared to be "imminent" but added that Government Ministers were still frantically working to prevent a spate of resignations.

Speaking to Daily FT, attorney-at-law J.C. Weliamuna, who is a member of several Government anti-corruption committees, said Wickramasinghe's resignation was the "happiest day" since 8 January 2015 for "corrupt individuals" in Sri Lanka.

"These developments place a high burden on the Government now to demonstrate that it remains committed to the struggle to combat corruption," Weliamuna noted.

Wickramasinghe is widely credited with the execution of a major sting operation by the Bribery Commission in 2015, which nabbed three customs officers for soliciting a bribe worth Rs. 125 million – the largest bribe ever detected in Sri Lanka. During her tenure, Wickramasinghe launched several investigations against members of the former Government. More recently, the Bribery Commission also filed charges against current State Minister A.H.M. Fowzie for alleged abuse of a Ministry vehicle during his tenure as a Minister in the previous Government. The case is reported to have irked President Sirisena and contributed to his outburst against the Commission.

It was President Sirisena's Government that restored independence to the Bribery Commission and others, by enacting the 19th Amendment to the Constitution.

Commissioners appointed following the passage of 19A were independent, experienced officials who would find it difficult to remain in these positions following the President's sweeping allegations against the Bribery Commission, a Government Minister who did not wish to be named given the prevailing tension within the ruling coalition, told Daily FT.

"When the President who is the appointing authority casts aspersions on the integrity of these institutions, officials of Dilrukshi Wickramasinghe's calibre will feel accountable and take ownership," the Minister explained. "She was an official of enormous courage and intelligence," the Minister said, adding that her resignation would now put the work of the Bribery Commission in peril.

Director General Wickramasinghe was in Malaysia last week when the President made his speech, reportedly for meetings regarding the UN Convention against Corruption (UNCAC) and incorporating those provisions into Sri Lanka's domestic laws to strengthen the legal framework against corruption in the country.

The President faulted senior officials in the Bribery Commission for "failing to keep him informed" before charges were filed against high profile members of the former regime, like Former Defence Secretary Gotabaya Rajapaksa and former military commanders.

Corruption watchdog Transparency International Sri Lanka said the President's remarks against anti-corruption agencies and particularly an independent commission were "deeply flawed", but said the Director General's resignation had escalated the crisis. "It's a zero-sum game now. There can't be a winner without a loser," said Executive Director of TISL Asoka Obeysekere, in an interview with Daily FT yesterday.

Obeysekere said that the only way to maintain the integrity of the system after the beating it had taken this past week was for President Sirisena to reject Wickramasinghe's resignation. "The Commission must then come out with a strong statement, discouraging interventions of this sort again," he added.

However, Presidential aides believed the Director General's resignation was likely to be accepted by the President.

To reject the resignation, Obeysekere says, was to tacitly imply that the allegations made against the Commission could not be substantiated. "In other words the President would have to eat a bit of humble pie," he explained.

According to the TISL Executive Director, the crisis precipitated by President Sirisena's onslaught last week had also presented an opportunity for independent commissions to grow more robust since this kind of friction between the Commissions and Government authorities strengthens its independent credentials.

"The legitimacy of independent commissions does not spring from the perception held by the executive," says Obeysekere, "the core of independent commissions should be that they do not bow to political pressure in any way."

The Director General's resignation weakens the chance for the Commission to assert its independence, however, the TISL Chief said. "But this is a challenge the commissions must now take on," Obeysekere asserted.

President Sirisena's remarks drew serious flak from his own constituencies, including civil society organisations that heavily backed his candidature.

"We stand with the Government officials investigating corruption," Prof. Sarath Wijesooriya, who convenes the late Sobitha Thero's National Movement for Social Justice, told a news conference last week. Purawesi Balaya, a civil society umbrella group that mobilised support for President Sirisena's candidature in January 2015, boycotted a meeting the President had scheduled with artists last Friday in protest of his remarks.

A top Presidential aide, speaking confidentially, told Daily FT that the President's speech last week was intended to issue a strong message to agencies investigating corruption. President Sirisena was deeply concerned that the Bribery Commission, FCID and the CID were pursuing trivial cases in which charges were difficult to prove, while the larger cases were languishing, the aide explained.

Asked if the President's speech could cause serious instability within Government agencies probing corruption, especially if it precipitates a spate of resignations, the aide replied: "The President had given several warnings to these agencies in private meetings. But they were not heeded."
CBK flies in early to manage crisis?
Former President Chandrika Kumaratunga, who was in London on a visit and scheduled to return to Sri Lanka only later this week, has decided to return early in view of the deepening political crisis within the ruling coalition,Daily FT learns.

Former President Kumaratunga, who played a major role in effecting the defection of Maithripala Sirisena from the Rajapaksa Government, will return to the island today, authoritative sources told Daily FT.

Kumaratunga is expected to hold talks with President Sirisena and senior SLFP members in a bid to resolve the prevailing crisis within the ruling coalition. She is also expected to speak with Prime Minister Ranil Wickremesinghe when he returns to Colombo from Brussels.

The former President, who is also the former Leader of the SLFP, was reportedly furious over the President's remarks which had put the coalition of rivals in serious jeopardy.