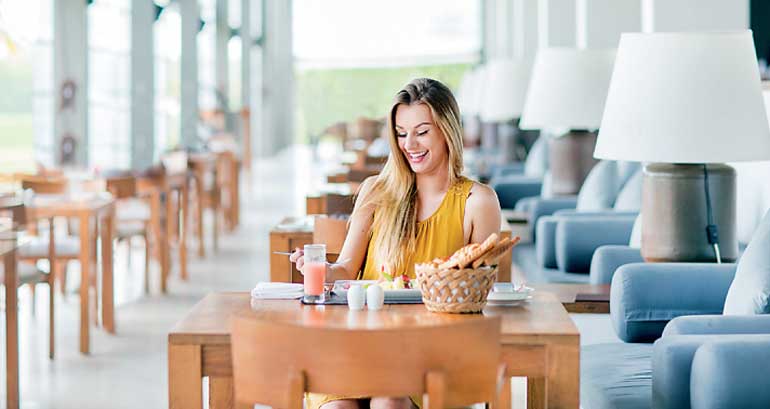 The winner of the inaugural Miss Tourism Sri Lanka – International, Vera Dijkstra, holidayed with Anantaya Resorts in Pasikudah and Chilaw on a recent visit to the country, enjoying the lavish serenity and hospitality of Sri Lanka during her stay.

She was received in Colombo by the LAUGFS Leisure team before she commenced her two-day stay at the latest addition to the Anantaya chain of luxury resorts, Anantaya Resort & Spa – Pasikudah. Miss Dijkstra was welcomed warmly by Resident Manager, Ranika Wickramanayake and team, where she spent the next two days enjoying the tranquillity of the breathtaking golden beaches and the renowned turquoise blue seas of Pasikudah.

In addition to its magnificent swimming pool, the resort provided Dijkstra with the luxury of her own private plunge pool, which she greatly enjoyed during her brief stay. She was also able to enjoy the delightful delicacies of 'Blue Coral', the Resort's unique seafood and fusion restaurant, where the Chef and Food & Beverage team served her special seafood cuisine using local fresh seafood, with a delectable international touch.

At the end of her two-day excursion at Anantaya Pasikudah, Dijkstra proceeded onto Anantaya Resort & Spa – Chilaw where Dev George, the Resident Manager of the resort, and his team warmly welcomed her. Aside from enjoying the tropical beaches and the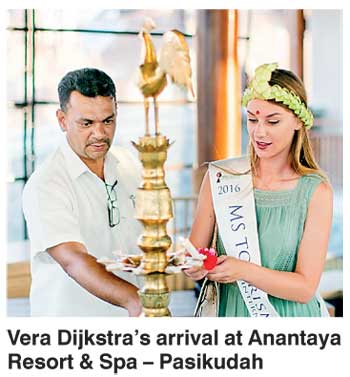 Resort's two large swimming pools, she took part in some exciting activities such as kayaking and Anantaya's latest recreational activity, horse riding. Dijkstra was also made privy to the unique experience of embarking on Anantaya's emission-free electric car excursions to the Wasgamuwa and Anawilundawa nature parks, a first of a kind offered in Sri Lanka.

"It was truly a privilege for Anantaya Resorts & Spas to host Vera Dijkstra during her brief stay in Sri Lanka. As one of the most sought-after beach resorts in the country, we are fully geared to cater to the desires of every traveller seeking relaxation and comfort in our beautiful tropical island. Having partnered with the Ms. Tourism Sri Lanka – International beauty pageant from the very beginning, we are delighted to have the winning contestant, Dijkstra, visit us once again to enjoy the luxury and comfort of our Resorts and to experience the treasures Sri Lanka has to offer, enabling her to do justice to her role as Tourism Promotion Ambassador in taking Sri Lanka to the rest of the world," remarked LAUGFS Leisure Director/CEO Roshan R. Perera.

Owned and managed by LAUGFS Leisure, Anantaya Resorts & Spas chain provides infinite luxury and endless comfort, beauty and tranquillity to its guests. Anantaya Chilaw is an award-winning luxury Resort in the charming coastal town of Chilaw, with 87 spacious luxury rooms. The recently launched Anantaya – Pasikudah, is an iconic Resort set in the tranquil East Coast, and features 50 rooms and 5 exclusive villas.

The Resorts are designed to provide guests with unparalleled relaxation and comfort, complete with luxurious accommodation, fine dining, scenic views and world-class hospitality. Guests can also explore adventurous recreation activities and sight-seeing, from water polo, beach volleyball, kayaking, horse riding, nature walks and prawn farm visits at Chilaw, to snorkelling, scuba diving and coral tours at Pasikudah.

In an endeavour to take the Anantaya name to the Southern region of Sri Lanka, the hotel franchise will be embarking on its third project in Waskaduwa, a 240 room five-star resort with extensive banqueting and convention facilities. Spread across a lush terrain of 16 acres overlooking the Indian Ocean, the Resort will have easy access to Colombo City with only an hour's drive.

LAUGFS is one of the largest diversified business conglomerates and a trusted name in Sri Lanka. Founded in 1995, LAUGFS today has expanded across 20 industries in Sri Lanka and overseas, establishing a strong presence as a leader and pioneer in the power and energy, retail, industrial, services, leisure, logistics and real estate sectors. With over 4,000 employees and an annual turnover exceeding Rs.28 billion, LAUGFS continues to expand and empower millions as a trusted Sri Lankan brand.