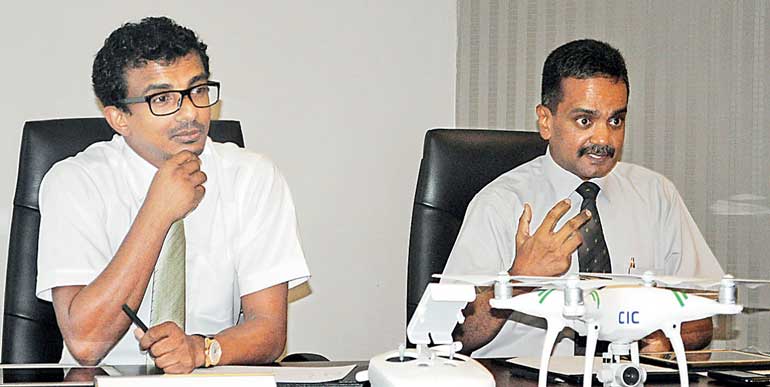 Manju Gunawardena, Senior Researcher and Scientist and Prof. Buddhi Marambe, Faculty of Agriculture, University of Peradeniya briefing about Agricultural Annual Growth and Production during a press conference organised by CIC Holdings PLC - Pic by Gitika Talukdar
By Devin Jayasundera

Commercial drone technology in Sri Lanka, which has been generally limited to entertainment and photography purposes until now, has taken a new leap. CIC, the leading agro-chemical company, launched one of the very first initiatives in the country to use drones for agriculture. This is expected to provide the much-discussed tech integration to boost productivity levels of the struggling sector.

Equipped with advanced imaging and sensor capabilities, the drones can identify disease ridden or an underutilised areas, collect data and implement appropriate treatments. This minimises human bias and error in decision making, thus giving rise to higher productive yields, the company promises.

The introduction of drones is expected to make Precision Agriculture (PA) more economical and accessible to the common farmer. PA systems emerged in the early 1990s in the developed world as a result of a nexus between advanced information technology and full agricultural mechanisation. This brought the farmer an array of tools for intelligent decision making at a touch of a button in a single viewing screen. To name a few, GPS mapping, sensor technologies such as ultra sound, photo electricity that measured humidity, vegetation, temperature, air and terrain variation were introduced as a result of PA technology.

Variability management practices are at the core of PA systems. This new farm management system considers the inter and intra field variability factor in to account to intervene with measured responses in contrast to the use of blanket treatments and one stop solutions in traditional cultivation. This has proved to increase productivity and reduce the environmental risk especially the controlled use of chemicals.

"Traditionally what a farmer does first is observe the plantation by checking and looking at the thickness and the colour of the leaves or the soil. Then he measures by assessing the length and width of the respective crops and intervenes accordingly," explained CIC Senior Research Scientist Manju Gunawardana. "As the cultivation land size exceeds to about 25 acres the effectiveness of this kind of practice gradually wanes, hence it is not the most pragmatic approach," he said.

Other than field scouting for observation purposes the CIC drone is also equipped with a multi spectral camera which includes a special optical filer to capture different wavelengths in light. This provides the famer a perception that is not perceivable to human eye in detecting stress areas of cultivation. "Plants absorb and reflect light depending on the wavelength. With this context even the minute variation of a crop that could result from a discolouration of a leave to an insect bite is captured and communicated to the farmer," pointed out Gunawardana.

One of the hallmarks of the drone is its precision treatment capabilities. The drone could carry a payload of 10 litres of herbicides or any other toxins and it is fully automated to apply treatment only in disease affected areas of a plantation. "To apply spray for a one acre of a tea plantation it will take six minutes in contrast to manual application which will take three to four people and would take another two days," he said.

This technology is best suitable for agriculture products such as paddy, tea, maize, chillies and sugarcane. According to Gunawardana, observation via remote sensing would be the key feature that potential customers would look for. "50%-60% of the people would go for observation and measurement while the rest will be for precision spray application."

With the increasingly dwindling rate of cultivable land, agri-tech remains to be the only viable hope to increase yield levels to ensure food security according CIC Non Executive Director and University of Peradeniya Faculty of Agriculture Prof. Buddhi Marambe.

"One way to increase food production is increase the cultivable area. However this is not pragmatic with the increase in population and Government policies that intend to increase the forestry cover from the current 29% to 34%. Even if we expand the land, given the constraints it would only boost production levels marginally."

CIC precision agriculture drones programme is one of the first fully fledged commercial industrial applications of drone technology in Sri Lanka. The company has invested $600,000 in R&D in introducing this technology to the local farming community. In the press briefing it was also revealed that the company is closely collaborating with the Unmanned Aerial Vehicle (UAV) initiative at the University of Moratuwa to expedite the development and use of drone-tech in Sri Lanka.

Agriculture is regarded as the largest market for commercial drones dwarfing other potential markets according to a report by the Association for Unmanned Vehicle Systems International. USA and Japan are the leading frontier countries using drone-tech for agriculture and is expected to reach 150,000 and 165,000 unit sales respectively by the year 2020.