Prime Minister Ranil Wickremesinghe explaining the importance of establishing the Office on Missing Persons said its purpose is to seek the truth, not retribution.

Speaking at the launch of the law students' journal, 'Manuwara' at the Law College on Thursday (18) evening, the Prime Minister noted that the country went through a series of serious problems, first in 1971, then from '80s onwards the uprising again in the North, which continued, and another uprising in the south in '87.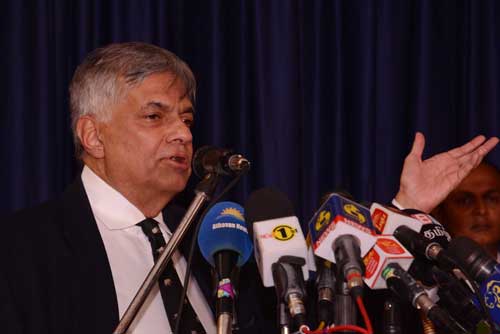 Wickremesinghe said protecting human rights is one aspect of the development of the country. He observed that the youth of the country are extremely interested in protecting human rights and noted that it is an appreciable trend.

The Premier noted that violation of human rights happens in every country when there is a conflict and the governments try to bring it under control. But the issues need to be discussed in open seeking solutions, not hide them.

"You have a war, a conflict and in the process to bring it under control there are violations of human rights. There is no country in which this has not happened. We are open about it. We discuss it. You can't hide it. We tried to hide it. We said we can't have cases. But we had a case and then threw a man into jail. The Army Commander Fonseka. We threw him in jail in white flag case. How can you say you can't have a trial after this?" he said.

"In the end there should be reconciliation. Deaths have occurred, killings have taken place. There are no leaders on one side. All are dead now, except for one man who was brought back and kept somewhere in Kilinochchi. Let's go for reconciliation," the Premier said.

The Prime Minister said if there were to be any prosecution, it would be according to the existing laws in Sri Lanka.

"If there is to be prosecution we can do it under our law. So we are starting the missing persons' office. Missing Persons' Office is for the future also...We all want to know how many people are missing. Truth may be ugly. But we can live with that. Truth should not lead to retribution. We should put the past behind us. We have a future ahead," the Prime Minister stressed.

Speaking further, the Prime Minister stressed that every individual should be concerned about their rights. The Government has already presented several legislations to the parliament to safeguard individual rights. Basically the Government is concerned on ensuring right to life.

The Premier said former President Mahinda Rajapaksa who went to Geneva against breaching human rights during Premadasa Regime has no moral right to work against the endeavour to strengthen human rights of the society at present.