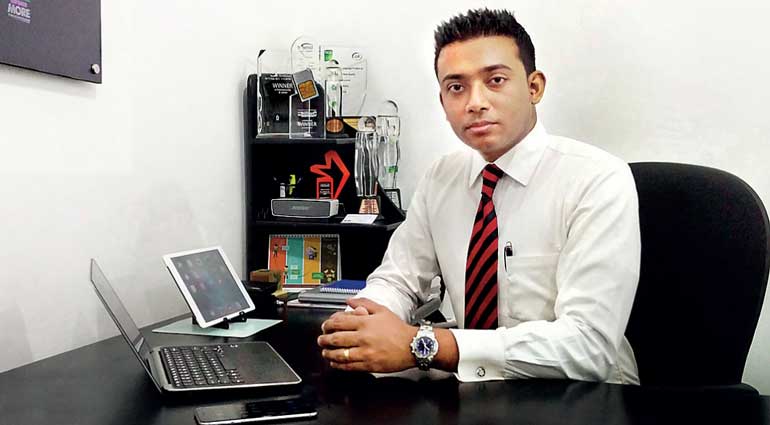 Senid Outsourcing Head Sachi Wickramage
With the recent world-recognised win at the United Nations World Summit Awards 2016, hSenid Outsourcing Head Sachi Wickramage talks about his trend-setting music app, FlipBeats. Following are excerpts:

Q: What is the inspiration behind FlipBeats?

A: Bread and butter for hSenid Outsourcing is undertaking outsourced software development projects based on open-source technologies, from foreign clients. However, we always wanted to get in to the mobile app development practice. Therefore, before taking on any big customer projects, my strategy was to get the team energetically engaged to develop fun and hip mobile apps which later could be sold on app stores.

I myself am a big music enthusiast and was always keen on listening to music at its highest precision. But, I noticed that even though there are many music apps available, none of them were catering to the advanced music listeners. The 'audiophiles' were left out with no options but to use basic music apps. We identified this gap in the market and our research figures confirmed that the market potential is high for such an app on both Apple and Android ecosystems. So we came up with 'FlipBeats' to cater to this niche.

Q: Explain the concept of FlipBeats?

A: We wanted FlipBeats to be a beautifully designed, highly user friendly music app with the most advanced audio configurations. From day one, the challenge I put to the design and development team was to make it very advanced in features while making the app extremely easy to use for novice users. We wanted to make this app unique, intuitive and customisable with the most advanced audio configuration to create a studio-like listening experience. The result was amazing. Since FlipBeats was developed based on the 'design first approach' users in any age group finds it interestingly easy to use and music lovers have since switched to FlipBeats as their default music app, mainly because the music through FlipBeats sounds much better with the help of Pro EQ and Pro Reverbs Engines.

Q: Does a user have to be a member and make monthly payments?

A: FlipBeats is 100% free to download. It has a 20 days' trial period. Once the 20 days' trial period ends, Pro Features on FlipBeats gets disabled, but the app is still usable with its basic features. Anyone can pay $ 4.99 as a onetime payment and unlock the pro features bundle on FlipBeats.

Q: How does FlipBeats pay artistes when their music is played?

A: Our primary objective is to be the most advanced music app where you can refine your own music and listen to them better than you could with other basic music apps. Free Streaming Music was a new feature we recently introduced to FlipBeats. However, FlipBeats is not a content platform. We don't own the content distribution rights and we don't charge users for content consumption. We act as a funnel for all the legitimately free music streaming services available on Internet and we have integrated it to the 'Discover' section of FlipBeats where users can simply search and listen to streaming music

Q: What is the available genre of music?

A: If you are an Apple user, then you can listen to your entire iTunes music collection through FlipBeats. If you are on an Android ecosystem, then you can access the music you have stored in your phone or SD card through FlipBeats. This app lets you refine how your music sounds with the use of highly customisable Advanced Equalisers and Pro Reverbs Engine.

Q: What devices can I use to listen to FlipBeats?

A: Currently FlipBeats is available on Apple and Android Platforms. You can use your iPhone, iPod, iPad, Apple Watch or any Android phone or Tablet. As long as you are on iOS 9.0, watchOS 2.0 or Android 5.0 or above, you can experience music through FlipBeats.

Q: Is this a local innovation?

A: FlipBeats is a 100% local innovation: conceptualised, designed and developed by hSenid Outsourcing. I am very proud of my team at hSenid Outsourcing for all the hard work and meeting the high expectations I put on them to come up with this award winning app.

Q: What recent awards has this app received?

A: Recently we won the United Nations World Summit Awards for FlipBeats, beating tough competition from 178 UN member countries as the world's best digital content in the category Entertainment and Lifestyle. In 2015, FlipBeats was the winner at the mBillionth Awards under the Media and Entertainment category, beating several international peers. In 2014, the app won Best App of the Year at the eSwabhimani Awards 2014, Finalist at Asia Pacific ICT Alliance 2014, and several awards at BCS National Best Quality Software Awards 2014.

Q: Any improvements in the near future?

A: We have a very interesting pipeline of features planned, stay tuned to FlipBeats.